This meet was attended by 12 people: Derek Beverley, Ken Broomfield (ex-Edinburgh), Colin Brown, Marj Ewan, Bernhard Glatz (interim member, RGU), Andy Lawson, Gunnar Link (Bernhard's guest), Alec Macmillan, Judy Middleton, Noreen Harding (Judy's guest), Viktor Musial (interim member), and Ken Thomson.

Attendees: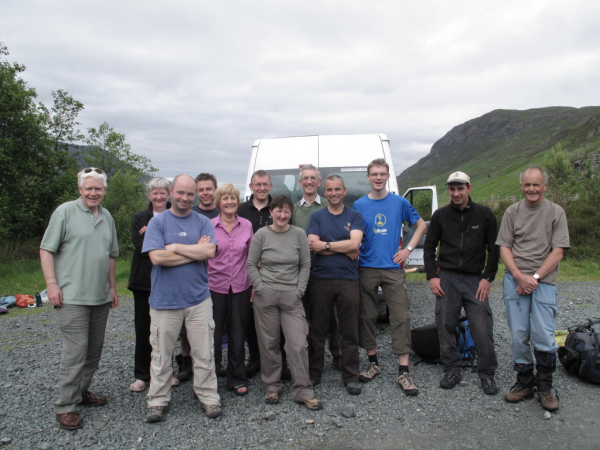 With some nifty packing by (or on?) Derek, all these just fitted into the minibus, which set off from Aberdeen at about 11.00 on Saturday 20 June, and reached the Destitution Road at about 4pm. As forecast, the good weather had become a bit cloudy, but the rain threatened on Sunday never materialised, to everyone's satisfaction. Even the midges did not appear in the usual numbers! Reported escapades were then as follows (but see personal accounts here or elsewhere on the Forum for more detail):

Ken B. ascended Sgurr Breac and A'Chailleach at the west end of the Fannichs, bivouacking SW of the latter, then a long and boggy exit (rather too far to the east) out to the Heights of Kinlochewe.

Judy and Noreen headed alongside Loch a'Bhraoin (superb bothy behind the loch-head house) and then ascended Mullach Coire Mhic Fhearchair and Beinn Tarsuinn, before camping below Meall Garbh. On the Sunday, they rounded Lochan Fada, and descended Gleann Bianasdail to Loch Maree, where they met Alec (see below).

Marj, Bernhard, Gunnar were dropped off at Corriehallie, and went over the landrover track to the Abhainn Loch an Nid, which was forded below Creag Ghlas of Beinn a'Chlaidheimh. This was then ascended, followed by Sgurr Ban, Mullach Coire Mhic Fhearchair and Beinn Tarsuinn without stopping (much)! Sighting but ignoring Judy and Noreen's tent, they then celebrated these four Munros with a barbecue near Lochan Fada (the biggest Lochan in Scotland?) before the walkout via the Heights.

Gunnar with Beinn Dearg Mor and Loch na Sealga (Photo: Marjory Ewan):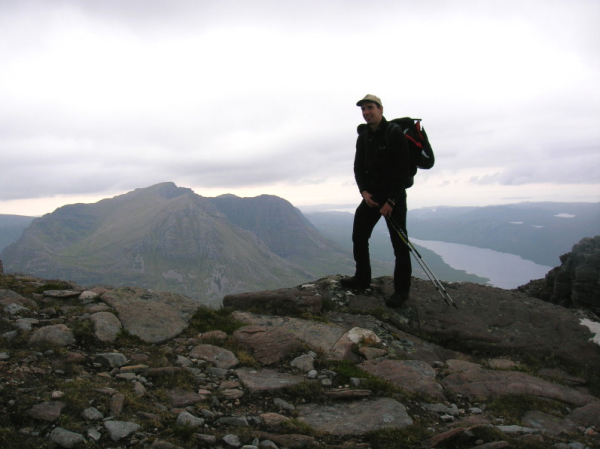 Breakfast (Photo: Marjory Ewan):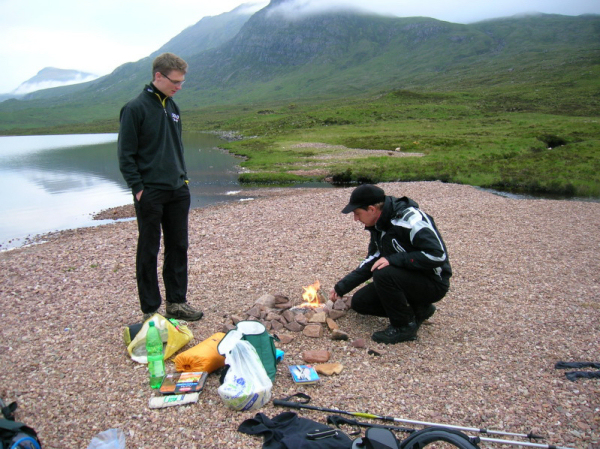 Andy, Derek, Colin and Victor were - despite the disapproval of a local – dropped off at Inveran near Poolewe, and did Meall Mheinnidh and then Beinn Lair before camping/bivvying on the eastern ridge of the latter hill. The next day, they descended to Loch Garbhaig, and then exited via the SW shoulder of Slioch and the Loch Maree path.

Beinn Lair Crags (Photo: Derek Beverley)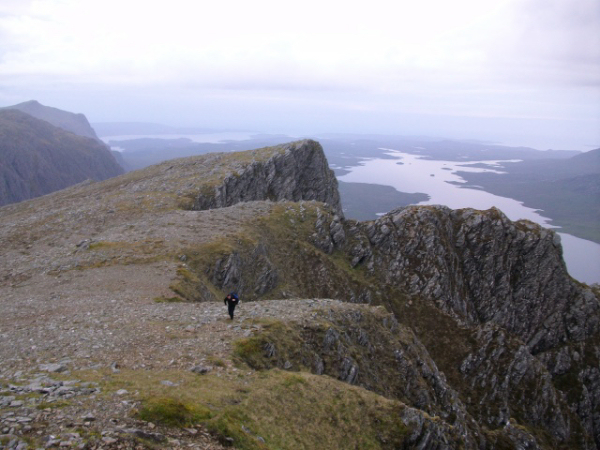 Summit of Beinn Lair (Photo: Colin Brown):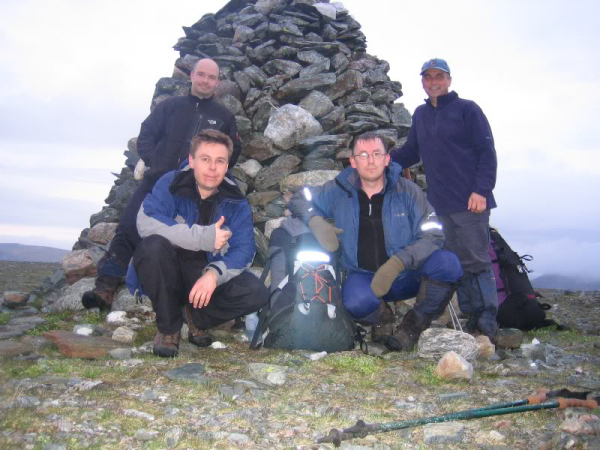 Viktor Bivvying (Photo: Derek Beverley):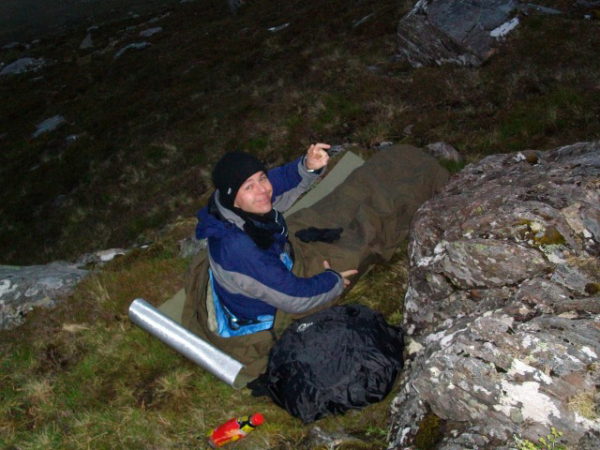 Slioch 'Pinnacle Ridge' (Photo: Colin Brown):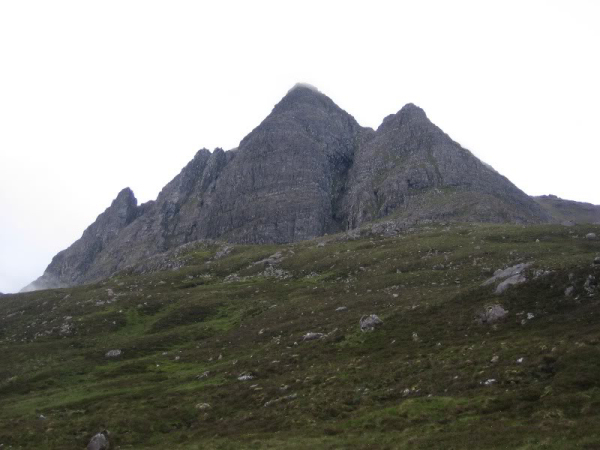 Alec Macmillan did the "Postman's Path" from Inveran to Kinlochewe, i.e. via Kernsary, Letterewe and Furnace, meeting up with Judy and Noreen at the Gleann Bianasdail bridge. He reported it long but satisfying.

After taking the minibus round to Kinlochewe, Ken T. did the round of the Heights, Lochan Fada and Gleann Bianasdail in the evening. The track to the Heights farm was splendidly smooth, as was the subsequent path up the upper part of Gleann na Muice (in a fenced-out area). This led to Lochan Fada (the largest Lochan in Scotland?) However, it proved tricky in the dusk to cross the Abhainn an Fhasaigh flowing out of Lochan Fada, and the path down Gleann Bianasdail is NOT good! He crashed out, thankfully, in the minibus at 12:30 am for a reasonable night's sleep.

Everyone was back on time, or better, though some seemed a bit tired.

Bernhard (Photo: Ken Thomson):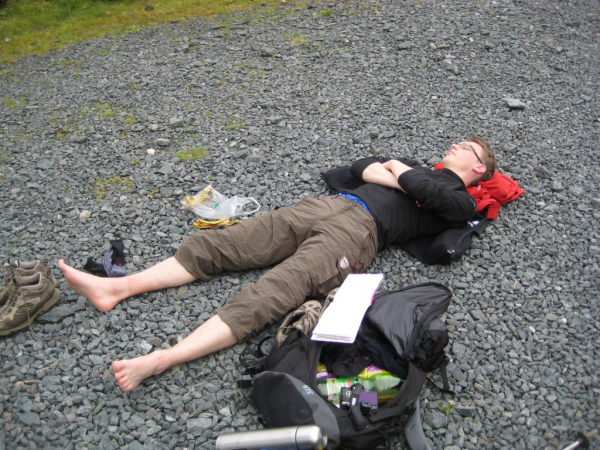 FOR DETAILED REPORTS OF WALKS FROM POOLEWE TO KINLOCHEWE AND CORRIE HALLIE TO INCHERIL (WITH LOTS OF PICTURES) SEE CLUB FORUM.