INVEREY TO SPITTAL OF GLENSHEE DAY MEET - SUNDAY 11th APRIL 2010

On Sunday April 11th 2010 the Cairngorm Club Day Meet (from Inverey to Spittal of Glenshee) was a little bit special. Not only because the day was one of the most beautiful I can remember (sunshine and heat with a light breeze on the tops) but also as it was a shared meet.

The Stocket Hillwalking Club and ourselves shared a large coach and what follows is an account of a fabulous day in the hills.

At a little after 7am our coach left the quiet streets of Midstocket picking-up folk on the road out to Braemar. In total 42 hill-goers attended this meet and to quote from someone on the day "a full bus is a good bus. I'll not argue with that.

Ken and Lydia set off from Braemar while the rest made for Inverey with most getting off here, however three of our number stayed on alighting at their chosen spot on the A93.

The Cairngorm Club's President's Party numbered 6 today and we set off for Altanour with birdsong all around us.

Inverey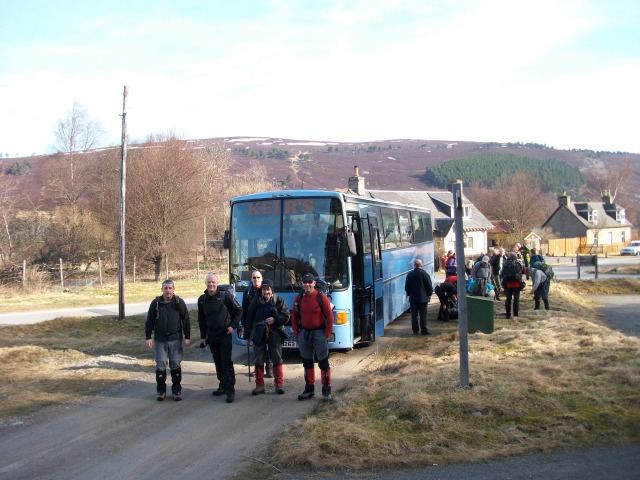 It was a delightful day and we made swift progress up Glen Ey

Looking back to Inverey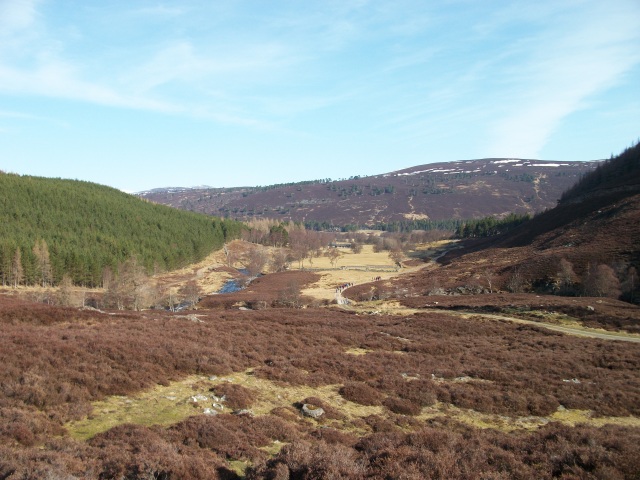 The plan today was to make for Carn an Righ (The hill of the King) – a rather remote Munro – after first ascending Beinn Iutharn Mhor. This route would take us past Pipers Wood and Altanour Lodge. Having not been in Glen Ey for at least 3 years I was delighted to see a very healthy looking Pipers Wood – there are " a lot" of Birch trees in this enclosure and I think it's fair to say it is now a wood.
It may be a rather small wood but the eco system looks right !

Pipers Wood ( A Cairngorm Club Project)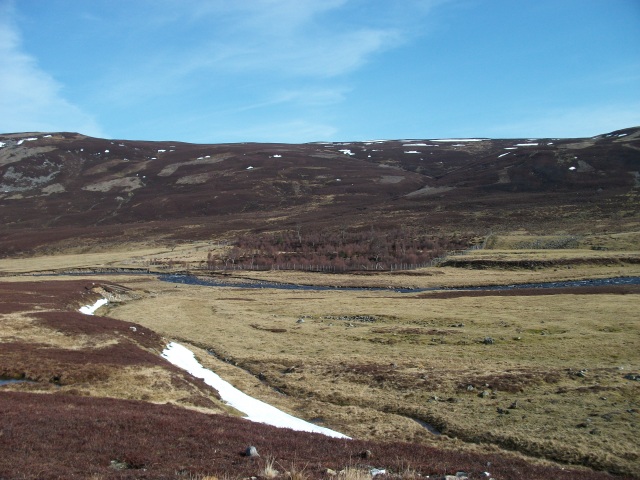 Creag an Fhuathais and the Ey Burn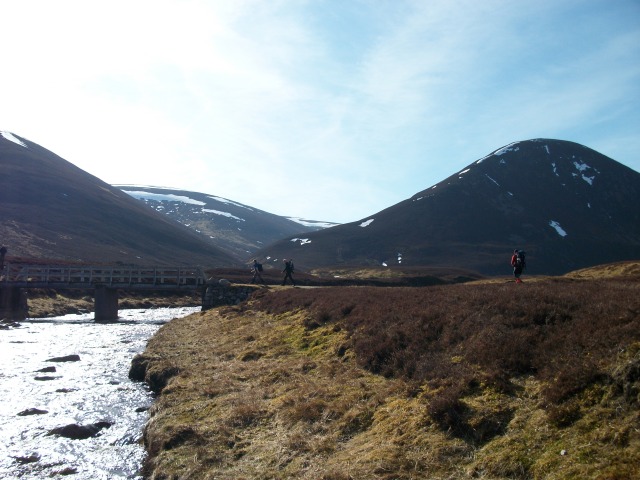 David Brown in Glen Ey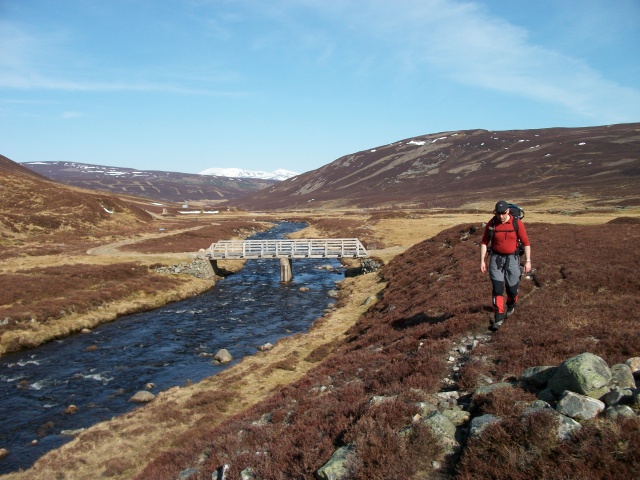 Alex Barbour in Glen Ey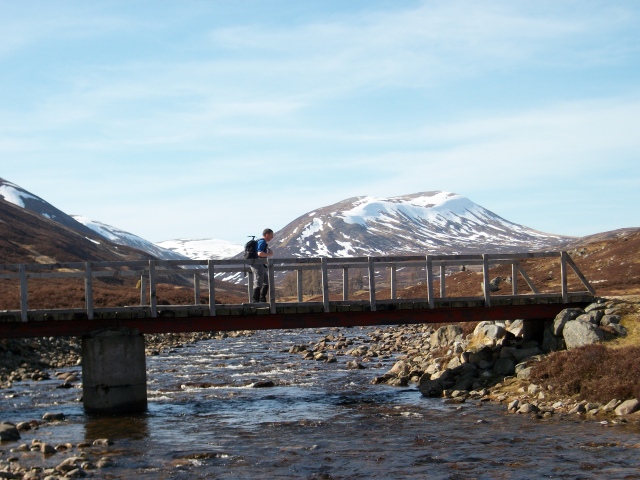 Beinn Iutharn Mhor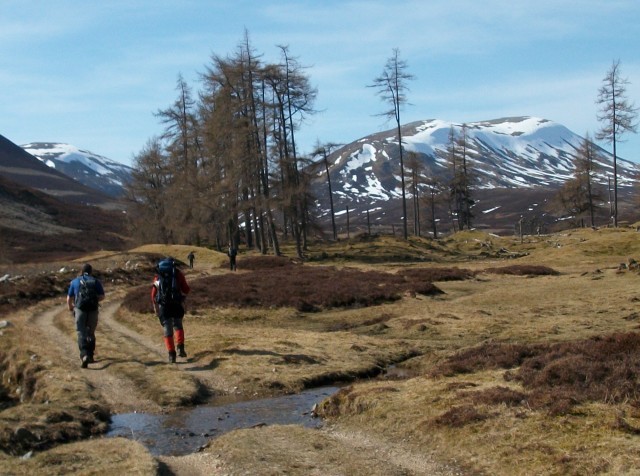 Gordon Stalker at Altanour Lodge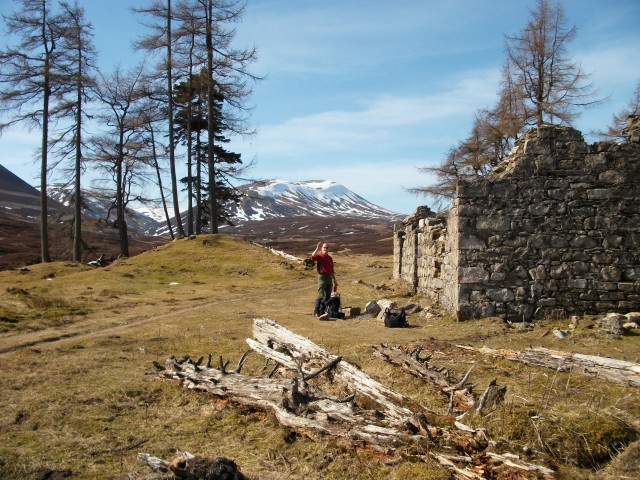 We stopped at the old ruin for a cup of tea and a piece – there are many dead and fallen trees about here - but interestingly quite a number of (rather old) Larches. Time to Altanour from bus 1hour 35mins. We left as a mixed group of Stockets and Cairngorm Club arrived. We were off for Beinn Iutharn Mhor…

Beinn Iutharn Mhor from Altanour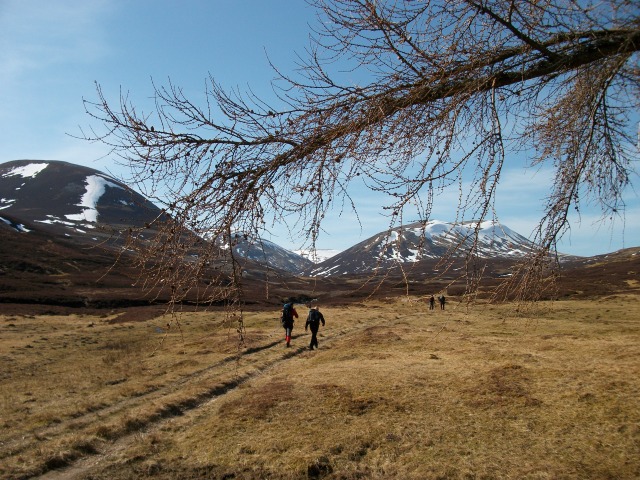 River Crossing (one of many today)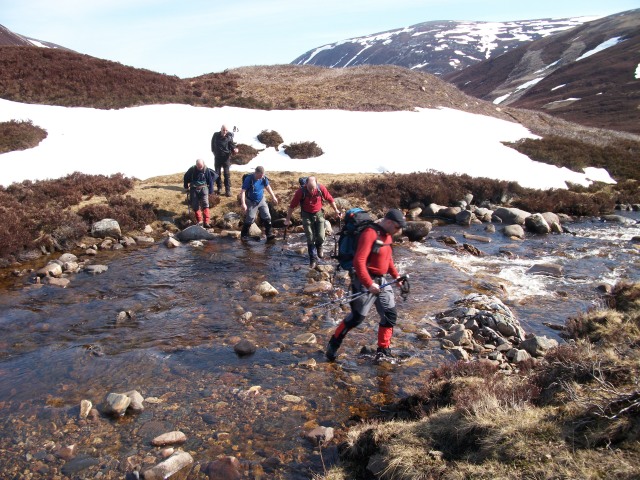 Altanour and Glen Ey from Beinn Iutharn Mhor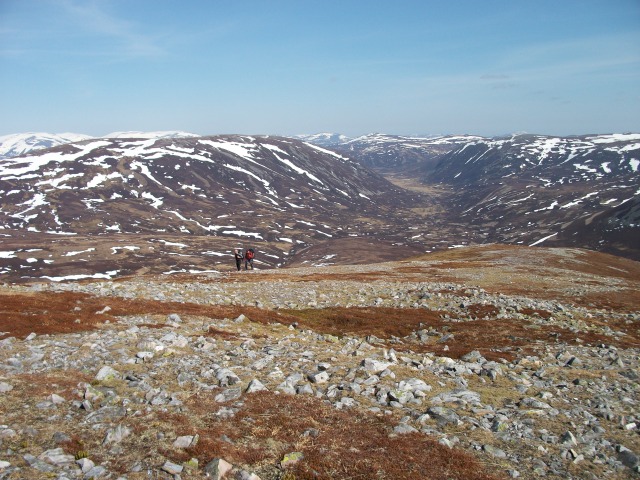 It was tough work ascending the steep nose of Beinn Iutharn Mhor. Only a couple of weeks before and this aspect would have been a steep wall of hard neve and ice, and even more of a challenge. " You would have to set off in the dark"…one member of the party commented, he was most probably right. Today however it was just a short sharp shock and we were soon high.

Cairngorms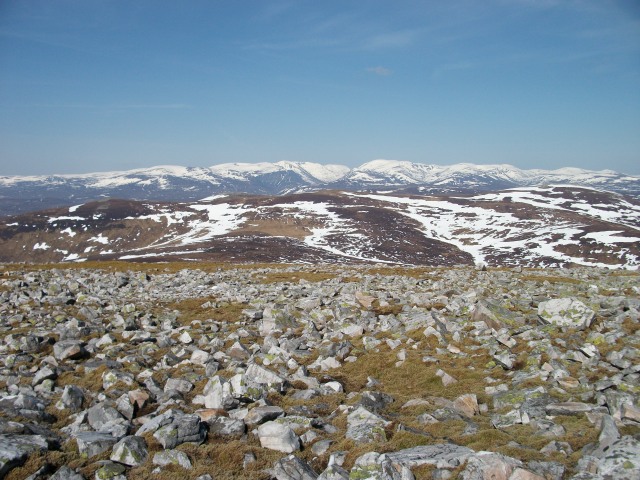 Alex and Gordon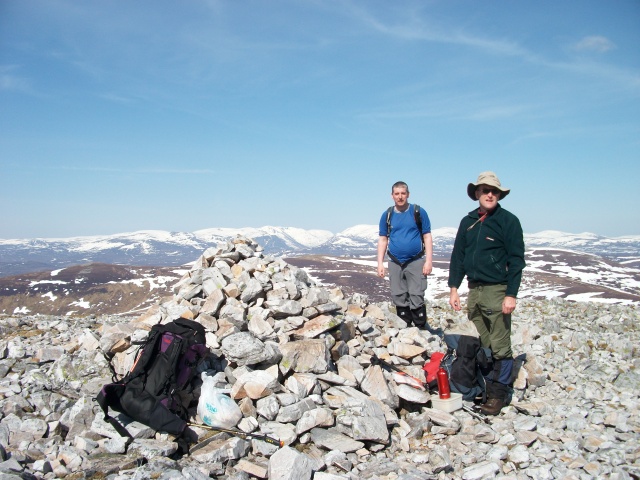 Beinn Iutharn Mhor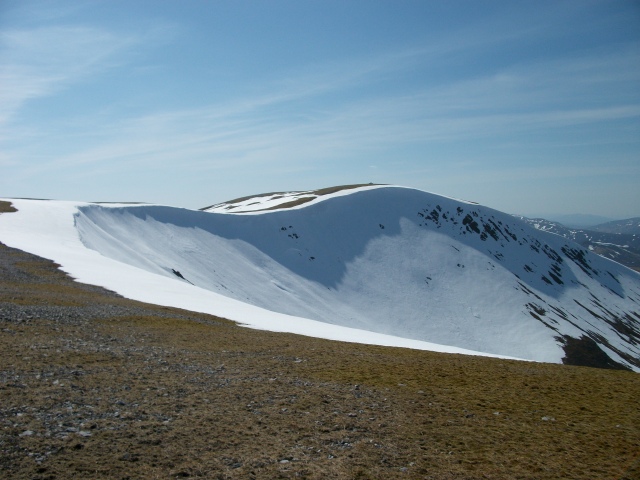 Gordon at the tap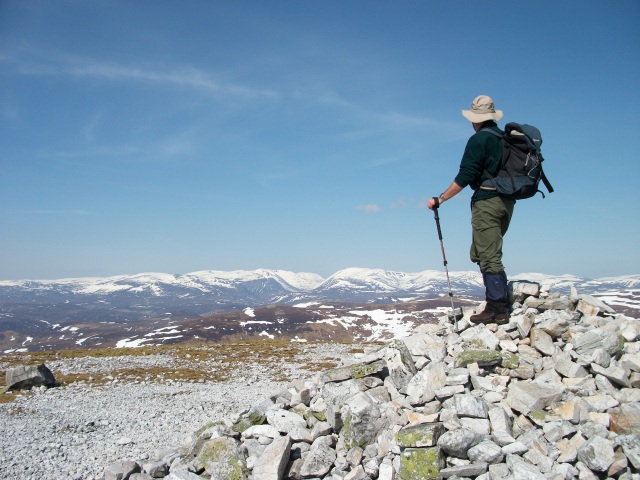 President's Party on Beinn Iutharn Mhor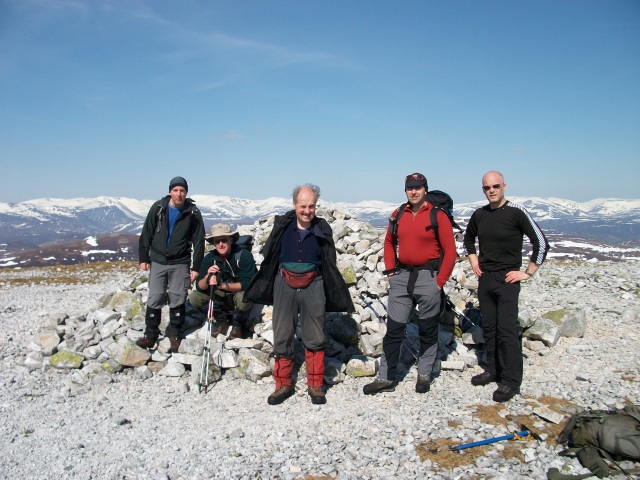 We reached the cairn on "The big Sharp-Ridged Hill", 4hrs and 10mins after setting off and after another short tea break decided to make for Carn an Righ (The Hill of the King)

Carn an Righ from Beinn Iutharn Mhor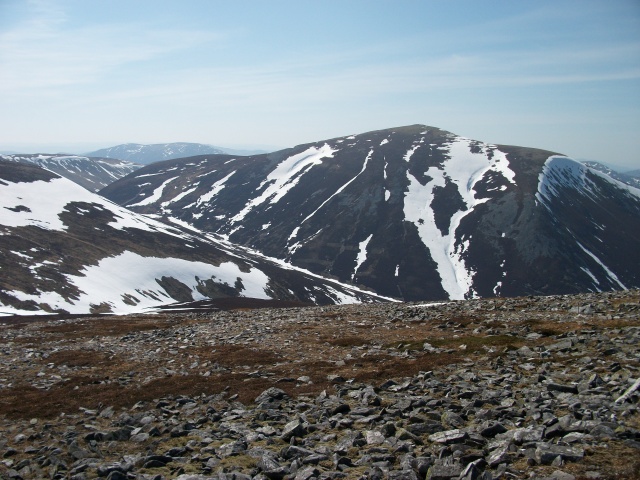 We dropped South and then SouthWest and picked up the path that runs up from Fealar Lodge. The snow encountered today was wet and sugary mostly but not too deep or unpleasant to walk through, however today's route was a fair hike and the snow sections were proving a challenge for at least one member. Below Carn and Righ (where there is now a rather wide and obvious Munroists' path) we regrouped and after 'huming and heying' decided to miss on this somewhat prized hill today, we did not wish to keep the bus waiting. Four members of The Stocket Hillwalking Club joined us here… they'd been out to Carn Bhac and had made excellent time.

From here we walked together on the path for Loch nan Eun (The Loch of the Birds) some small sections of which were still under snow and when below Glas Tulachian we split. Seven went for Glas Tulachian and three for Loch nan Eun and Glen Taitneach.

On the path below Mam nan Carn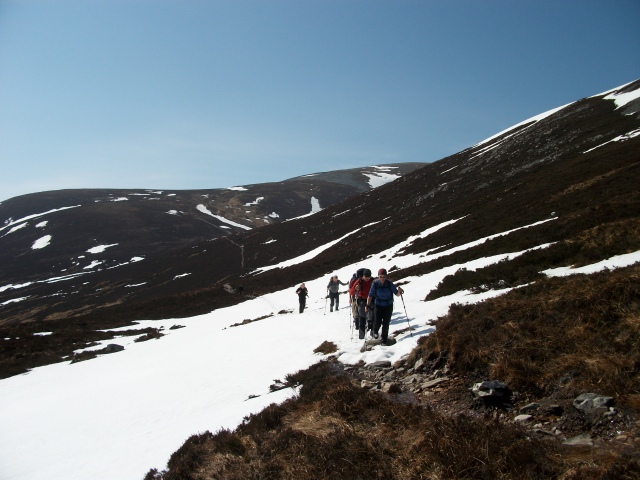 Glas Tulachian from the North East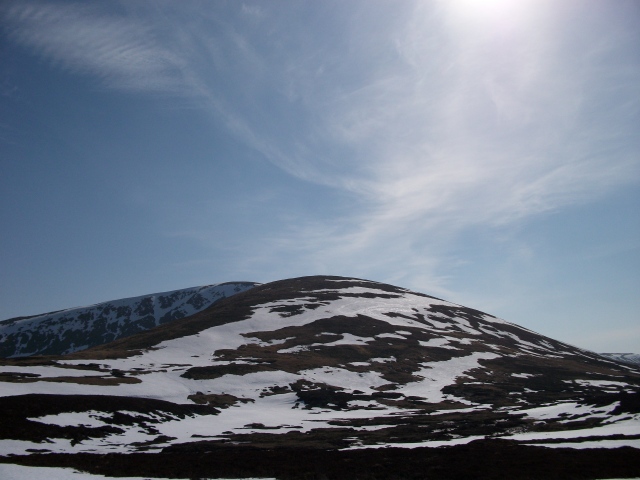 First view of Loch nan Eun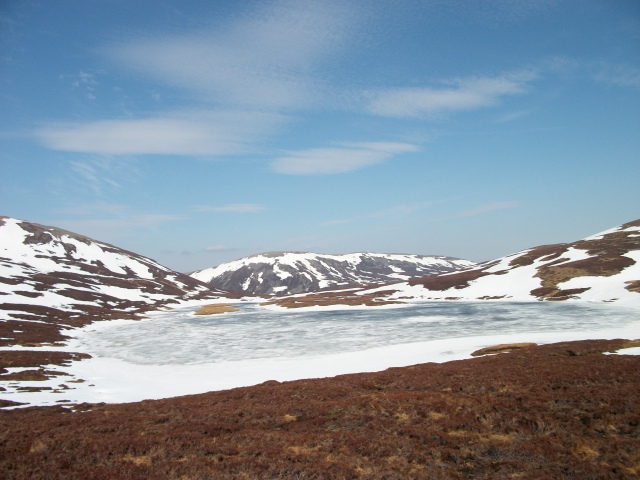 Despite seeing a few gulls in Glen Ey none appeared to be nesting yet on the two small islands. Not surprising really as the photos tell their own story.

An Socach across a frozen Loch nan Eun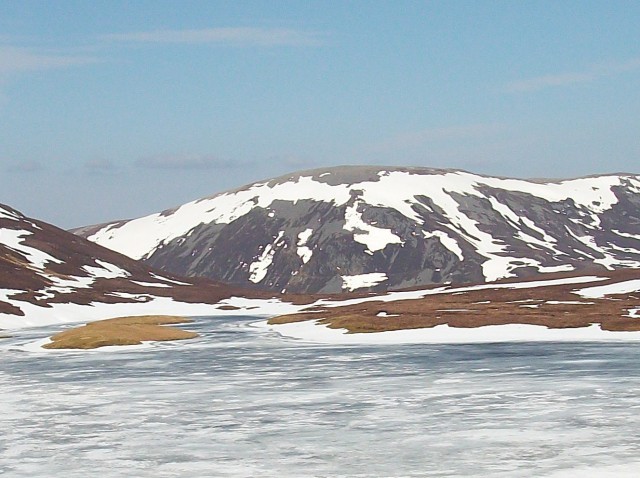 Interestingly ( or worryingly) we witnessed foot prints "across" the frozen loch. Did the owners know they were over water at the time ! ! !

The exit to Glen Taitneach down by the Allt Easgaidh required some detours as there was much steep and rapidly thawing snow and snowslopes in places

Upper Glen Taitneach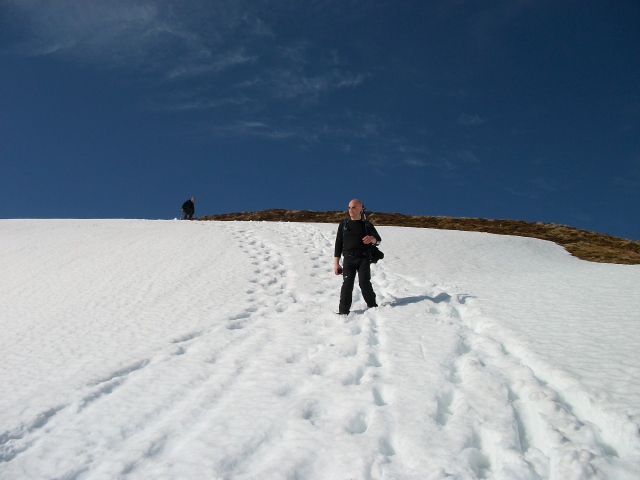 Willie on the sna'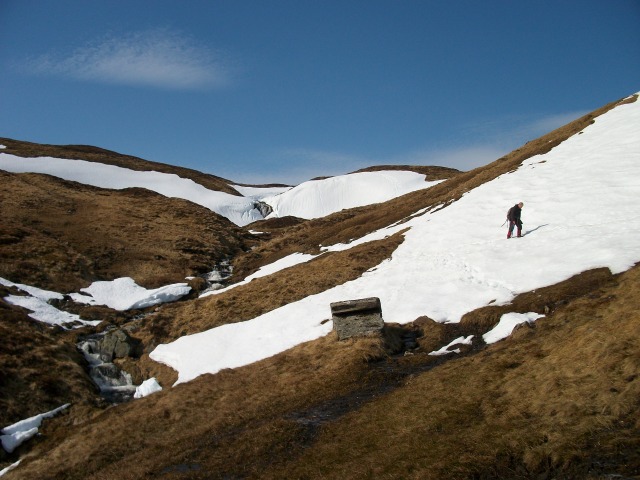 Upper Glen Taitneach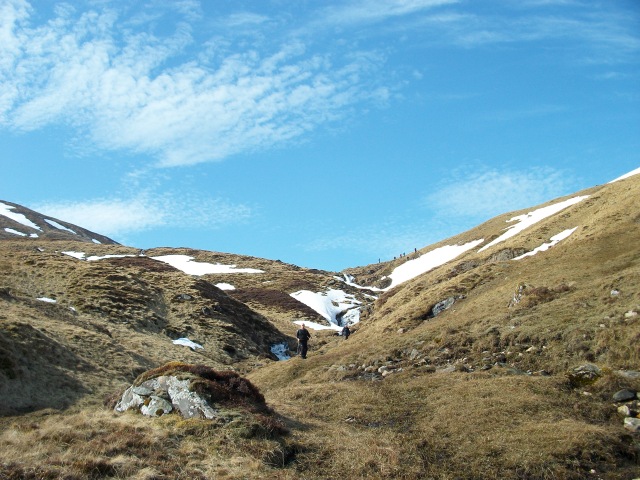 The long and winding road (couldn't get that song out of my head on this bit)

Glean Taitneach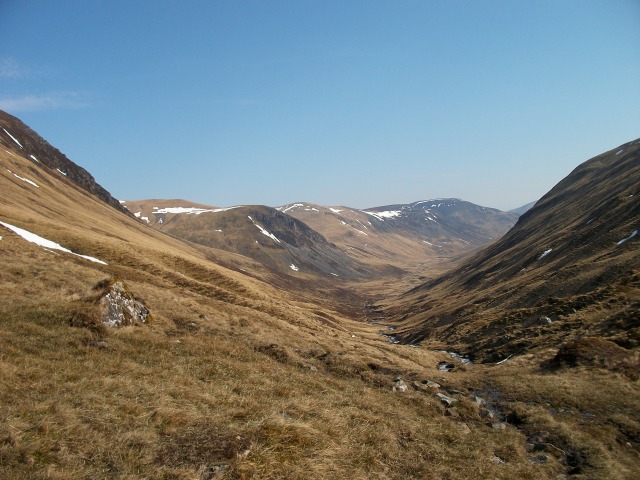 Allt Ghlinn Taitneach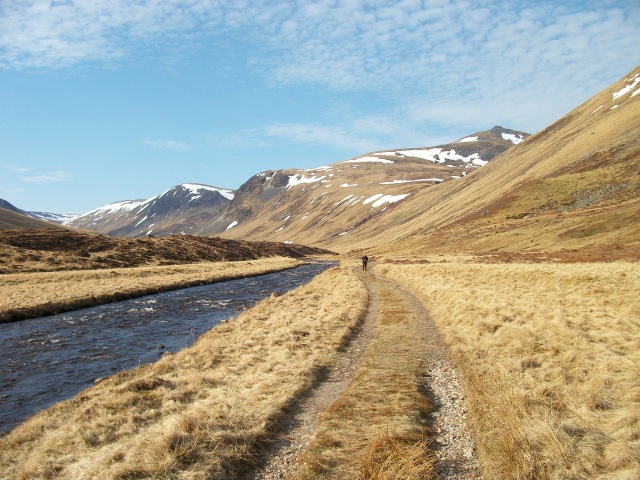 We reached the Hotel at 18.05hrs… so an 8hr and 40min day

Chaffinch by Hotel (what you looking at Jimmy ?)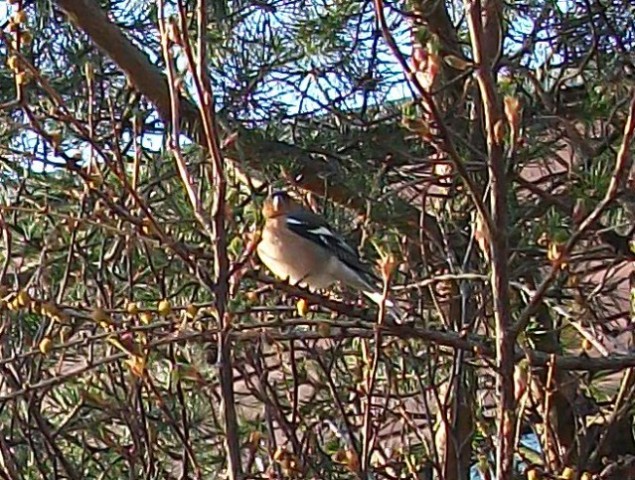 Happy hillwalkers at the Spittal of Glenshee Hotel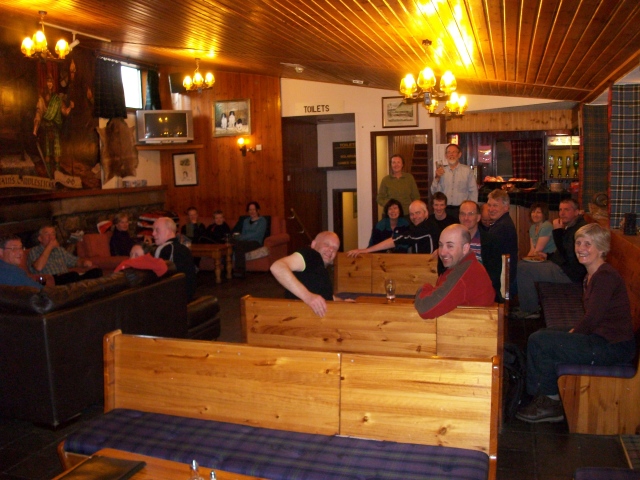 This was a very enjoyable Day Meet and I hope both Clubs enter into a similar agreement in the future.

What a great day out.