Six members attended the April Day Meet to Linn of Dee and all enjoyed a splendid day out.
Glen Lui Sunday 17th April 2016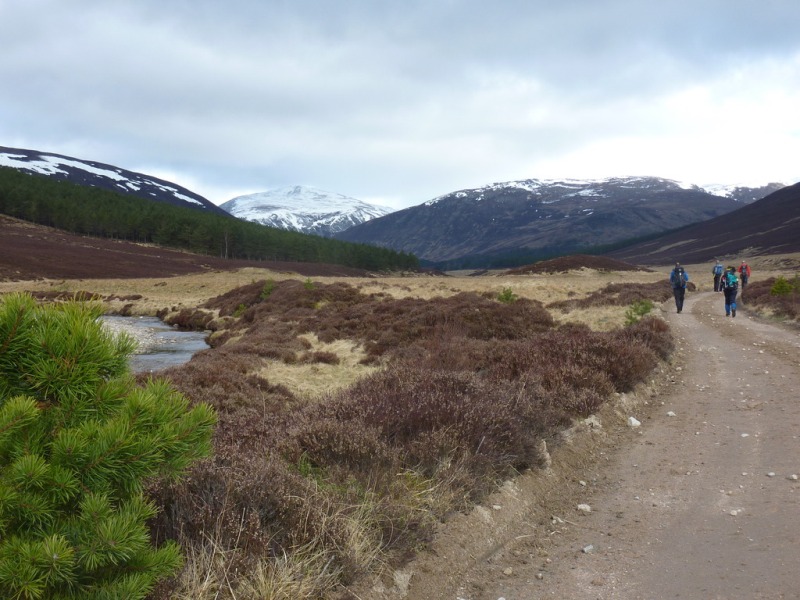 Around 08.45am a President's Party of 5 set off for Carn a' Mhaim and made the summit in 3.5 hours on a route which took them by Bob Scott's Bothy (where around 9 folk were breakfasting) and Derry Lodge.
At the temporary bridge over the Derry Burn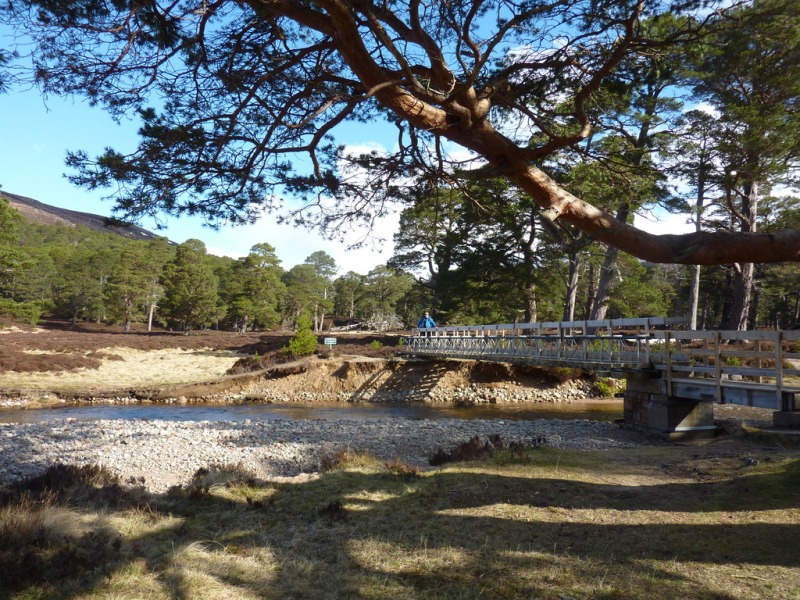 We forded the Luibeg Burn and enjoyed a late breakfast tea stop in amongst the trees with views up the small river to our hill.
Carn a' Mhaim from the Luibeg Ford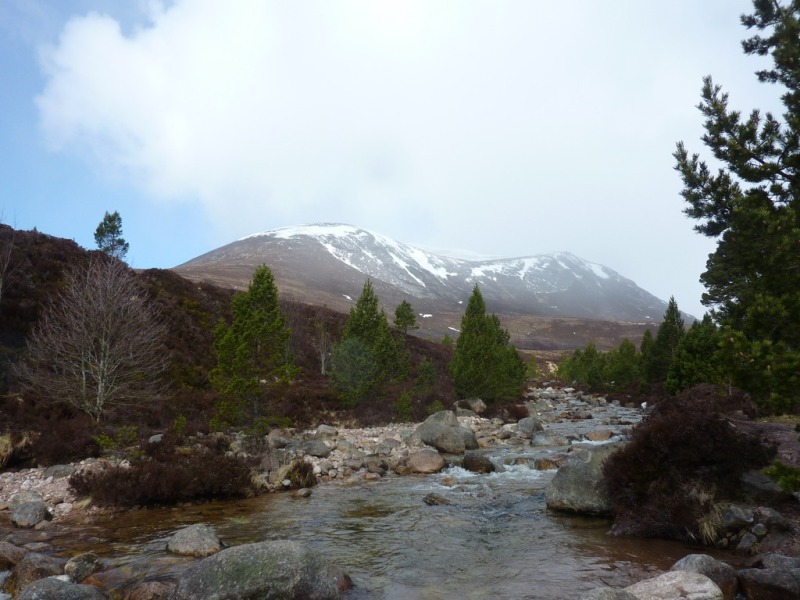 Progress was easy on a well constructed path and we must have been 850mtrs up before encountering any snow. Higher up and there was plenty of the stuff, and spindrift was bad at times.
Ascending Carn a' Mhaim (Glens Lui and Derry beyond)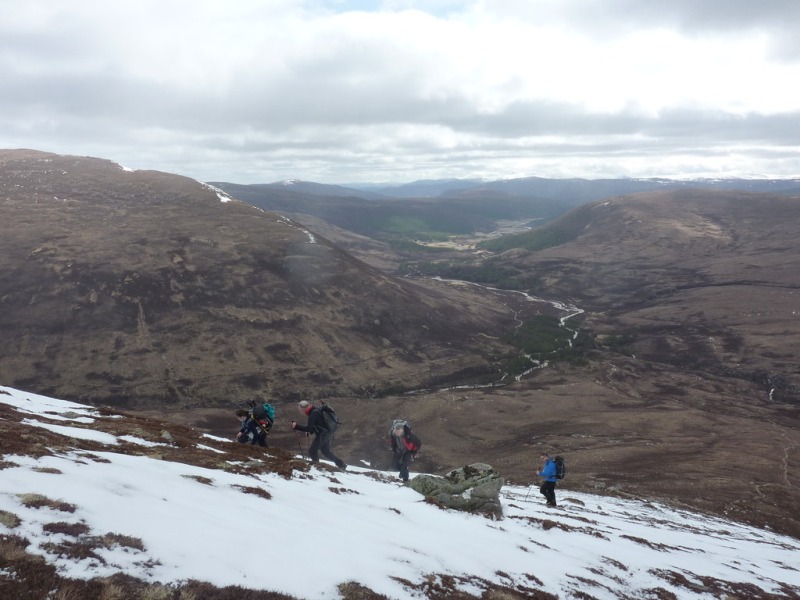 Spindrift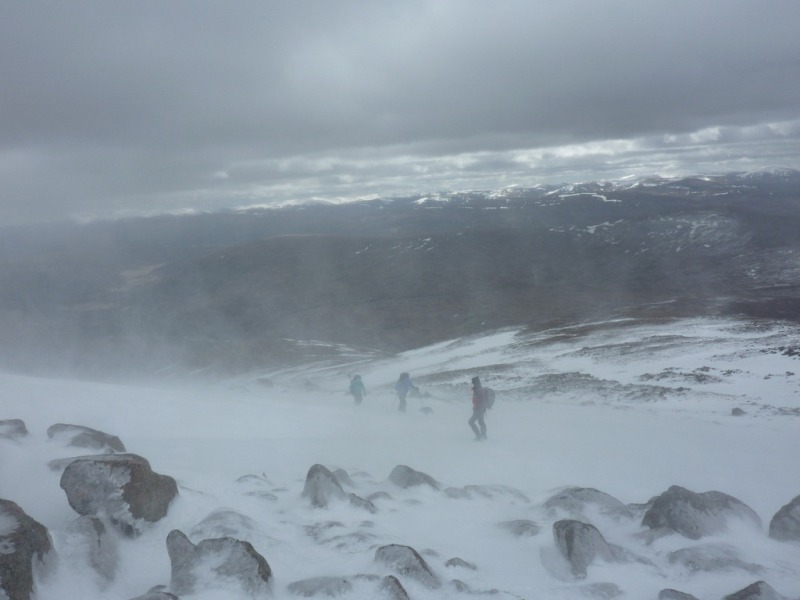 On the East Top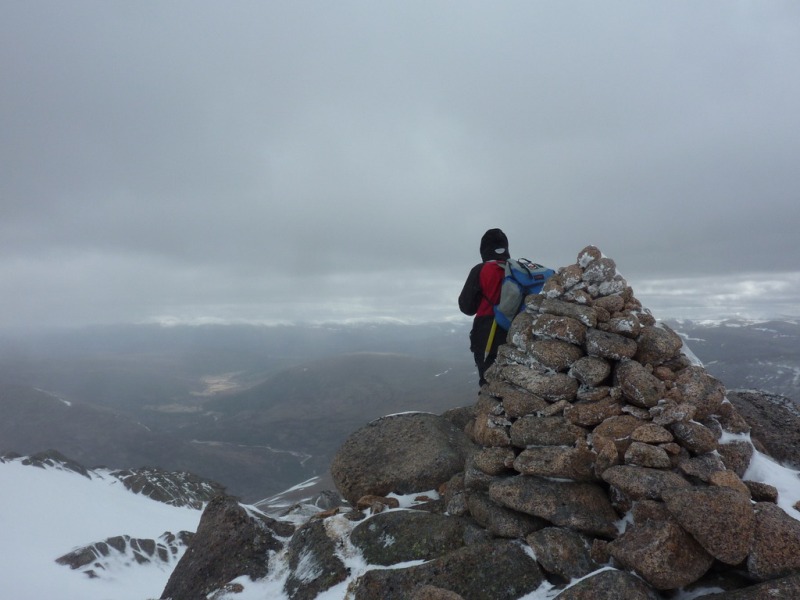 On the snowy Cairngorms (Garry and Izy)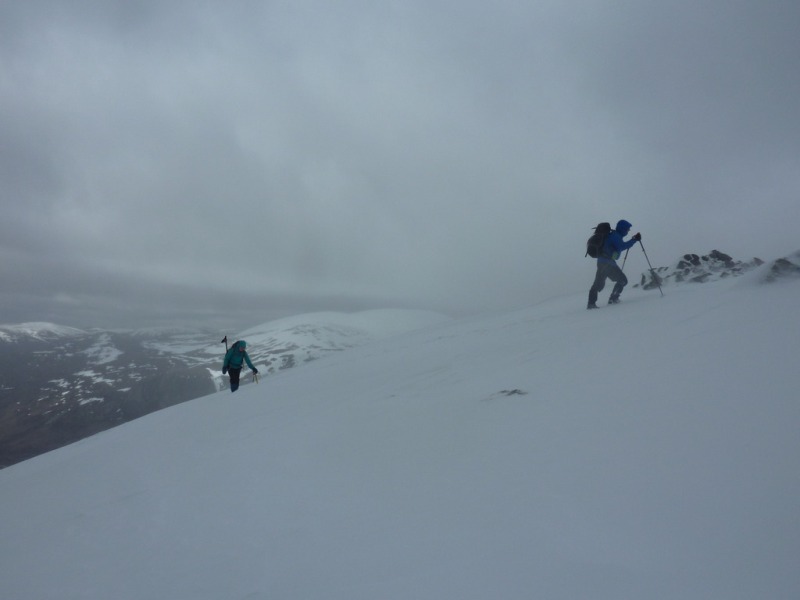 A couple of pairs of Ptarmigan and some splendid views kept our spirits up and at 12.15pm we found ourselves on a snowy wonderful and windy Carn a' Mhaim or (Hill of the Pass).
The view from Carn a' Mhaim is a fine one, a bit of work may be required to get there/here, but it most certainly is worth it. Tea and sandwiches were eaten inside one of the clubs new bivvy shelters whilst we considered our options for the remainder of the day. We decided to omit a traverse of the northerly aręte to the Lairg Ghru in favour of a return by White Bridge a wise decision today I think given the strength of the wind and the considerable risk of avalanche.
In't new bothy bag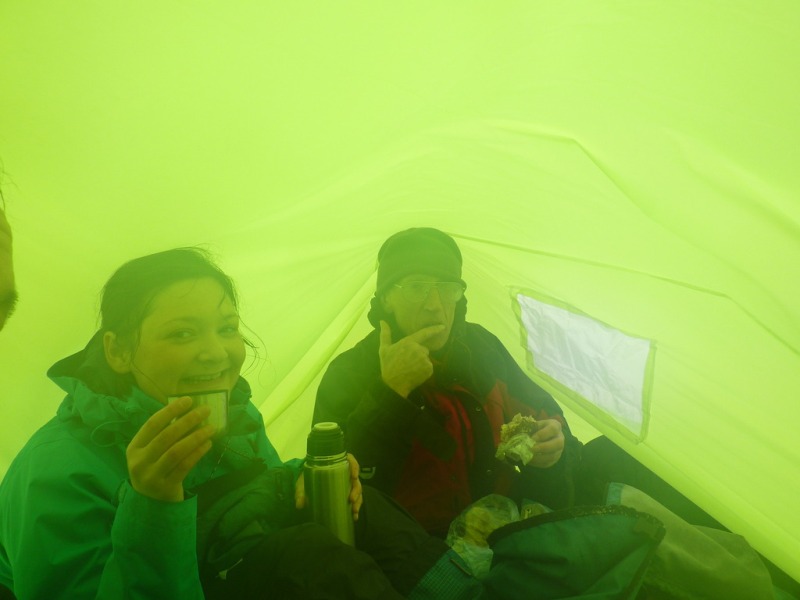 Garry happy with another "quality mountain day" for his log-book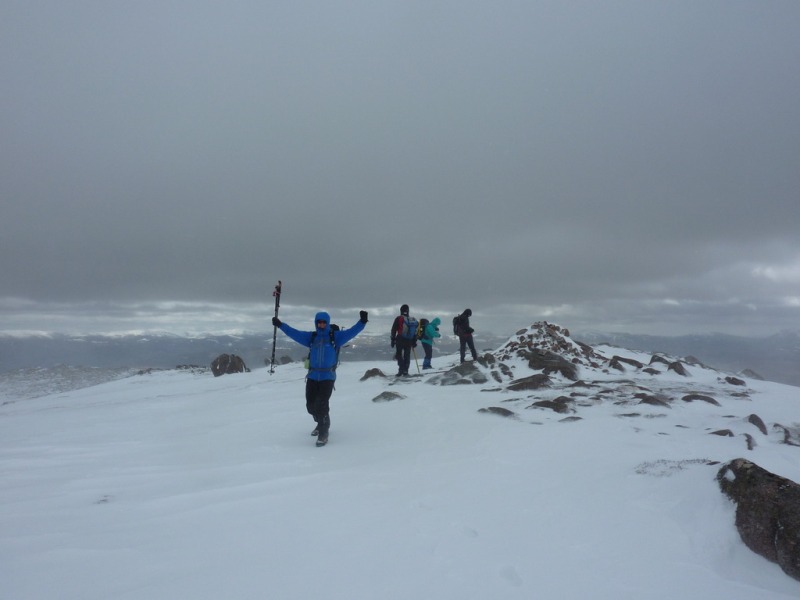 The Lairig Ghru from Glen Dee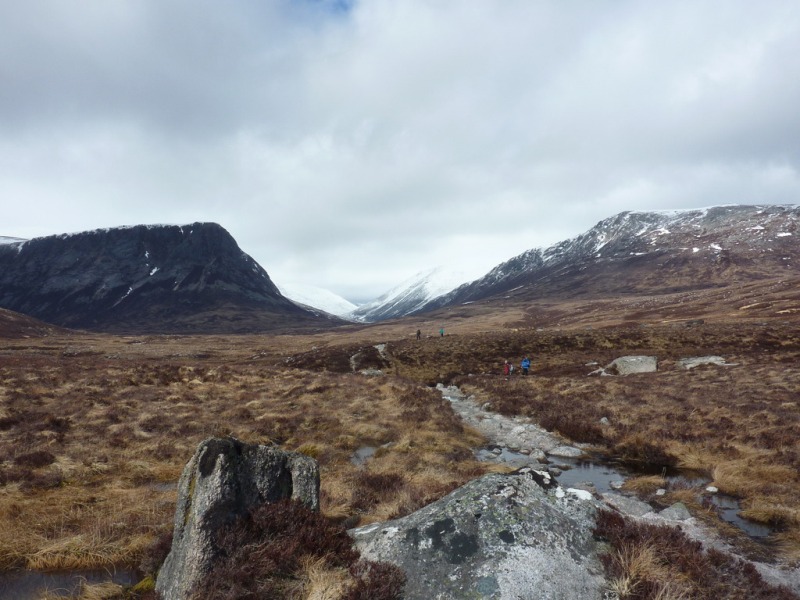 The walk out to Linn of Dee took longer than I remembered but Anne and the minibus (and Ken who had forged on ahead) were there and awaiting us at 16.45hrs as planned.
We visited Muir and found some quality woodworking had been happening whist we were on the hill. Former President Adrian Scott and chainsaw specialist Dave have produced some fantastic new seating for us from the felled trees out the back. Hours of planning, great skill and mastery has resulted in something really unique and uber special, very well done lads, and thanks
A new addition for Muir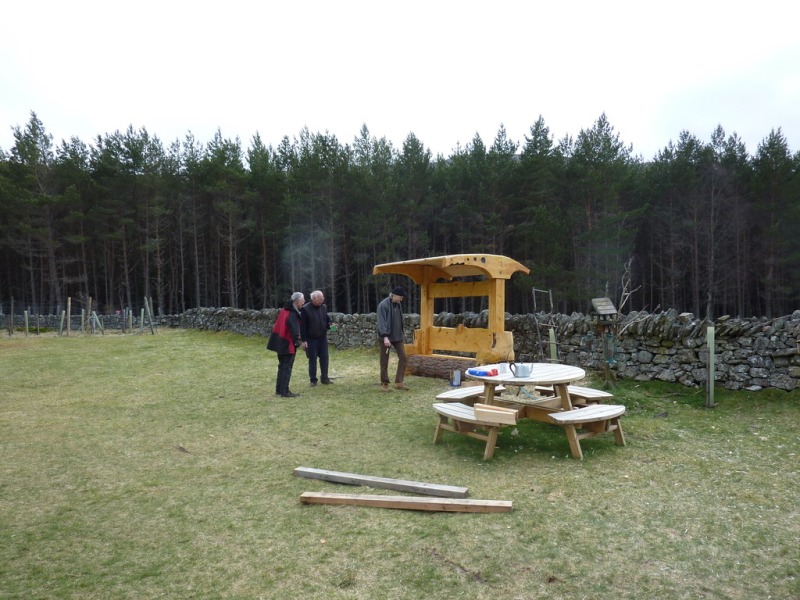 Quality Seating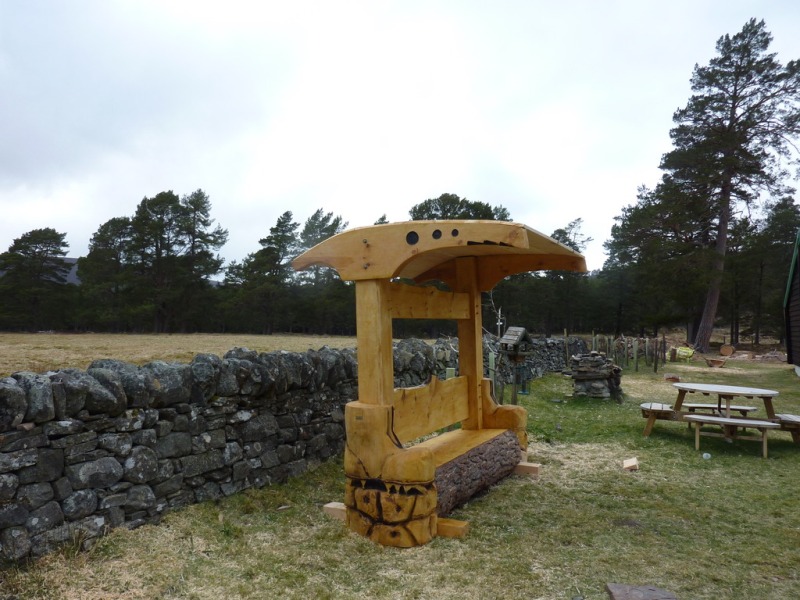 From Muir we headed for the Clubhouse at Braemar Golf Club where we enjoyed a convivial couple of hours (and some good food) in comfortable surroundings. Kees and Hazel, who had also been grafting hard at Muir, joined us at the meal. Yes, a very good day out.