The new style Saturday August Day Meet is often a complicated and tricky affair to organise, as some folk bivvy and others don't, and this year's was no exception. However in the end a plan was arrived at which saw the President's Party (PP) comprising Donna, Adrian, Viktor, Debs and myself enjoying a very memorable, if long, day in the Cairngorms where bikes were used for around 9 miles of a 20 mile, 10hrs 15mins trip.
The PP and bikes near Linn of Dee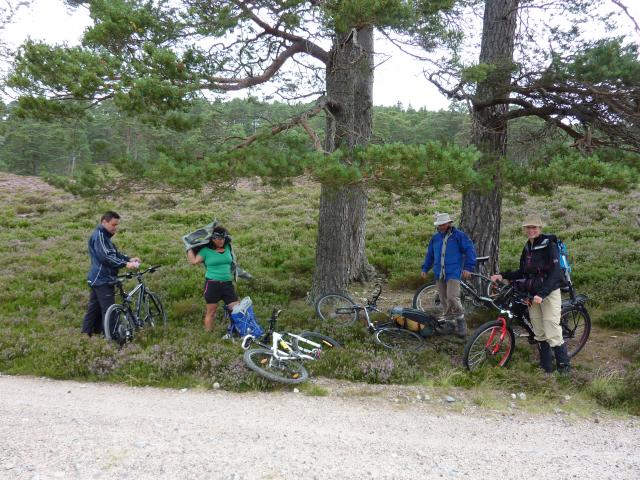 Donna came up with the day's route and led the PP and drove myself and Viktor up to Muir where we met Club President Adrian and shortly after Debs. After a quick coffee we made for Linn of Dee and set off on bikes at 09.30hrs. It was a blowy morning and a few showers came through as we pedalled into a head-wind for White Bridge. For some (me) this was a real adventure as I'd never used a mountain bike to access the hills before. I was glad to leave the loaned bike just over a mile beyond White Bridge where I set off walking like John Wayne !
Northwards up Glen Dee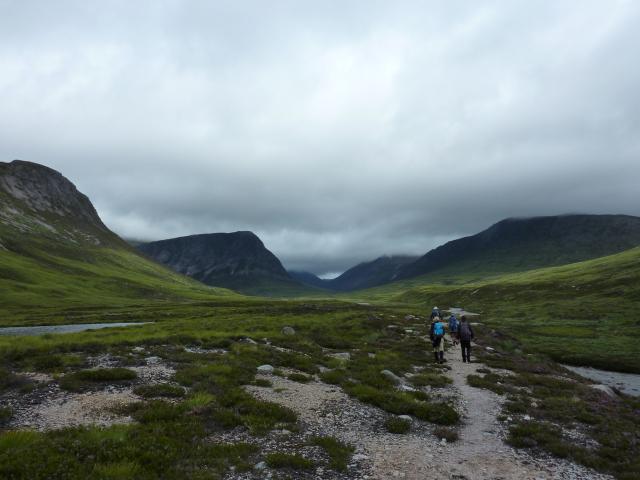 The Devil's Point from Glen Dee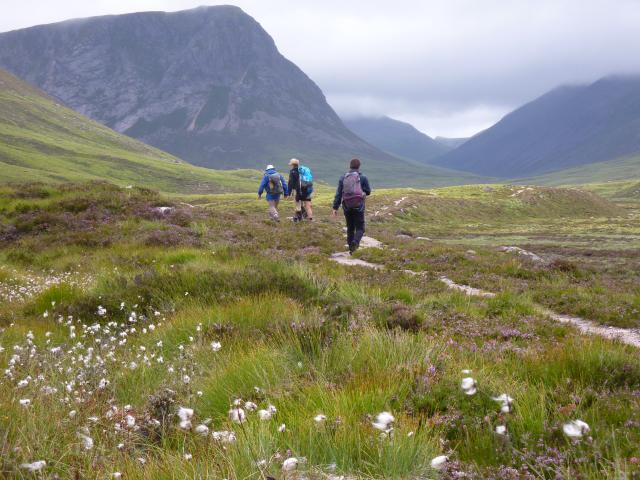 On the Path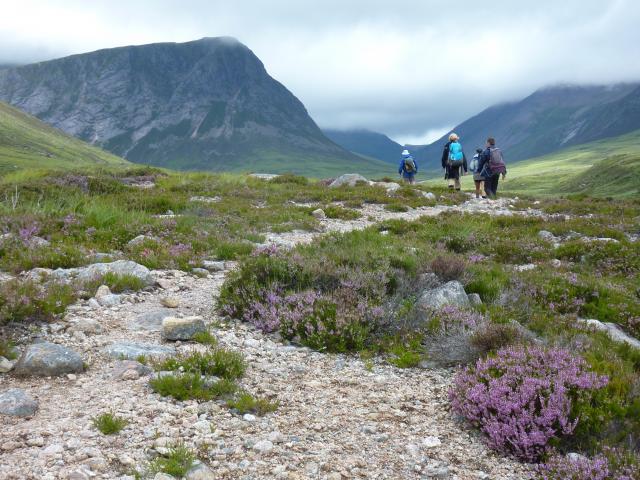 Luminous green moss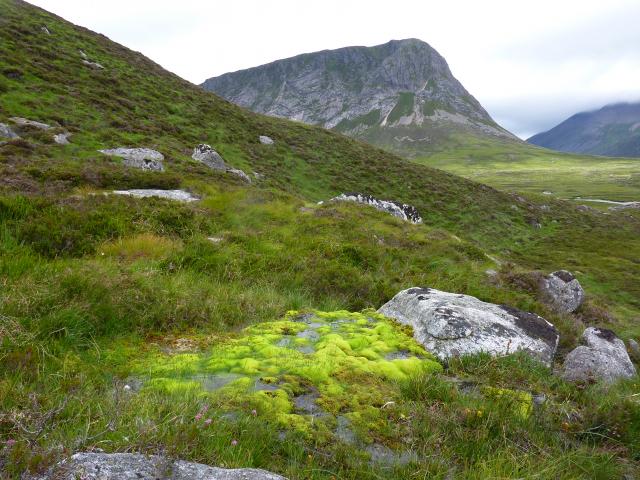 Looking to the Lairig Ghru from the south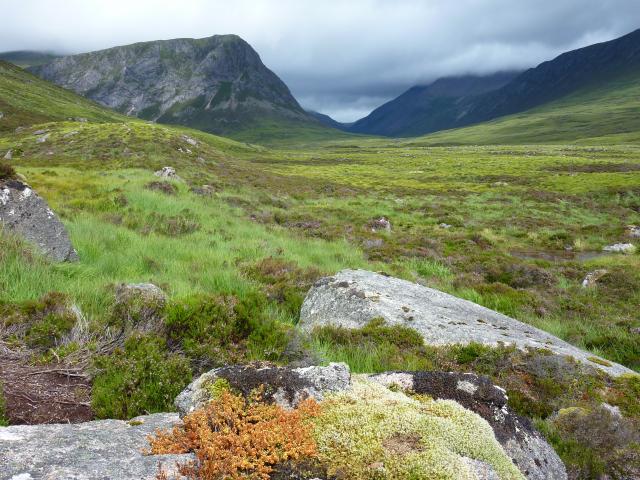 President's Party about to enter Glen Geusachan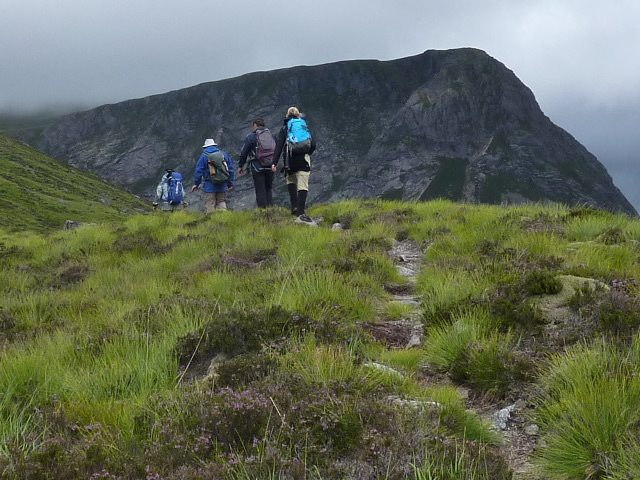 Our route took us northwards up Glen Dee on a substantial path (wet in places) before it swung west into the lonely and remote Glen Geusachan (The Glen of the Pines) which today was doing an excellent impersonation of a wind tunnel. Low cloud scoured the high tops as we stopped for a bite to eat and don extra layers. Hemmed in by the crags of Beinn Bhrotain and The Devil's Point we considered an ascent to the plateau by Coire Cath nam Fionn but in the end stuck to the planned route which would see us ascend Monadh Mor's East face up steep, wet and slippery slopes studded with boiler plate slabs and granite outcrops. As we climbed higher the cloud began to clear somewhat.
Ascending steep east slope of Monadh Mor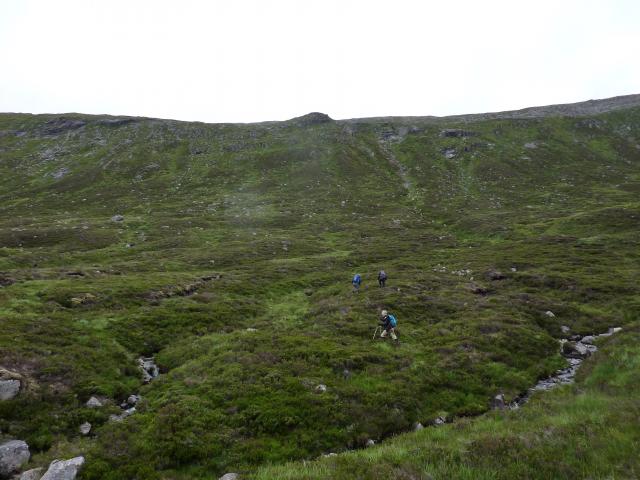 Looking to Glen Geusachan as a shower goes through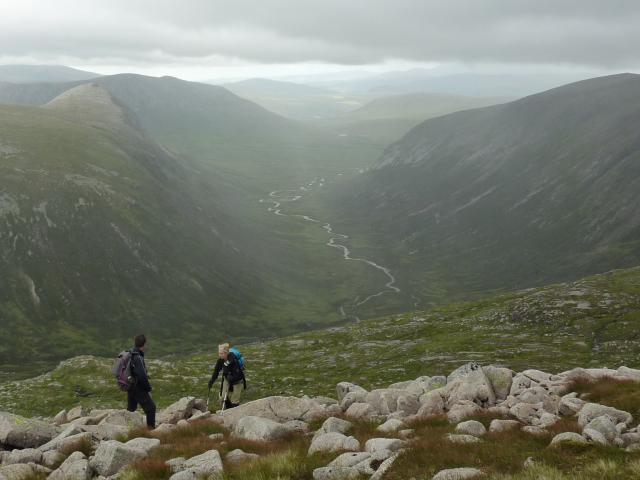 The President in action on the east face of Monadh Mor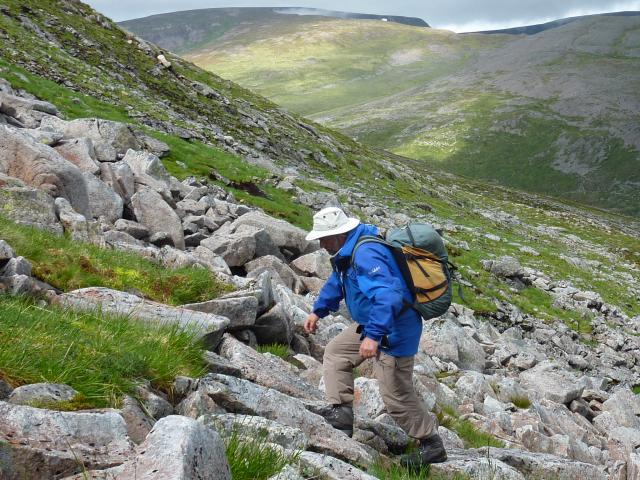 A text message from Ken T and Dave B suggested one was on the hill and one about to set out… both had bivvy gear.
Glen Geusachan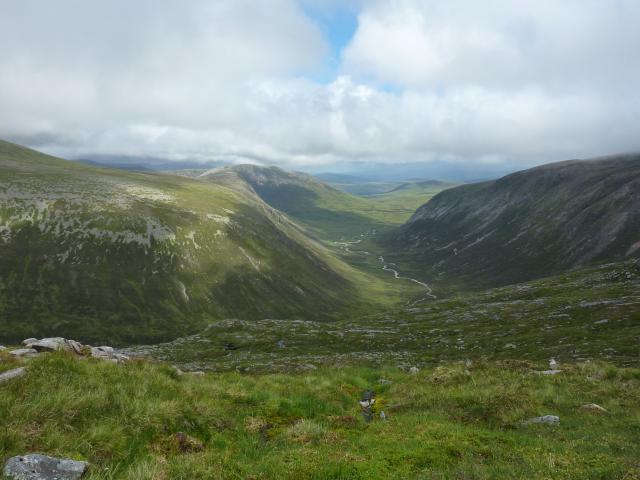 Looking to Cairn Toul as the cloud clears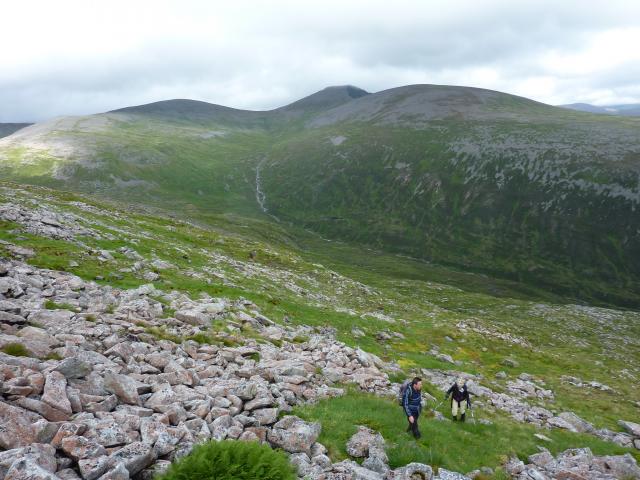 We reached the cairn on Monadh Mor six hours after leaving the Linn at 15.30hr, it was good to finally arrive.
A moody and blowy Monadh Mor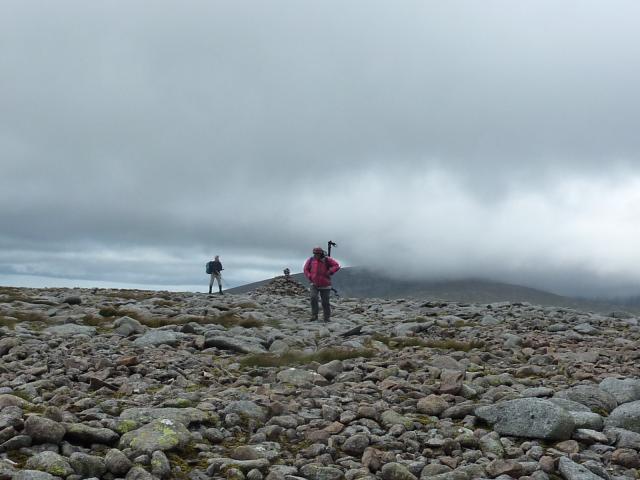 Views were good as the cloud shifted, casting shadows and allowing light through onto the mountains all around us, but it was blowy. "You may be blown over." said the MWIS forecast for the Cairngorms today in it's "Effect of wind on you ?" section. And they weren't far off the mark !
Down to a high col and then steeply up Beinn Bhrotain (over boulders higher up) we were soon on top.
Beinn Bhrotain from Monadh Mor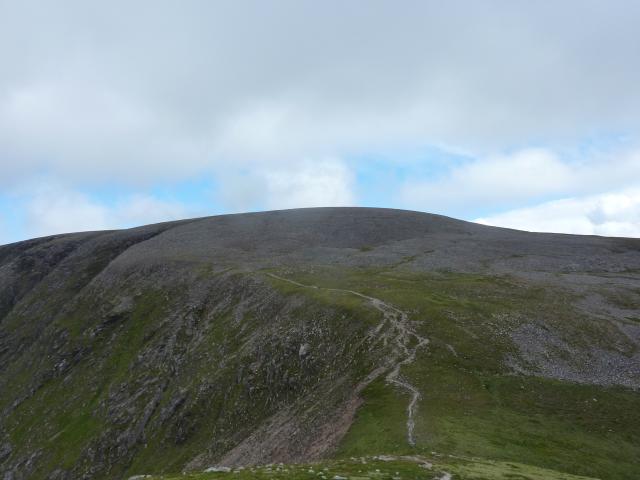 Beinn Bhrotain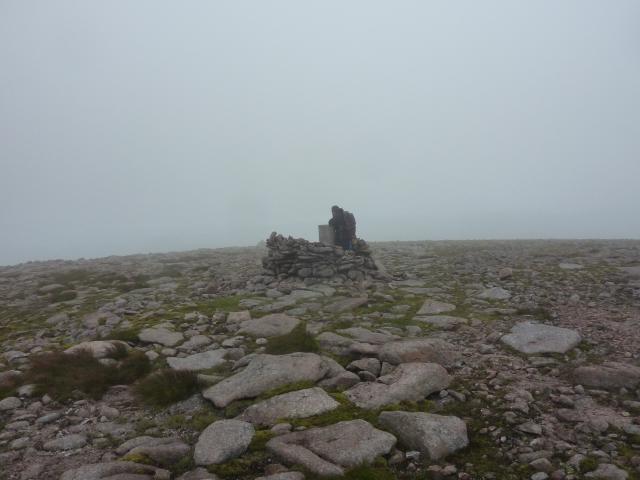 The top of Beinn Bhrotain today was no place to linger and after a few photos, a quick bite to eat, and a dram of six year old Milton Duff we descended by the Allt Garbh and recovered the bikes.
Descent by Allt Garbh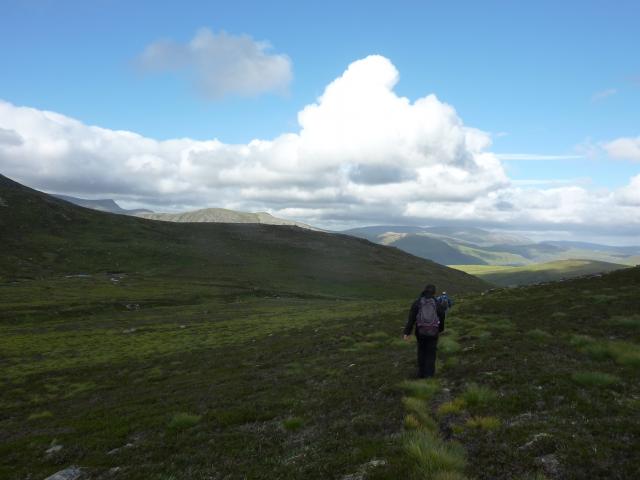 Looking back northwards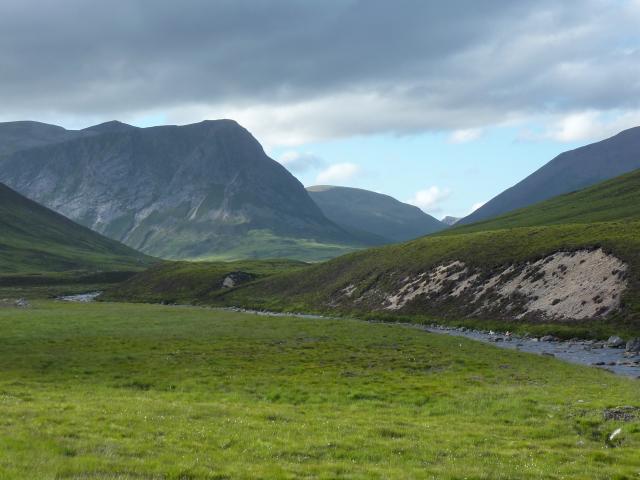 Viktor and Donna at White Bridge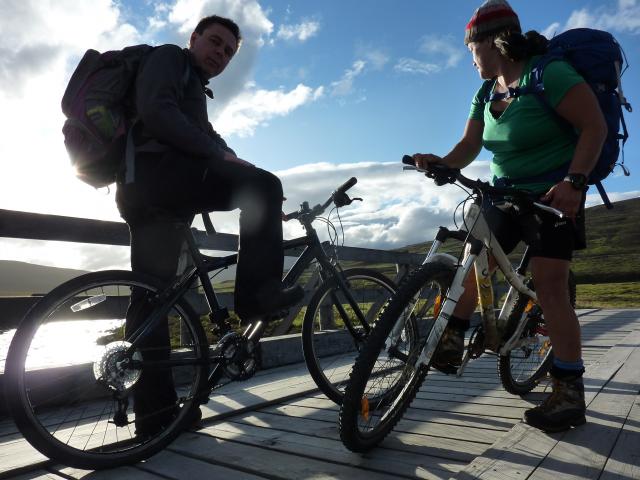 Evening sunlight on the River Dee