Thirteen members attended the final Day Meet of 2015 which took the form of a traverse from Insch to Inverurie over Bennachie. More than half (seven) travelled to and from this meet wholly or partly by train.
Platform 6N Sunday 13th December 2015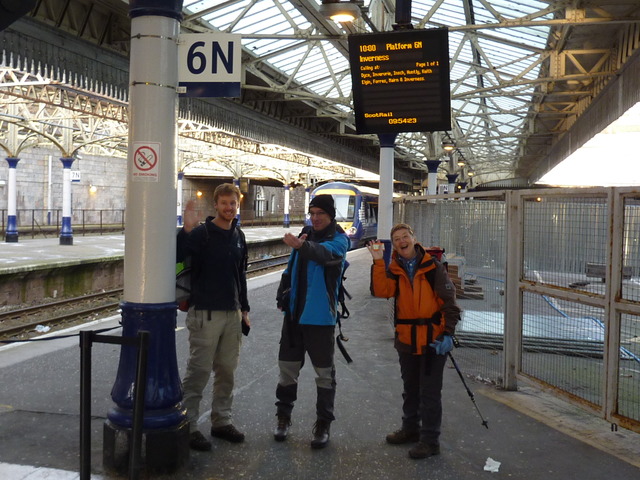 The first Northbound train from Aberdeen on a Sunday morning is the 10.00am Inverness service and 4 made the journey through the streets of Aberdeen to the station on a cold but bright Sunday morning. Our club secretary joined at Dyce and two more at Inverurie. Our train was on time and with the comfortable journey from Aberdeen to Insch taking only 34 minutes our mini-adventure into the countryside ended all too soon.
Rod, Sue and Garry met us in frosty Insch and so 10 set off out through farmland for first, the Watch Craig of Bennachie.
Looking out over Garioch from The Watch Craig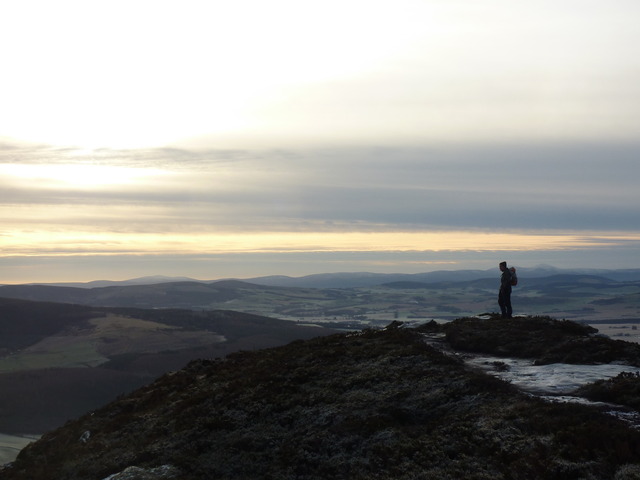 The day was cold but relatively bright and more importantly there was little if any wind.
Ben Rinnes and Tap o' Noth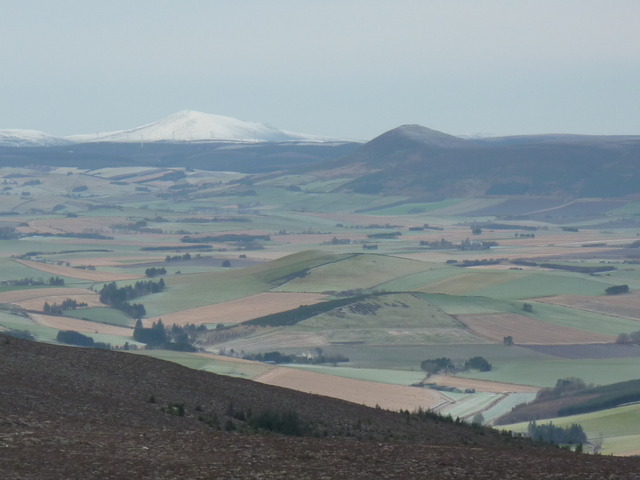 We gained Oxen Craig around 13.15hrs. Judy and Alec were awaiting our arrival on top having come up from the Visitor Centre on the Gordon Way.
We lunched here before some set off for The Mither Tap directly. Garry, Benn, Tom, Carlos and myself went via Craig Shannoch and "The Cave" which was on my virtual bucket list and Garry insisted we find it. We did find it. Thanks Tom and Garry.
Leaving The Oxen Craig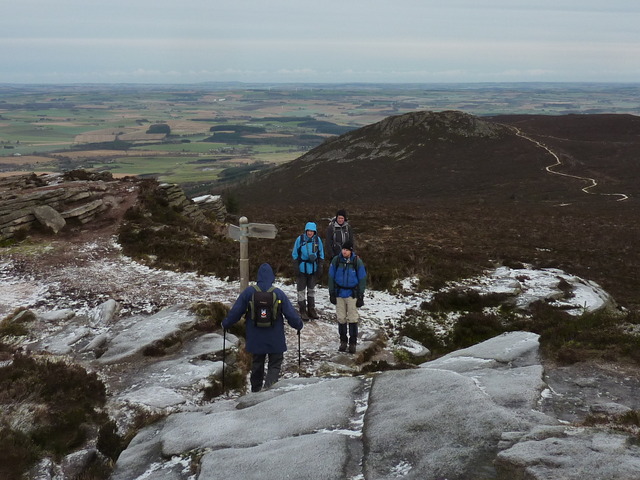 Happy Day Meets Secretary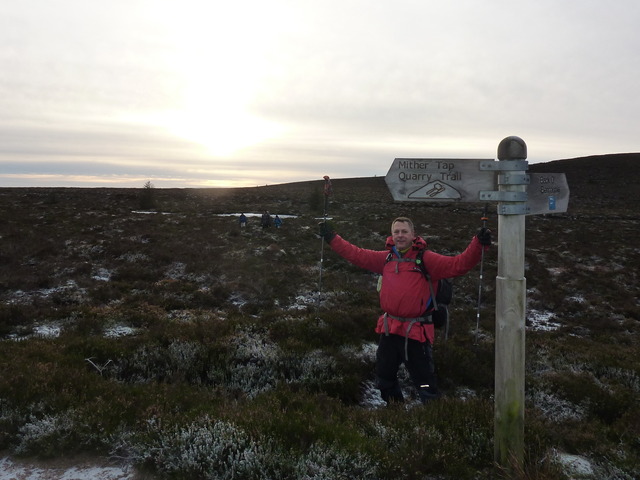 Garry in the Bennachie Howff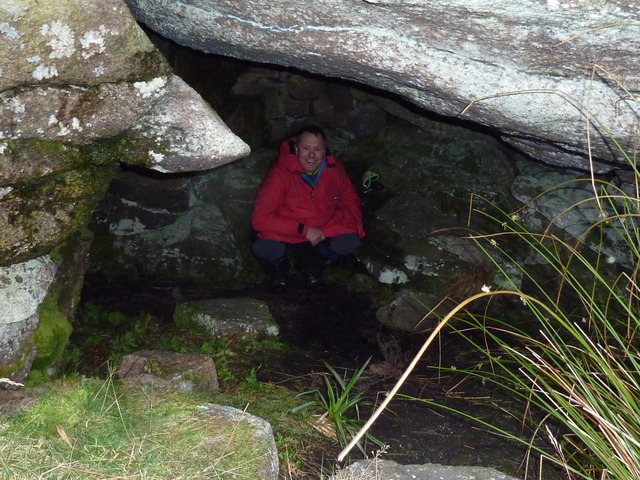 Sunset was forecast for 15.25hrs and we five (plus Colin) who we met, decided to hang around in the hope of seeing a spectacular light show. It never happened... but a magical refilling quaich containing a 'rusty nail' meant the 35-40 minutes awaiting nightfall was no hardship at all. Rumour has it that some drunk too much and this may account for the odd commando roll and scuffed knees on our descent.
Carlos imbibing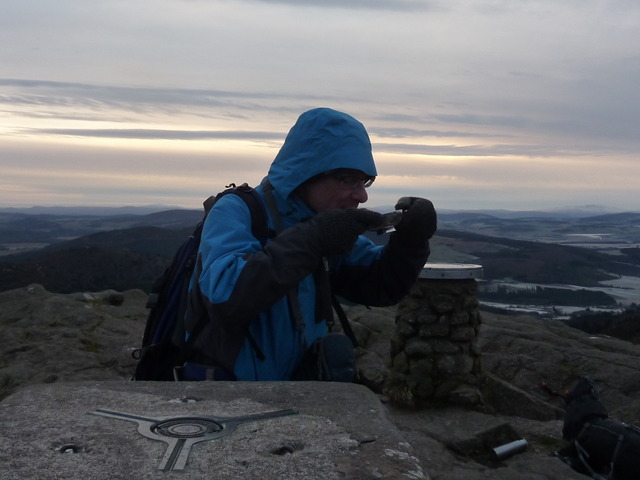 On Mither Tap near sunset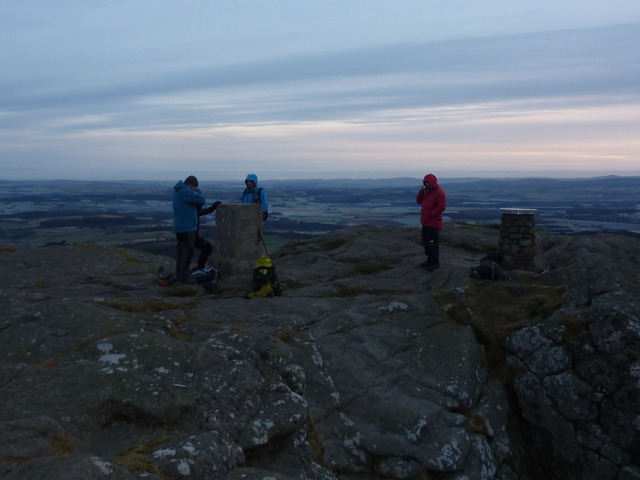 Vice President Brown ferried us into the bright lights of Inverurie once down and a rather pleasant hour or so was had in The Gordon Highlander Pub where we indulged in some fine fare and Christmas drinks.
The Pub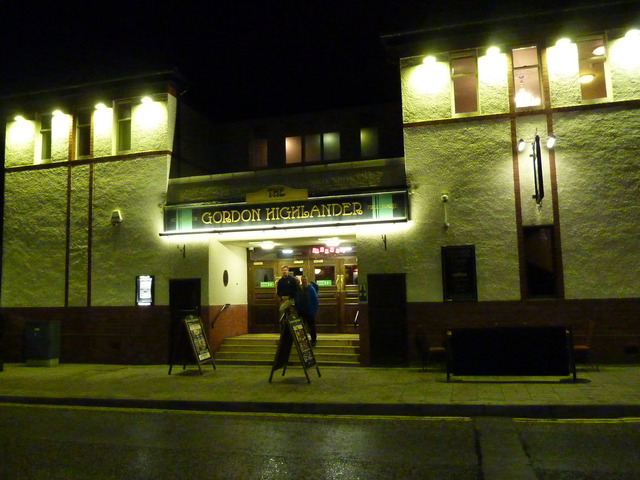 Contented hillwalkers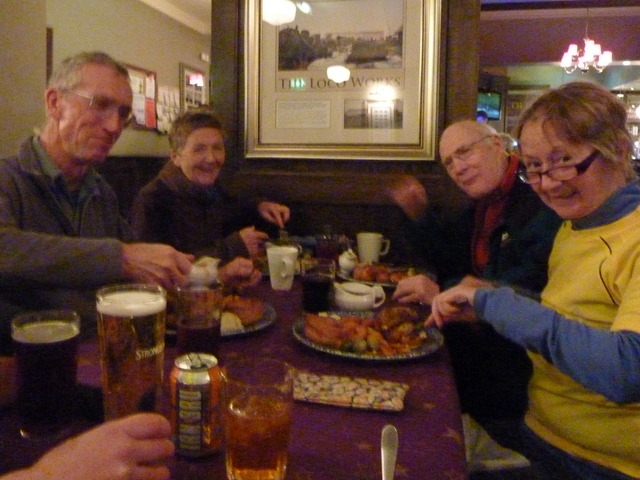 This was, in my opinion, a rather satisfactory Meet where both the weather and company were most agreeable. Best wishes to you all, and here's to 2016.