The annual Cairngorm Club Valentines dinner fell on the weekend of 13th to 15th February, and an excellent time was had by all.
A number of people enjoyed a Tête à Tête at an intimate table for 17, with only 4 men the conversation was mostly handbags boy friends and makeup. Given the distribution of the sexes, the single men of the Cairngorm Club missed the chance of a lifetime to share a romantic meal with a charming woman at rock bottom cost (£4 for two) and an early bed: Some older member was shocked to discover that all the woman and most of the men had deserted him and retired for the night by 10pm, what a bunch of lightweights!
Nancy demonstrating when faced with tricky mountain conditions the correct posture to adopt when playing the concertina:


The rest of the weekend was filled with winters skills training led by Di Gilbert (the Club's favourite instructress) and her assistant Nancy Brooks this was more fun than the meal, for one thing, there was snow, deep snow, and ice to practice with.

Marianne getting it wrong: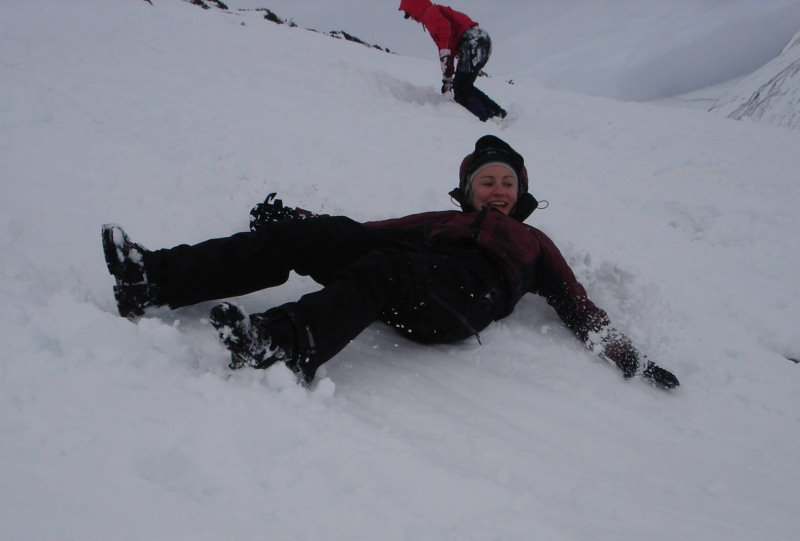 Marianne concentrating on getting it right:
Successful arrest: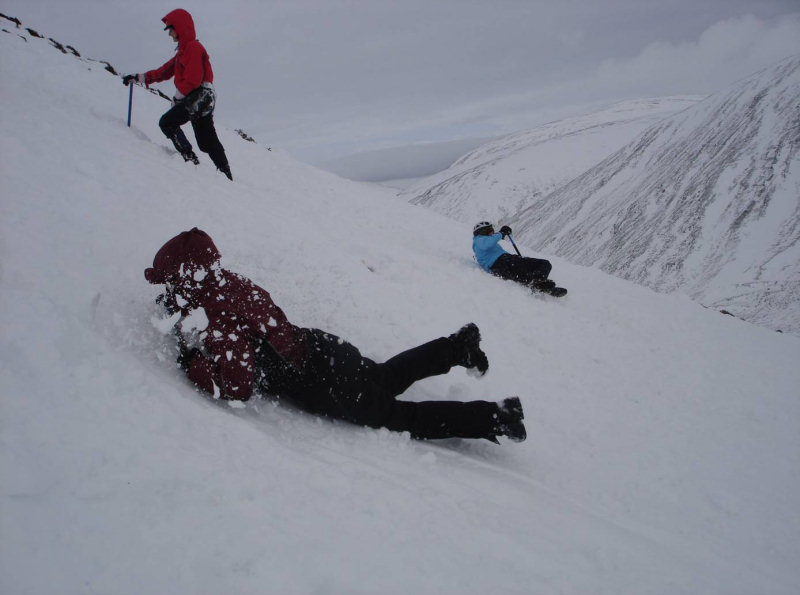 The company was split into two groups, according to previous experience, and they learnt and practiced everything from ice axe breaking, to step kicking, to step cutting, to walking with crampons, to precision navigation with map and compass, and how to slide down hills.
Nancy explaining to Claire and Estelle that mountains are very big but just look small because the are a looooong way away: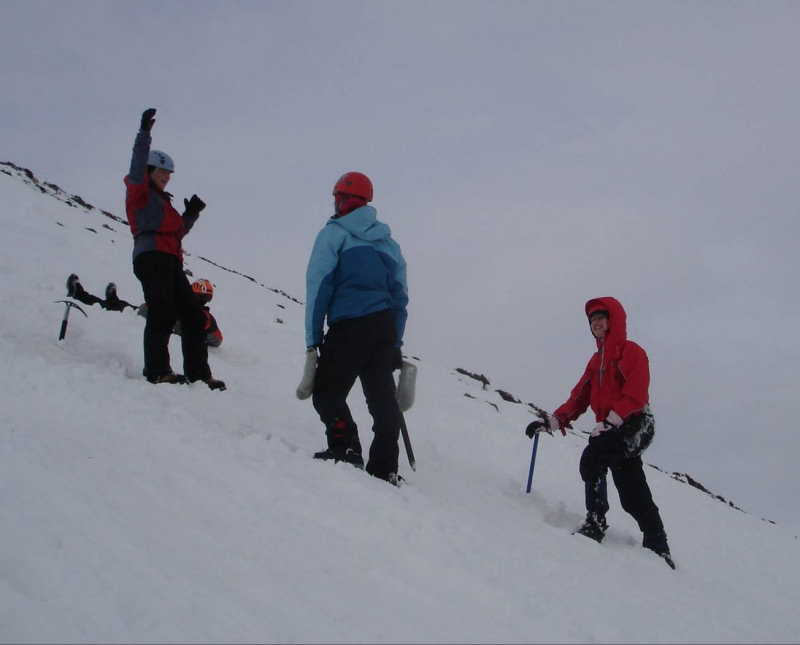 There were 5 persons not participating in winter skills training. Adrian & Emily went and took photos of people sliding down snow slopes then had a walk and returned early to Muir to chop stuff for the communal meal and drink Gin. Eilidh and two of her mates went skiing up a hill? It can be assumed that this is a euphemism for visiting the Braemar coffee shops, as we all know skinning down the hill is the normal way of doing things. On the Sunday two of us went tottering about on snow boards whilst tiny kids on skis zipped past at ludicrous speeds .
A fine time was had by all.
Click HERE to view filmclip (uploaded to YouTube)