SNOWHOLING IN THE CAIRNGORMS Feb 2010
On the evening of Friday 26th Feb 2010 eight members of The Cairngorm Club met up at Fraoch Lodge, Boat of Garten for a weekend of Winter Skills with a difference…
Fraoch Lodge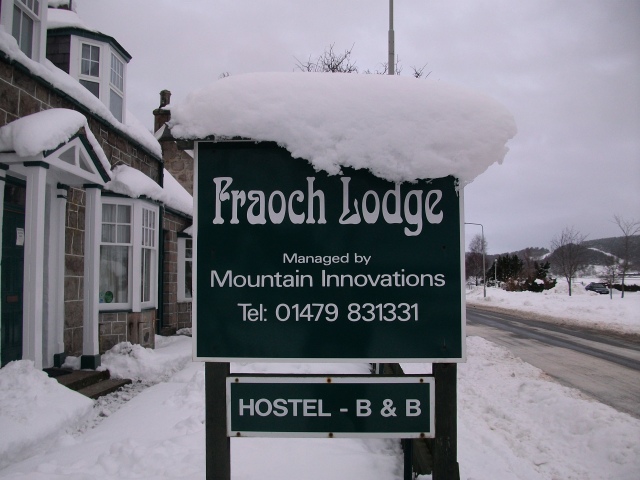 On offer this time was the opportunity to spend a night in a snowhole … we would quite literally have "to make our beds and lie in them" ! ! !

Would I like to do it again … I most certainly would.
Our instructors (James Woodhouse assisted by Richard Hathway) joined us before supper on the Friday for a gear check and briefing. We learnt amongst other things that meths stoves are not ideal for snowholes. Gas is what is required. We found ourselves also to be deficient in one or two other areas and so a pre snowhole shopping trip was planned for the Saturday morning in Aviemore. The two Mountain Gear shops we visited were heaving with skiers and climbers and it was some relief to eventually leave them behind for the drive up towards Cairngorm. With the snow gates still closed we parked up a little before them got geared up and then eventually got moving.
What I liked about this Meet was the lack of decision making I had to do. One simply had to put one foot in front of the other. Our guides made most of the decisions ....… we simply followed their instructions.
Richard and John at Glenmore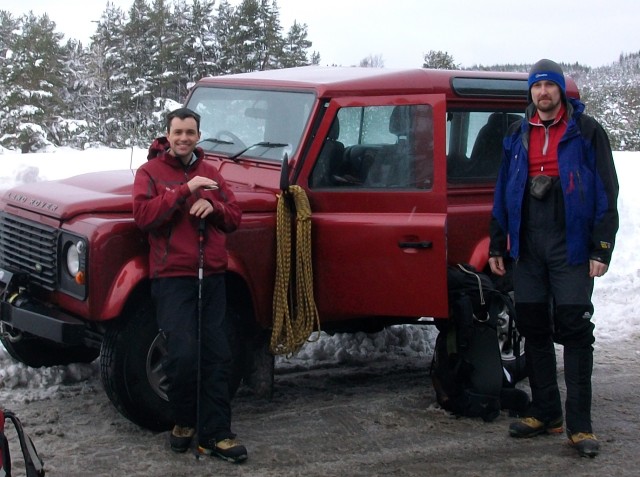 Into the forest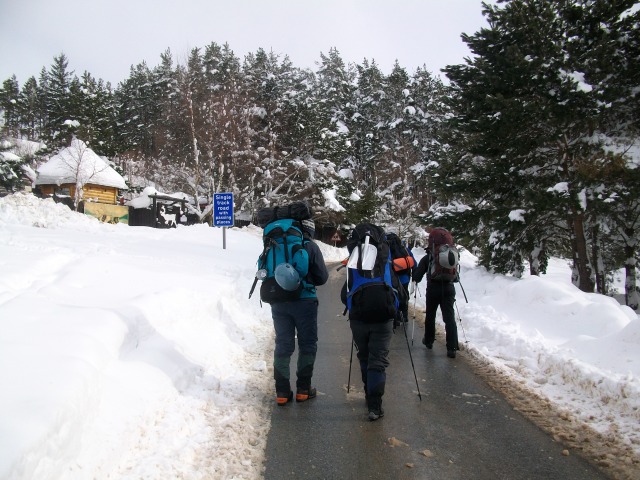 There were many groups out… sking…digging…walking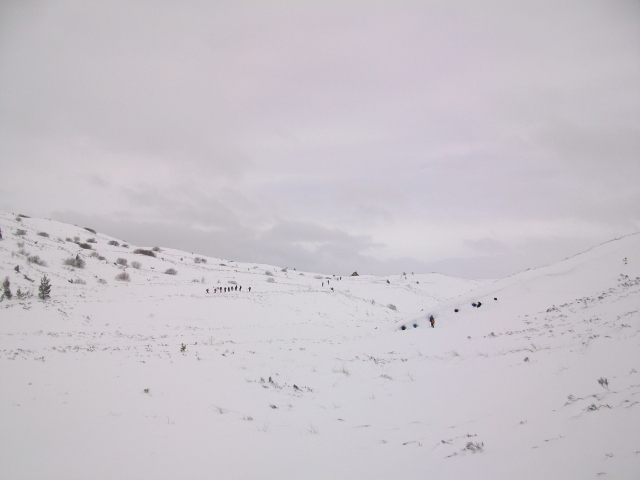 So where would we be going ?
We would head towards Bynack Mor…easyish at first on the ski tracks but once off path progress slowed to a crawl. There was a lot of deep soft snow about. Our instructors covered navigational techniques (amongst other things) on the walk in to the snow hole site. We took turns on navigational legs using pacing and time, map and compass… no GPSs here. This was back to basics ...… the fundamentals of moving in open country.
Not surprising really as James' background is an Army one. He is a former Scots Guard. I found both James and Richard to be top geezers who knew their stuff. Their enthusiasm was addictive and instruction, advice and technique were delivered in an easy and positive fashion. Adrian Scott had picked our instructors well.
The following is mostly a pictorial account of how our two days in the mountains panned out. Travel was slow. Less than 1km per hour at times. But of course we weren't really here to walk… we were here to dig initially… and then to sleep.
And to freefall...Fun in the snow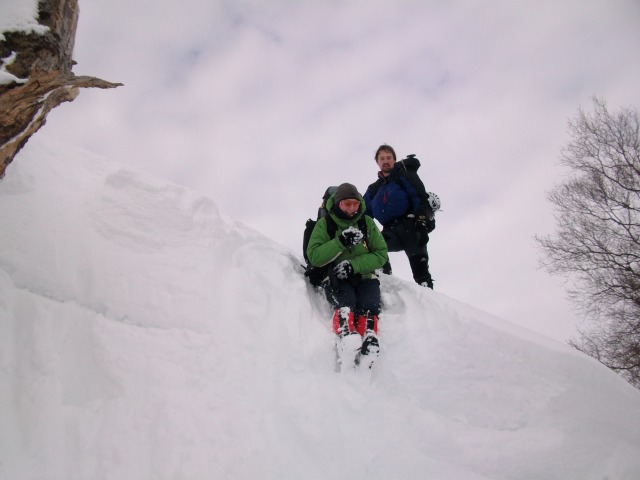 John in freefall...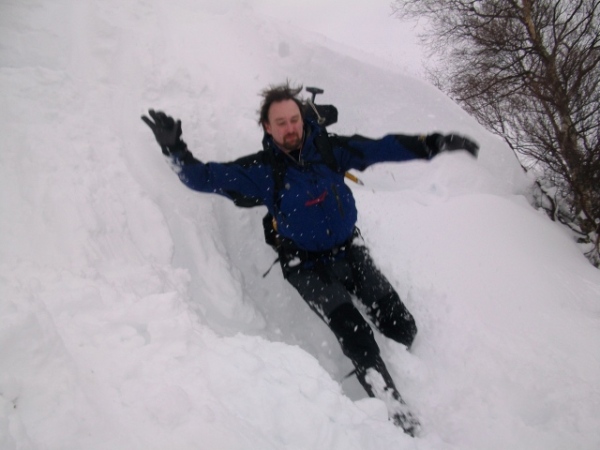 Looking for "the right snow"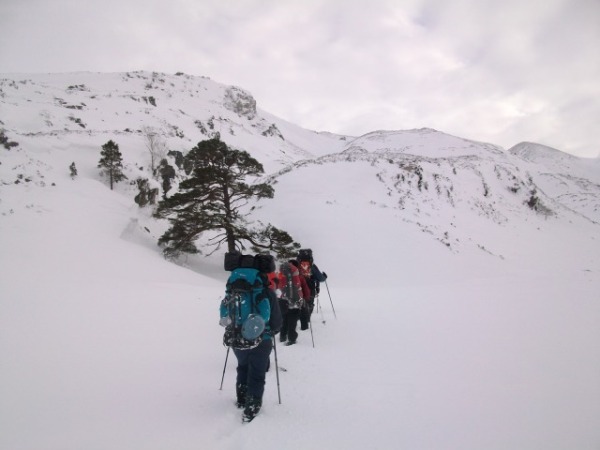 The Cairngorm Club Feb 2010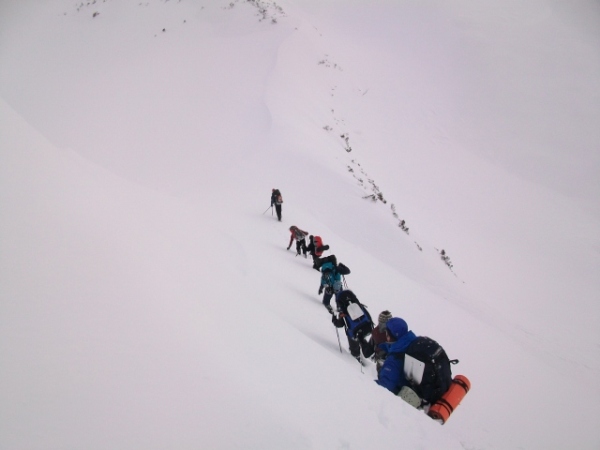 Our route took us across the allt a' Garbh-choire and up into the rough choire though there were very few "rough" boulders visible today.
Our instuctors checking things out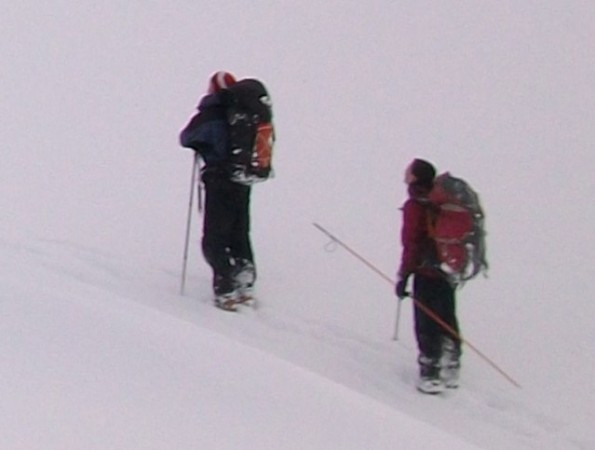 Evidence of a recent avalanche meant our first choice was a no go and probing of another two sites incredibly revealed there was just not enough snow for our plans.
We descended a bit and eventually were looking down on an almost perfect spot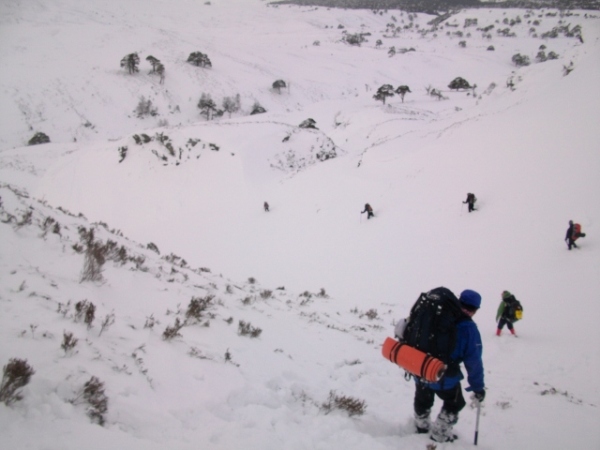 This looks right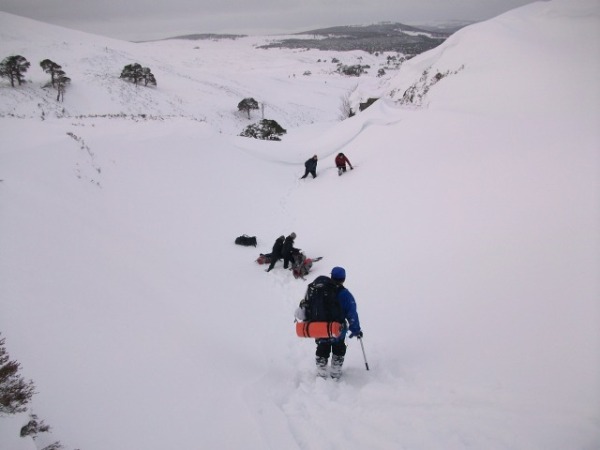 We were in a curious ravine, not quite a rentrant. A place quite safe from avalanche. A homely nook in the hills with a wonderfull reverse cornice at one end (part of which we tunnelled into).
And the digging starts... Jon and Anastasia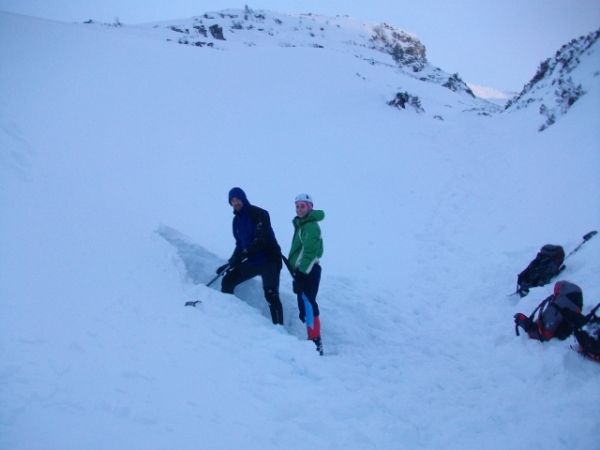 Jenny Maria and Derek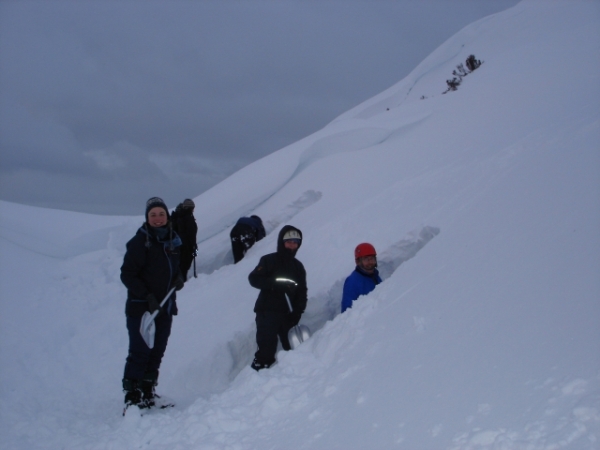 Jon and Anastasia had to abandon their initial hole due to a combination of hard snow and not enough depth. And at hole number two Jenny,Maria, Adrian and myself also soon hit heather :o But the other hole was now looking very cosy and soon work commenced on another (on the other side of the reverse cornice).
We started digging around 5.50pm (as I recall) and we were all inside by 8.30 pm.
As the night draws in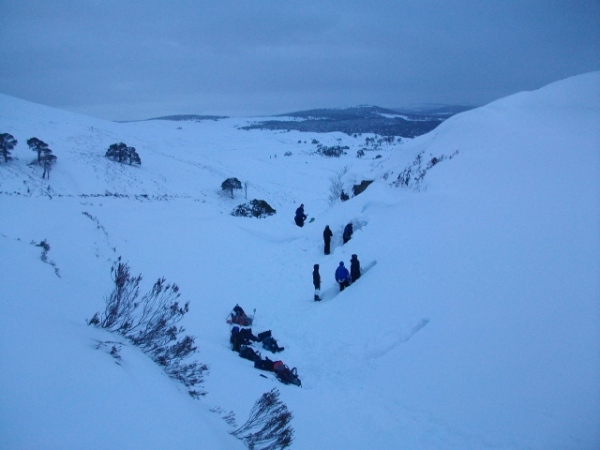 No caption required ! ! !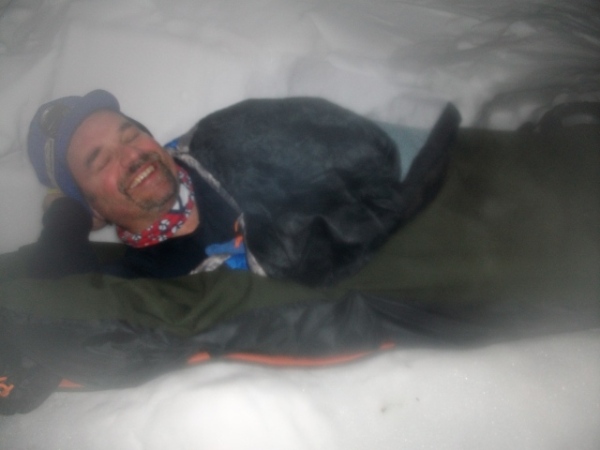 Our hole (myself, Adrian and Maria's) was the smallest of the three constructions. We were rather proud of our little home in the hills ......... a snow home I may add which had THREE levels.

Maria enjoying some soup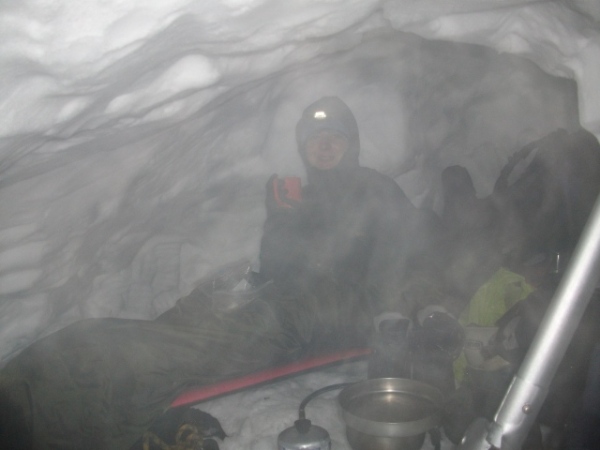 After soup, tea and some mulled wine it was lights out for these snowholers (at 9.30pm) as there was not really enough room to do much more and besides we were all a little tired from our earlier effort. Cosy in our sleeping bags and with a full moon illuminating the inside of our proud snow home each dozzed (or slept) in some comfort till James popped his head in the door at 02.30 and asked "if everyone was alright" he then went on to say that the roofs on the other holes were sagging a fair bit (he thought they might). Ours wasn't too bad... but it was lower.
"Get up and get packed... we'll night nav to "The Bothy" for some breakfast"
At 2.30am in the morning this rather surprisingly sounded like a splendid idea and by 3.30am we were all packed and moving for a bothy less than 2km away. The journey took us 2.15 hours in the deep soft snow. We took turns at the front navigating and breaking trail. It was hard work but Ryvoan awaited.
Name that Bothy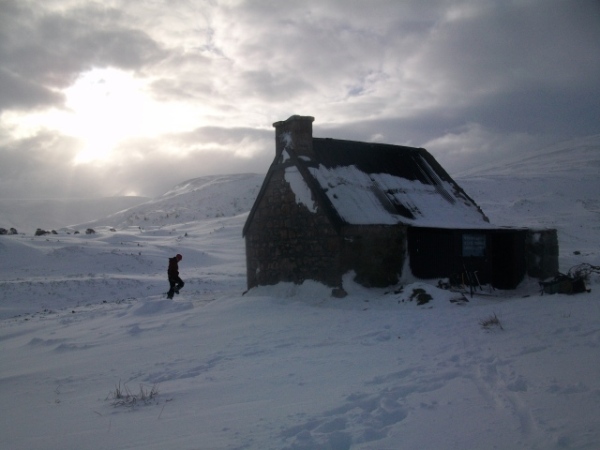 We arrived before 6am to an empty bothy where we refuelled on porridge and tea (some slept) and at around 09.30 I joined the team for Meall a'Bhuachaille.
Adrian Scott on Meall a' Bhuachaille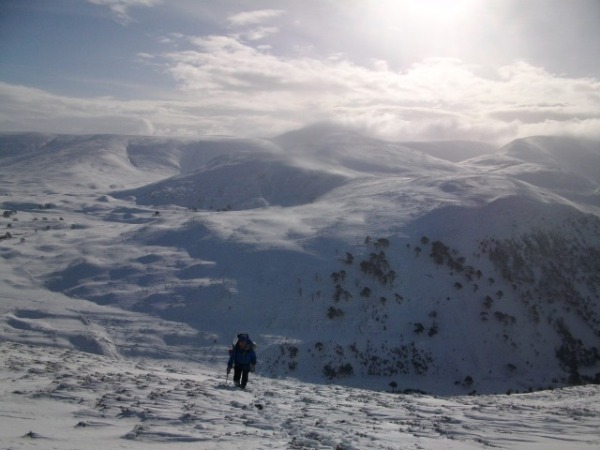 On Meall a' Bhuachaille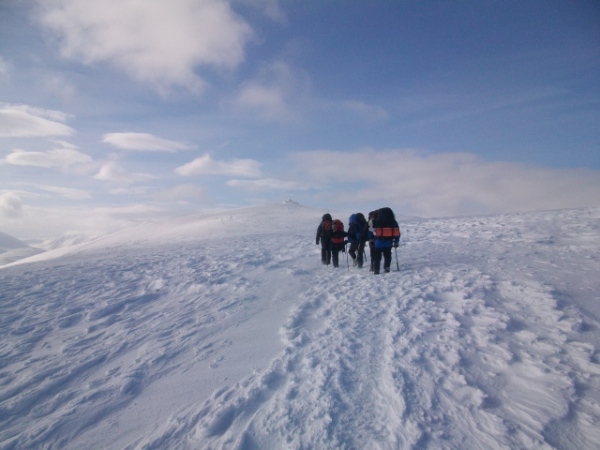 The Hill of the Shepherd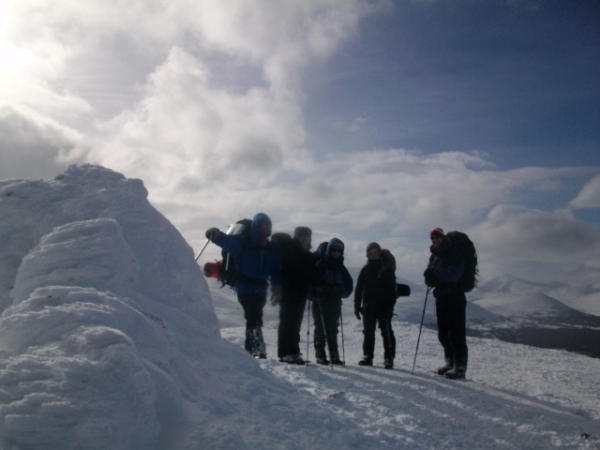 Creagan Gorm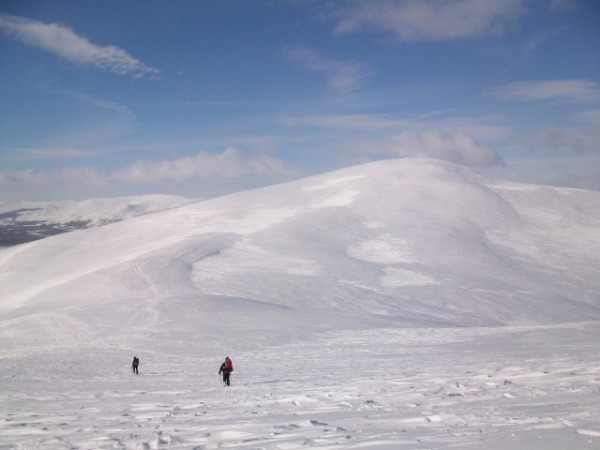 Descending into Glenmore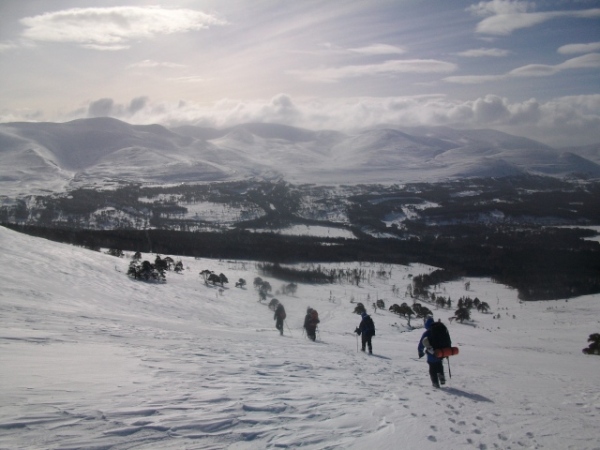 I found this Meet to be a very enjoyable experience ... and it ended with tea and cake at Glenmore.

James Woodhouse Mountaineering - http://www.woodhousemountaineering.com/biography.htm
Fraoch Lodge - http://www.scotmountain.co.uk/hostel