A 'Braw Day Out' on Ben Bynack
Seven Cairngorm Club members, and one guest attended this Car Meet to the "other side" of the Cairngorms on Sunday 6th Feb 2011. Five, in two cars, left Aberdeen at 05.50am and by 08.00am we were parked up at The Cairngorm Hotel in Aviemore where we awaited the arrival of the organiser, his friend and a Club Member from furth of Scotland, who'd travelled up the day before by train. At 9am we were parked up at Glenmore and on the move. Bynack More (or Ben Bynack as referenced in my 1924 edition of the SMC Guide to the Cairngorms) was our hill of choice today.
At Glenmore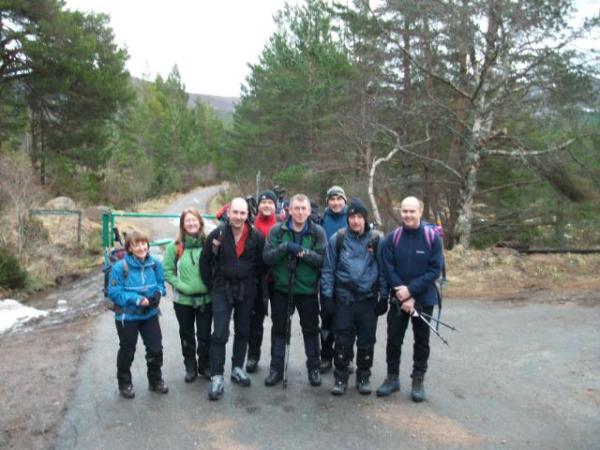 Looking into Strathnethy.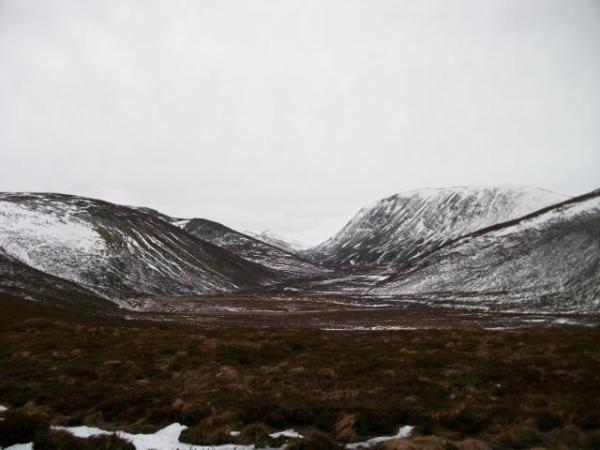 A big path-work project was happening on the Lairig an Laoigh with lots of large stones going in.
Path work in progress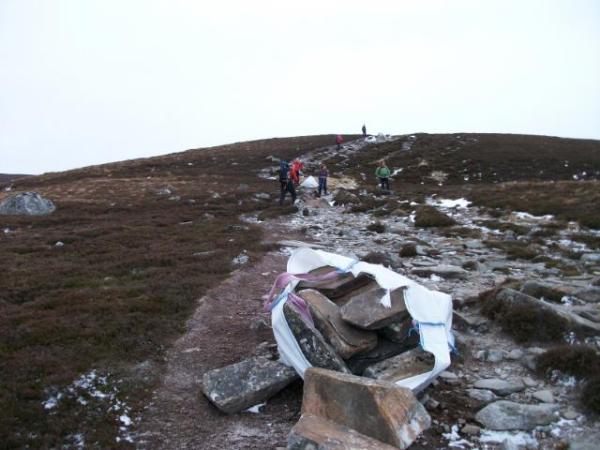 There was very little snow about today but plenty of water-ice and once on the high moor north of Bynack More we stopped to fit crampons which made progress safer and steadier, if not faster. Our hill was clear and there was little if not any wind which was quite surprising as the SMWIS forecast on Thursday suggested gusts to 90mph!
Ben Bynack from the north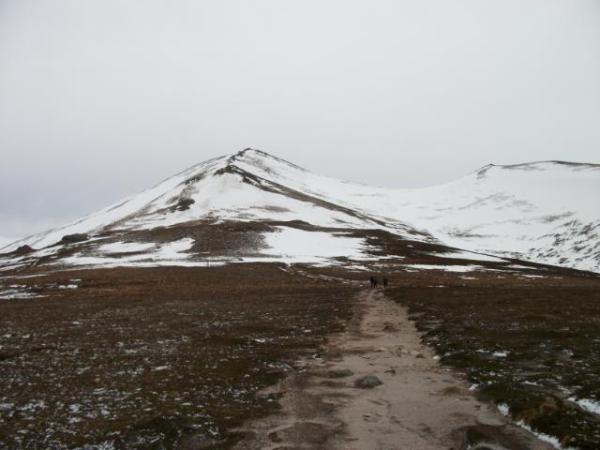 Hard snow on the ridge was a delight to crampon up. It is a 1000 foot climb from the high moor to the summit but the top soon came and was reached 4 hours after setting out.
On the north ridge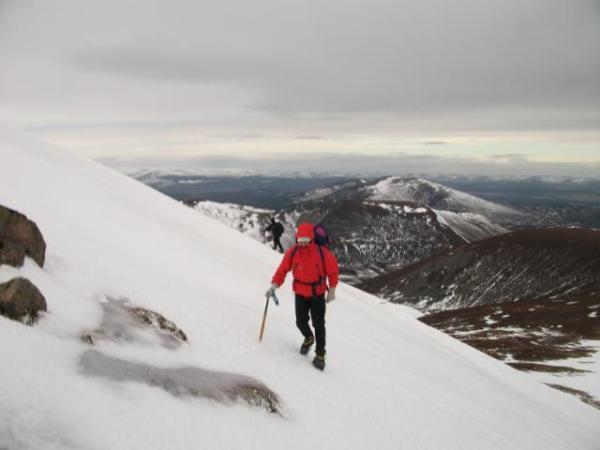 Points north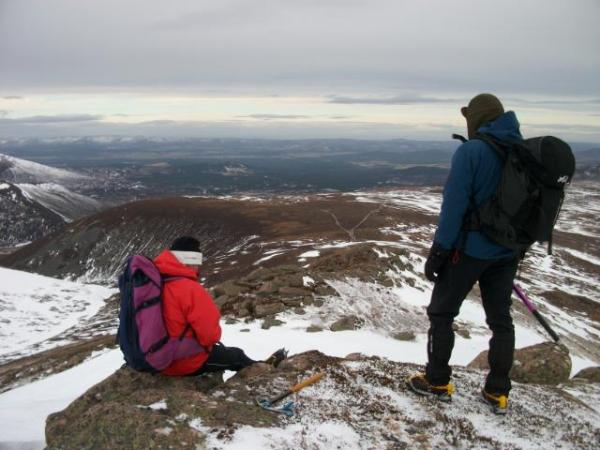 Heading up the hard snow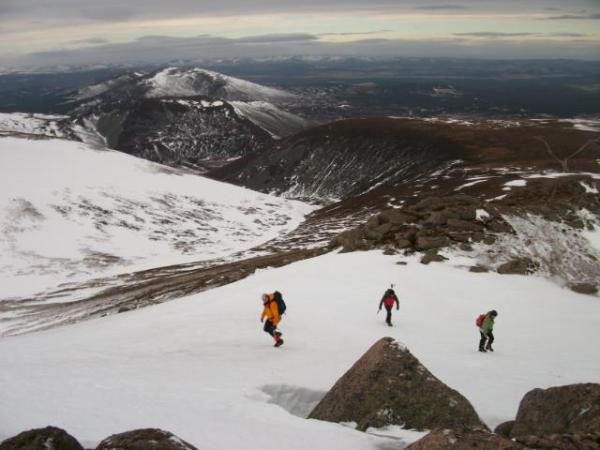 David and Marie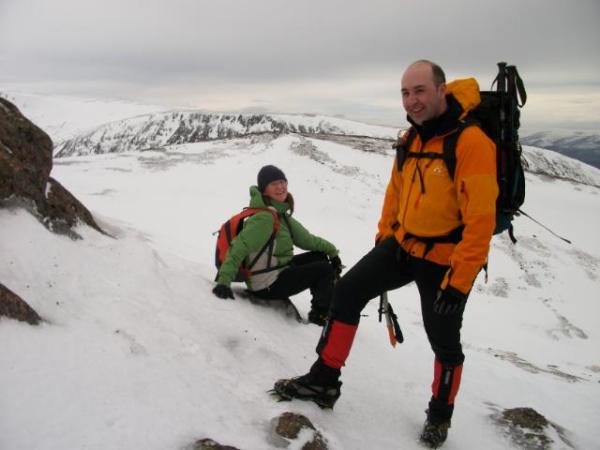 Nearing the top (we kept mostly to the east side of the crest)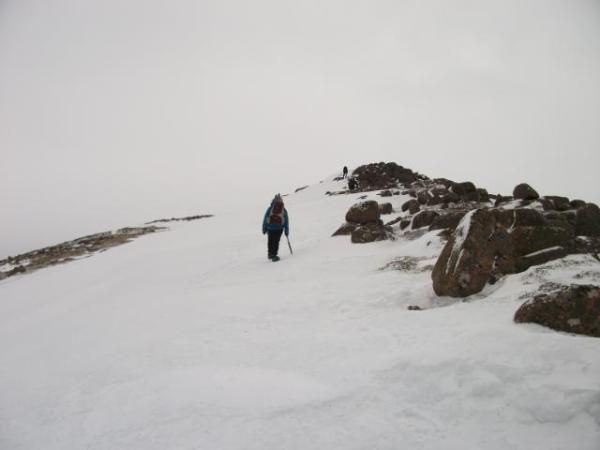 Bynack More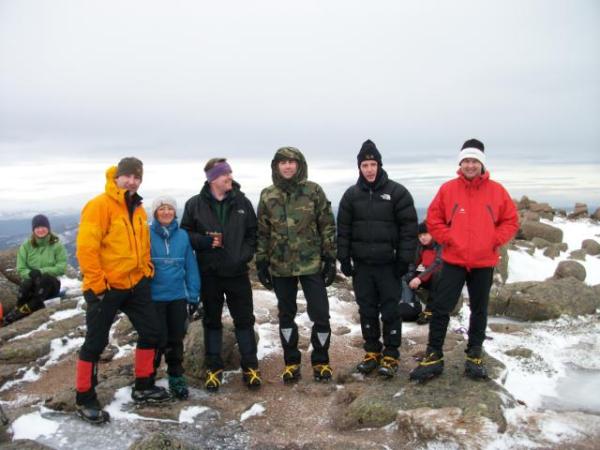 Group photo, with Beinn Mheadhoin, and the crags of Loch Avon behind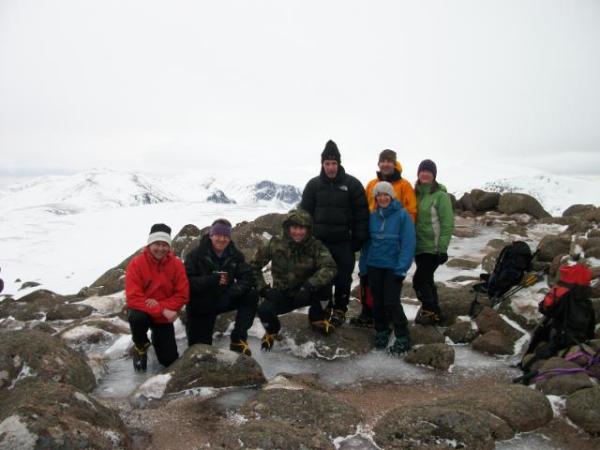 From the top we could see Bennachie, Ben Rinnes and the North Sea.
Clive and Ben Rinnes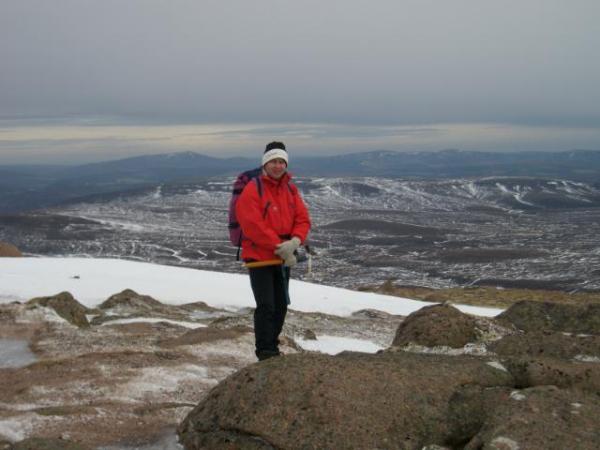 But winter still gripped the Cairngorms...
The trench of the Lairig an Laoigh (The Pass of the Calves)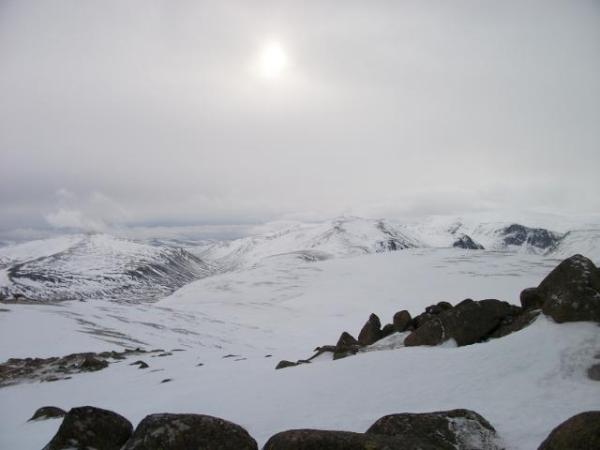 From Bynack More we traversed to Bynack Beg before regaining our outward route and a return to Glenmore at 16.30hrs, so a seven and a half hour day (circa 21km and 790mtrs of ascent).
Looking towards Bynack Beg from Bynack More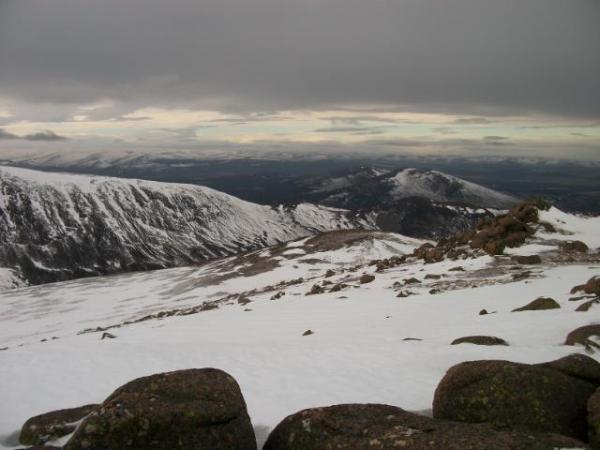 Bynack Beg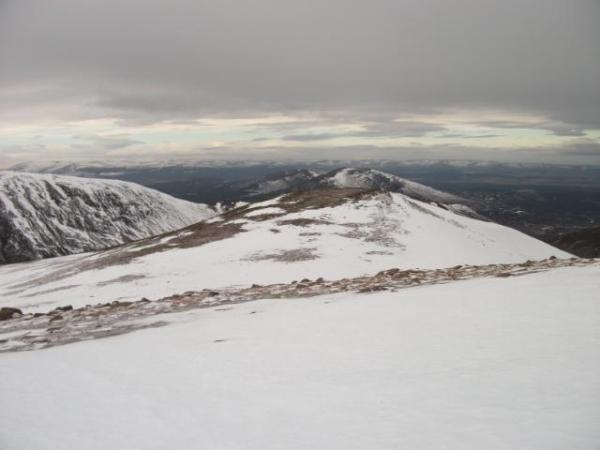 Walking in the Cairngorms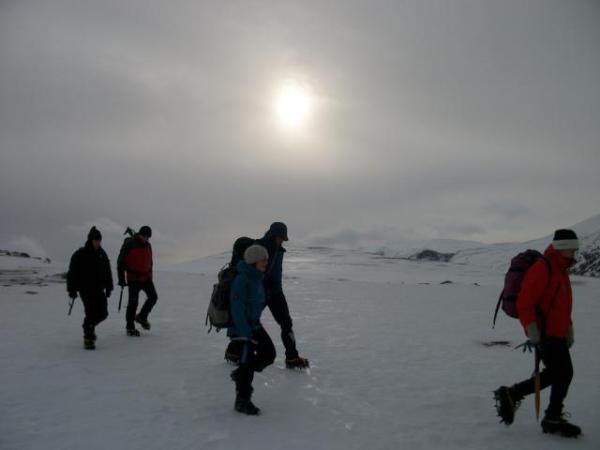 Looking towards Ben Macdui and the Shelter Stone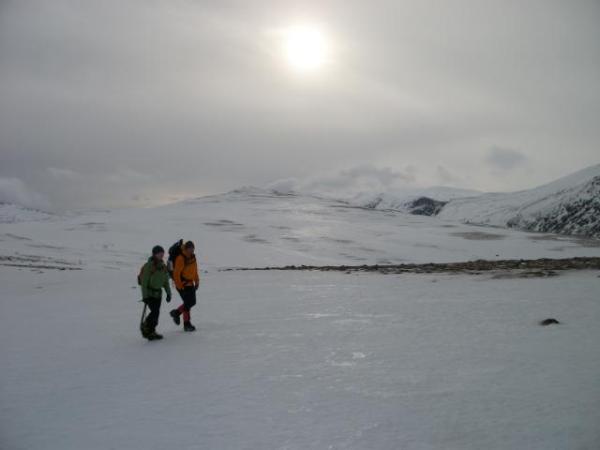 Winter sun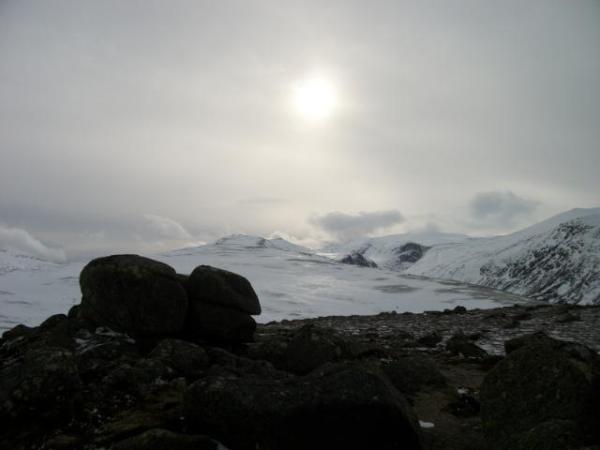 Returning from Bynack Beg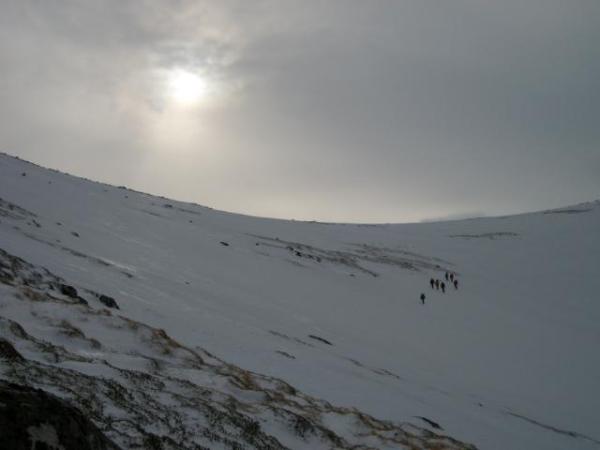 Last look at Ben Bynack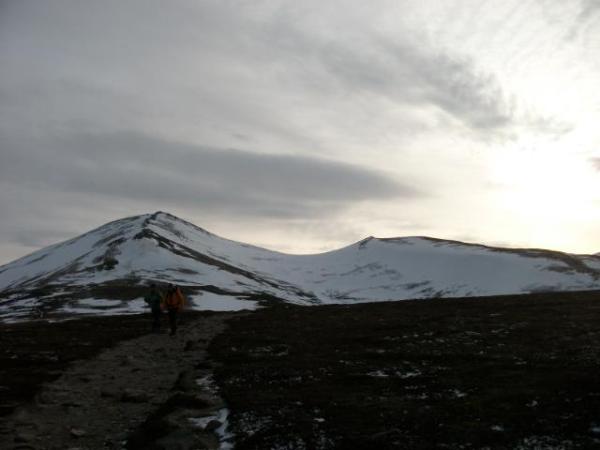 Descending to Glenmore...
Meall a Bhuachille from the Lairig an Laoigh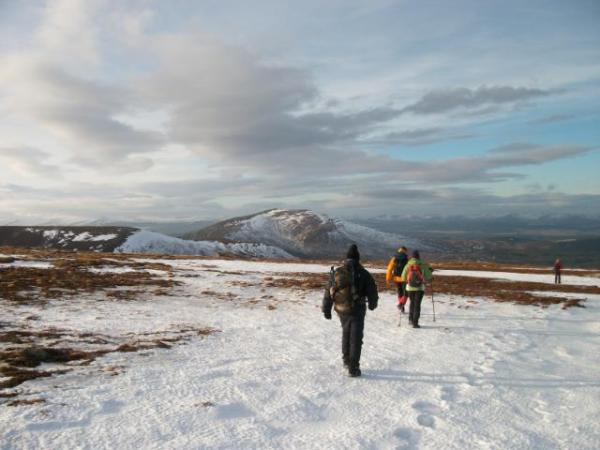 This meet ended with a meal and drink in the comfortable surroundings of the Cairngorm Hotel in Aviemore. Thank you all for a great day out.