Well, what can I say, except what a magic weekend !!
On Friday night Graeme, Hannah and myself arrived in Grantown to meet up with our instructor Richard who was going to take us out for the weekend. We stayed in the house in the main street which proved to be very comfortable apart from the lorries thundering down the road continuously until 4.30am. we found out the next morning that they were heading for the lorry park for their sleep stop. Needless to say we didn't sleep much.
Saturday morning dawned quite bright and dry and after breakfast we headed for Aviemore for some emergency shopping. That done, we headed for the lower Cairngorm ski car park where we left the car overnight.
We got geared up with our heavy packs.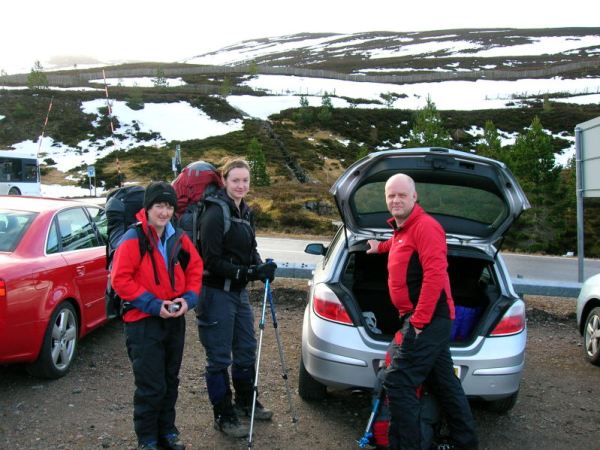 Hannah and Richard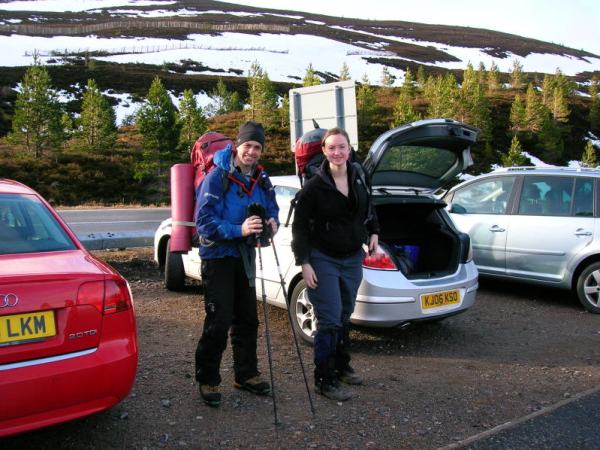 We walked into Coire Laogh Mor with crampon and ice axe instruction on route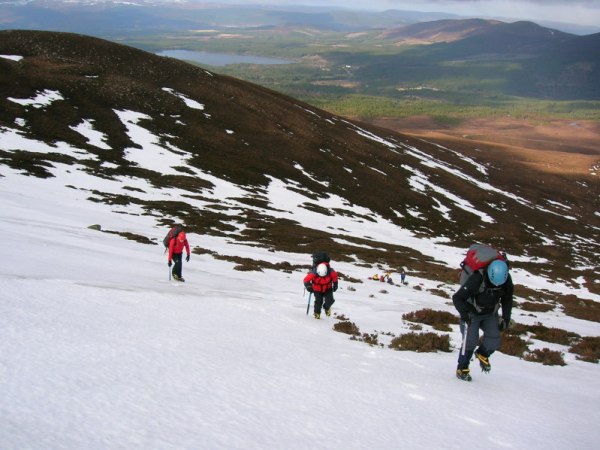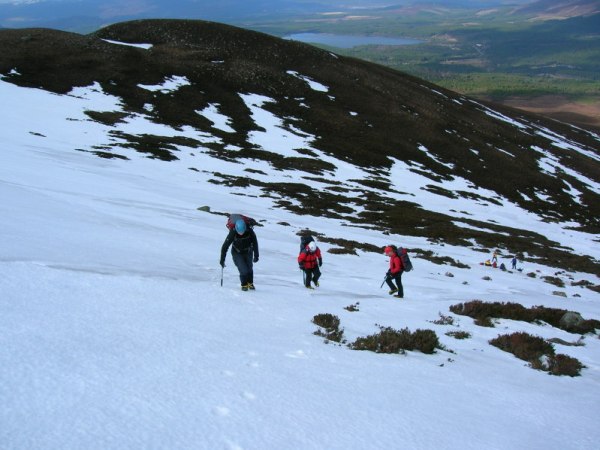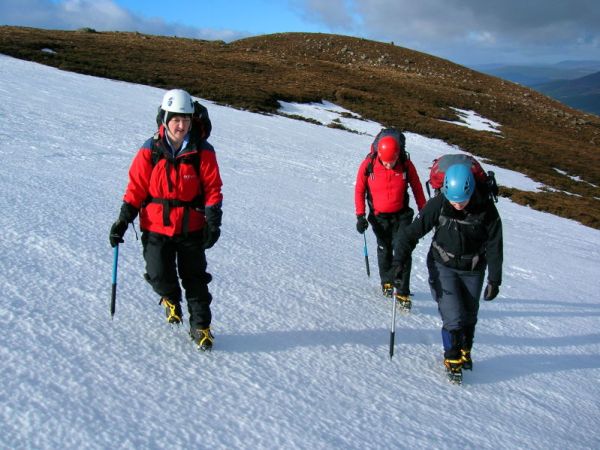 We found a likely spot in Corie Laogh Mor at about GR 010067 for our snow hole at around 11am. It took between 3 and 4 hours of hard digging to get our home from home the way we wanted it. We were distracted by the Cairngorm mountain rescue team training when one of them fell down the hill but thankfully managed an ice axe arrest.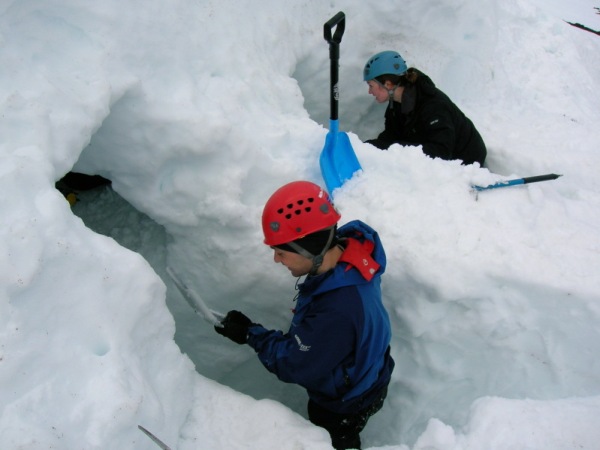 We had a platform for sleeping three and a platform for one.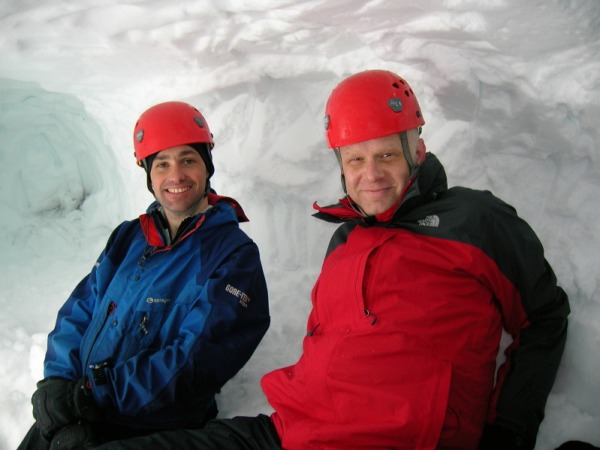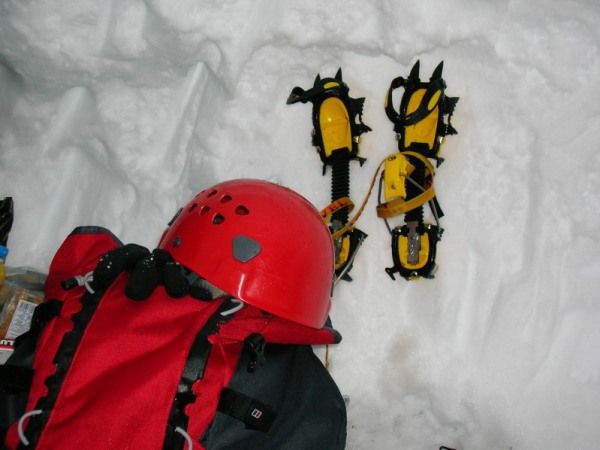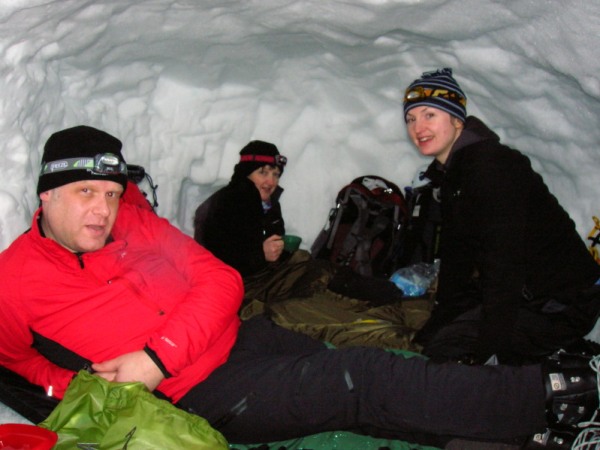 After settling in we left our luggage and headed up on to the plateau to potter about. We did pacing and navigation and chatted about conditions in winter.
A full depth slab avalanche which slipped about 8 inches or so and stopped. It was on hill above our snow hole.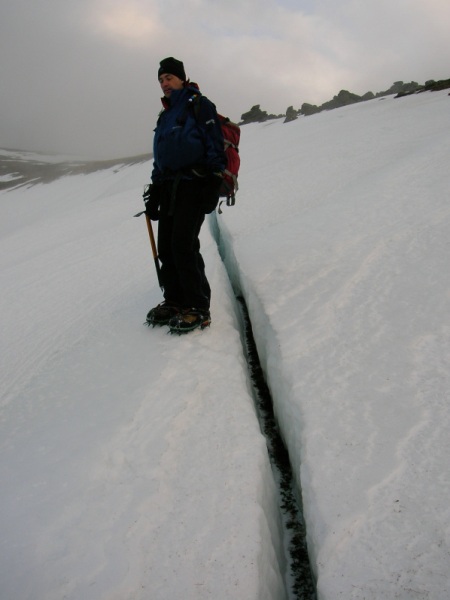 We headed towards Coire na Ciche and circled round back to our snow hole approaching it from above.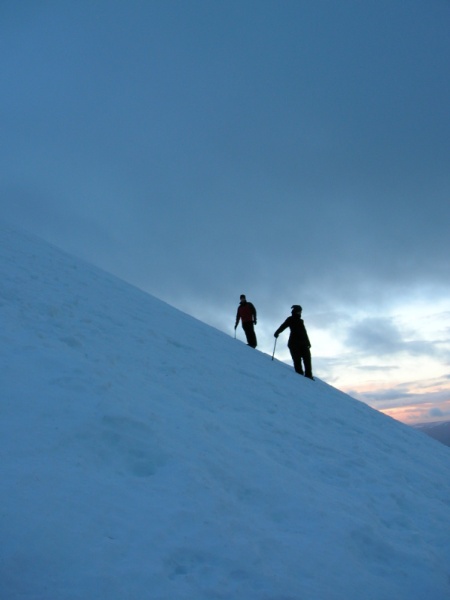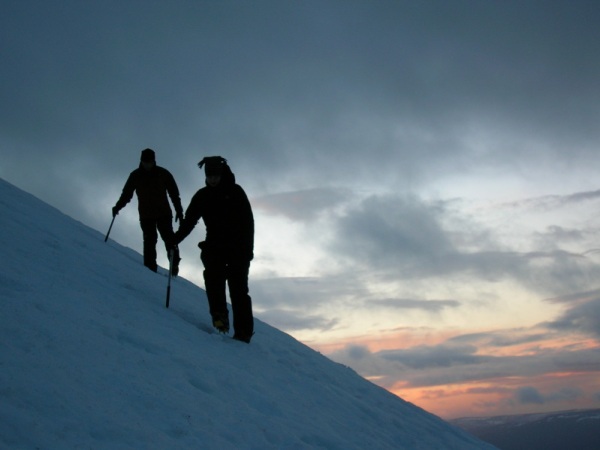 Sunset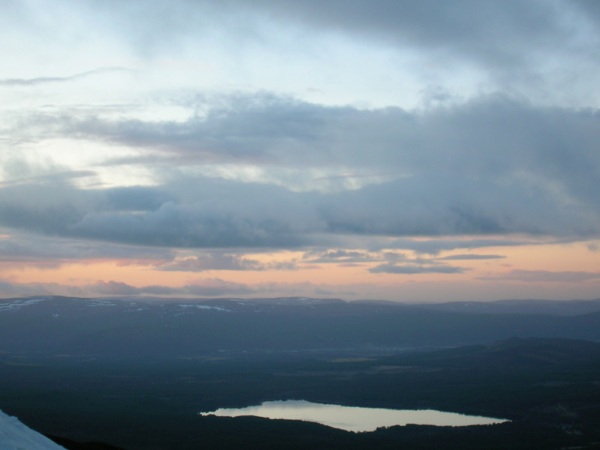 Back to the hole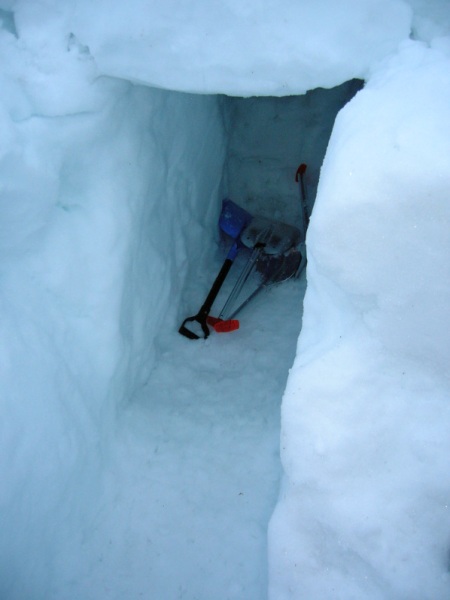 We then had dinner and were in our sleepbags at around 7pm.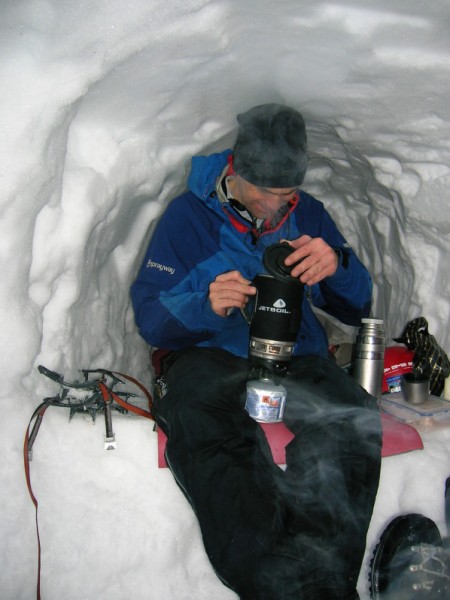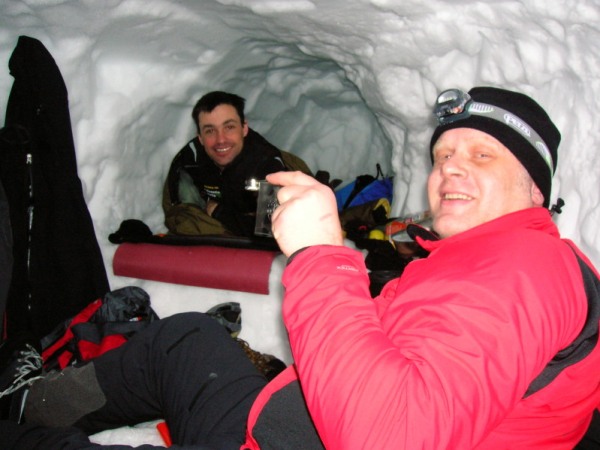 We chatted for a bit and then slept apart from a trip to the loo which when one went, all went through to 7am.
It was a clear and frosty night, not so Sunday morning which dawned in near whiteout conditions.
Morning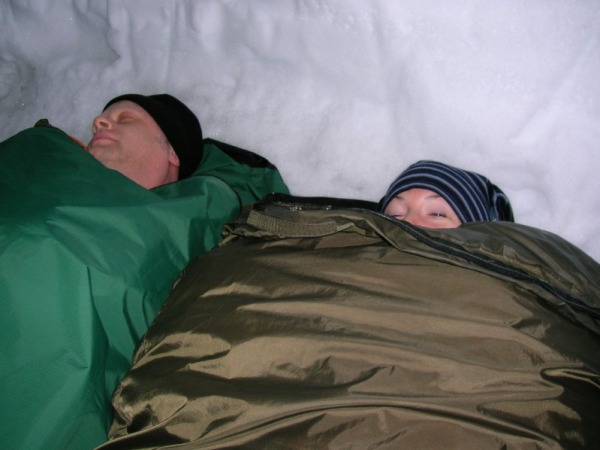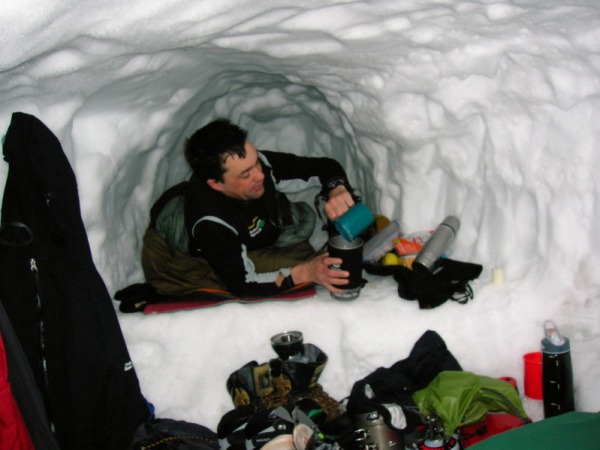 We had breakfast and then headed out. We circled round the hill towards Coire na Ciche and then as it ad gotten a bit brighter we decided to go for Cairngorm summit.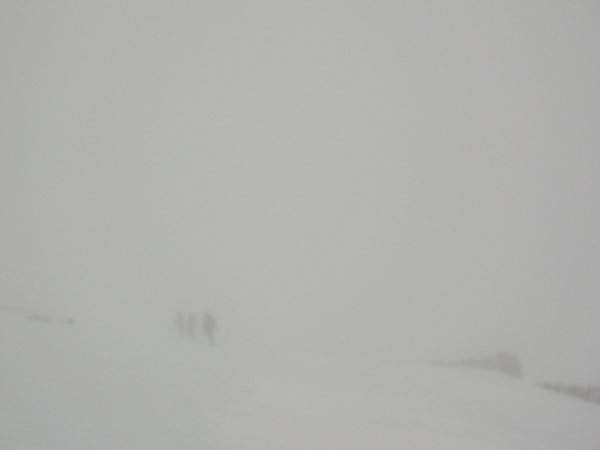 It was very cold and windy and it closed in as we gained height. Eventually we reached summit.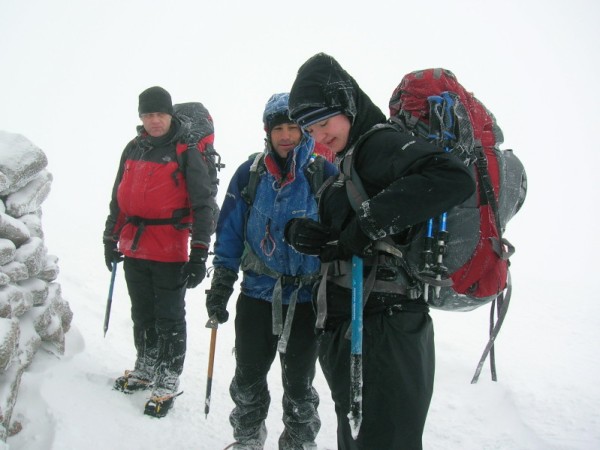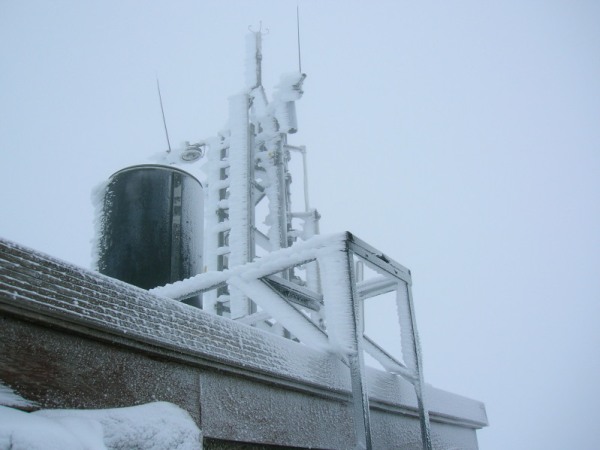 After a quick drink and a choc bar we crossed over to the cairn at windy col and descended by Fiacaill a choire Chais to the top ski carpark dodging the skiers on route and where we caught the shuttle bus back to car.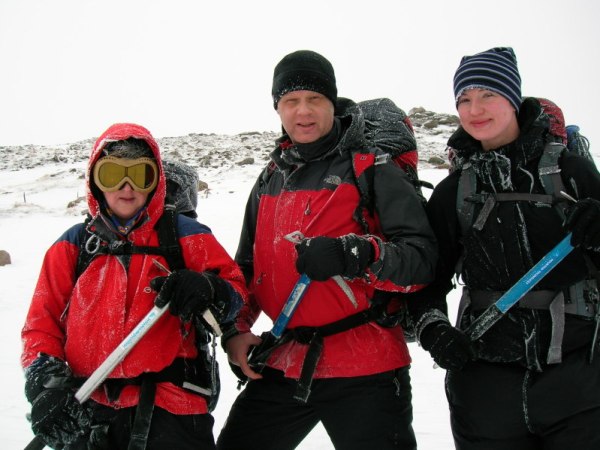 We arrived at car at 12.10pm and set of to the Cairngorm Mountain cafe in Aviemore for lunch.
a perfect weekend with winter skills, a good instructor, a snow hole fit for a king, a spectacular sunset, a whiteout and a Munro summit. What more could you want.
I would highly recommend it as an invaluable experience.
And last but not least a big Thank-You to Adrian who organised it all for us.