Thirty-one (members and guests) attended the first Day meet of 2012 which saw the club back at Loch Muick for the traditional attempt on Lochnagar. Not everyone set out for the Beinn however and Broad Cairn, Connachcraig, a circuit of the Loch and the Sheiling of Mark were just some of the entries on the route sheet.
Heading for Allt-na-Giubhsaich (looking towards Connachcraig)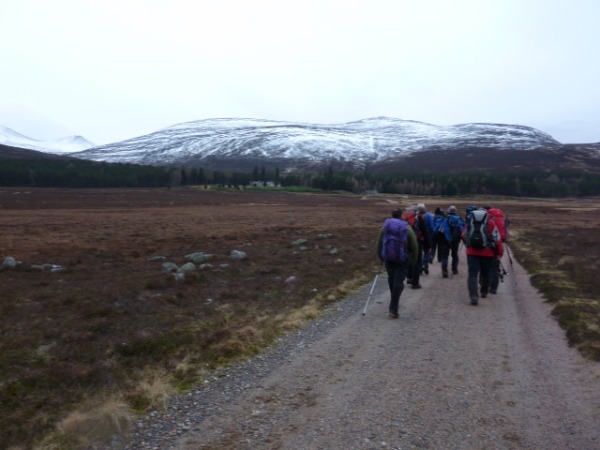 Little Pap and Cuidhe Crom from the track to Gelder Shiel and Crathie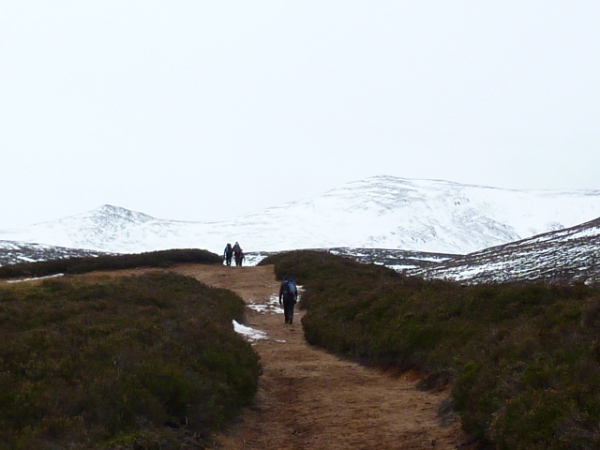 The weather forecast was for strong westerly or north westerly winds with some rain, drizzle and low cloud thrown into the mix. Underfoot it was icy in places and when off path deep snow and heather was encountered.
Meikle Pap from the path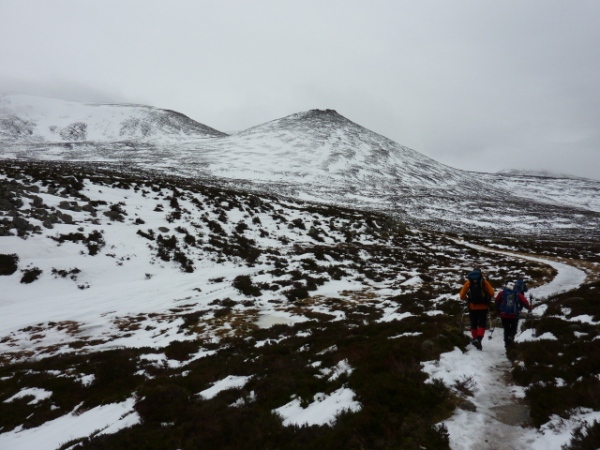 This report concerns itself with the Presidentís Party which had Cac Carn Beag by the North East Ridge as its target. Our objective was not achieved primarily due to time. A later than liked arrival at Loch Muick and a pulling forward of our tea time meant the hill by its North East Ridge will have to wait for another year. At least 3 parties did make it to the top of Lochnagar with one senior member descending by the NE Ridge. Bill Morgan ascended by Black Spout and its Left Hand Branch.
Presidentís Party (Connachcraig left)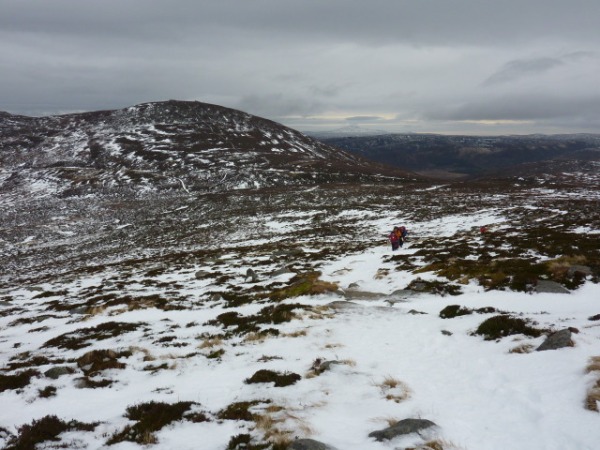 On a traverse below Meikle Pap (Mount Keen behind in distance)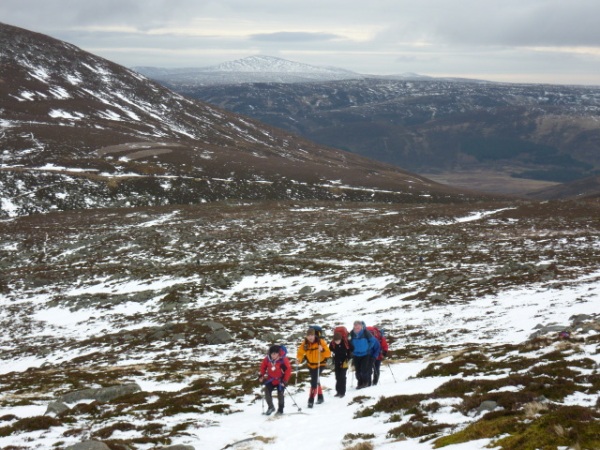 Shoulder of Meikle Pap (Glen Clova Hills behind)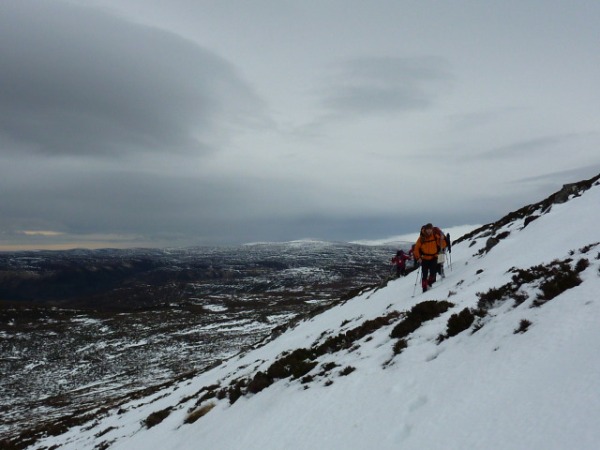 On Meikle Pap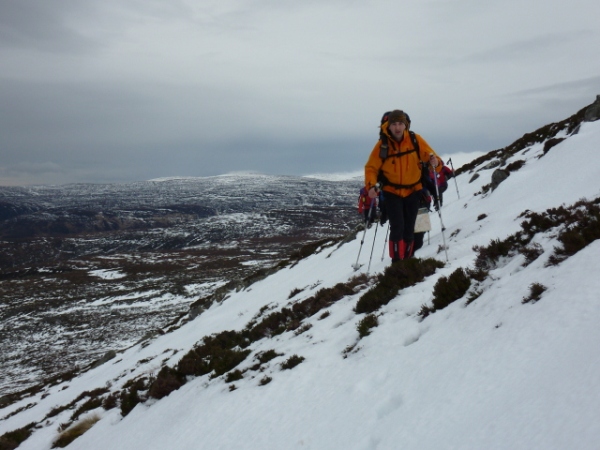 The Presidentís Party took lunch below the Meikle Pap with views into the corrie before ascending the Meikle Pap. An ermine Stoat was spotted in amongst the boulders by one eagle-eyed member on the 40 minute ascent which was hard work today. An icy strong wind got up and coverings for hands were required. Donna Ryan led the party up Meikle Pap and once on top Alex Barbour found a super wee howff which nobody knew existed.
Our Lunch Spot (Corrie behind)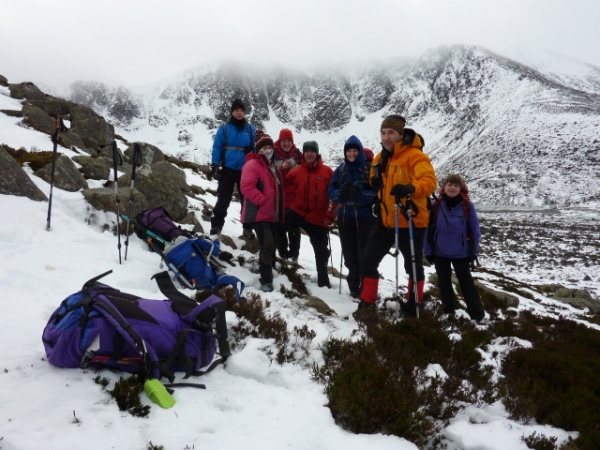 Howff on Meikle Pap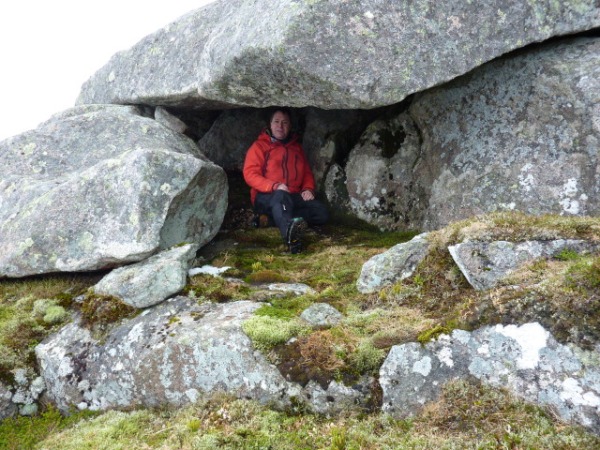 Lochnagar and NE Ridge (right)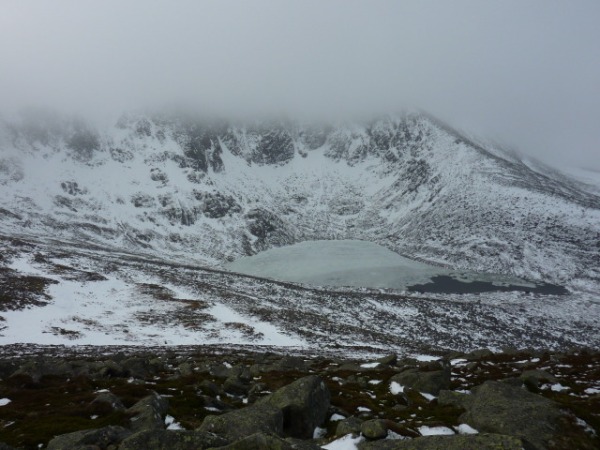 Garry on Meikle Pap (NE Ridge left)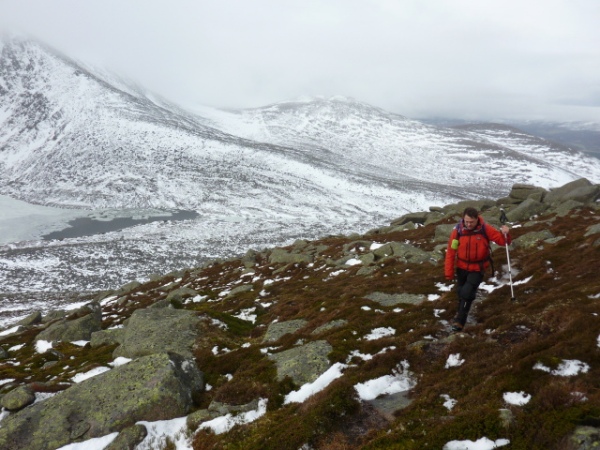 Lochan and Corrie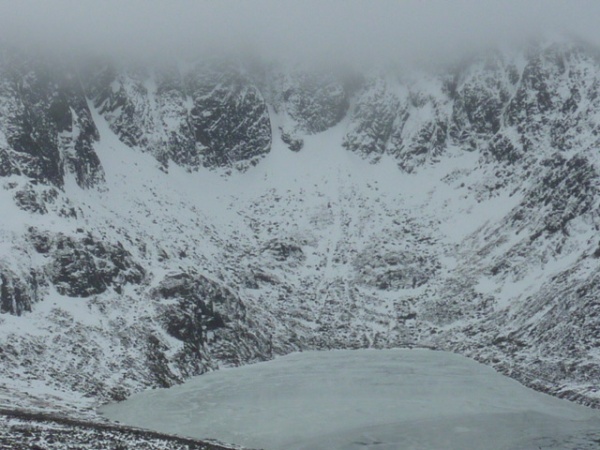 Black Spout (Photo by Bill Morgan)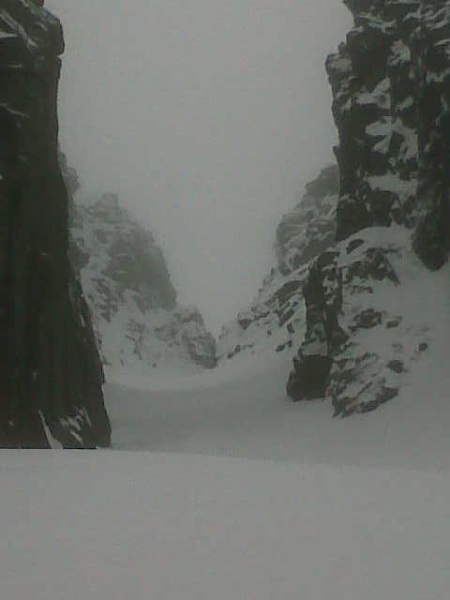 Raeburn's Gully (Photo by Bill Morgan)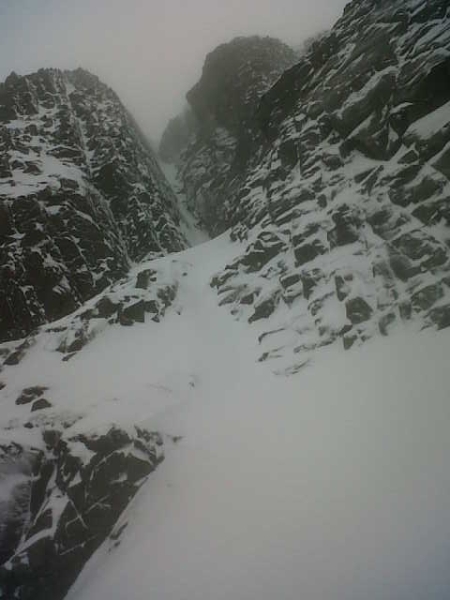 The decision had earlier been made to abandon all plans on the summit of Lochnagar and the remainder of the day was both leisurely and enjoyable. This gave time to converse and enjoy our packed lunches in the surroundings of the mountains where at least 3 hip flasks were produced (on numerous occasions) on the inward leg to the bus, each one with something different inside. Aberdeen Mountain Rescue Team were out on the slopes of Cuidhe Crom and we stopped a while to watch them training, ice-axe arrest mostly. There were not that many other people out on the hill today and this we attributed to the rather blowy weather forecast. We considered an ascent of Connachcraig but in the end knocked this idea also on the head. We arrived back at the bus around 15.30hrs for the 16.00hrs departure to Dinnet for High Tea. Viktor (one of our Czech members) was last back having managed a successful ascent of Broad Cairn from the Dubh Loch.
Display at Loch Muick Visitor Centre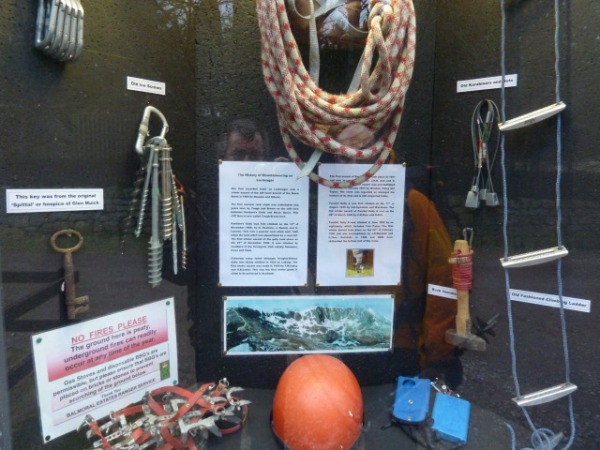 Viktor after being up Broad Cairn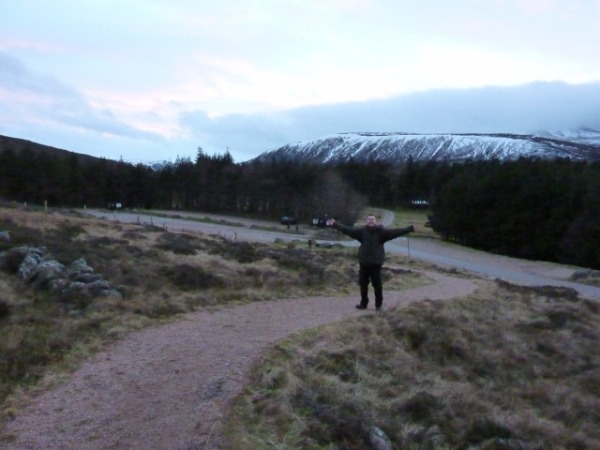 The Victoria Tea Rooms, Dinnet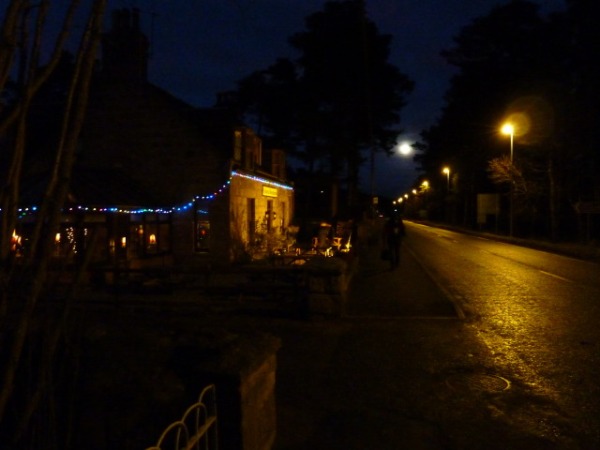 In Ballater we picked up Kees and Hazel and then it was onwards to the Victoria Tea Rooms, Dinnet for an excellent High Tea. Service and food were both faultless and a nice tea always makes for a fitting end to a good day. Thanks Anne for organising (her first Day Meet as organiser) and Donna for assisting with the Presidentís Party.