Eight Club Members attended a meet to Blair Atholl on Saturday 23rd of July, 2011. Leaving Aberdeen at 07.15am the party, spread evenly in two cars, arrived at Blair Atholl and after parking on the grassy verge near Loch Moraig set out for Beinn a' Ghlo at 9.55am.
Beinn a' Ghlo translates to "the hill of the mist" however if you wish to fully appreciate this hill and all it's corries and hidden corners I suggest you pick a day like Saturday 23rd July. 2011, a day with no mist, clear views , bright sunshine but with just enough breeze to stop it becoming boiling.

The SMC Hillwalkers' Guide, Volume 1, describes Beinn a' Ghlo as "… the finest mountain in the Mounth between Drumochter and Aberdeen with the sole exception of Lochnagar." Today it certainly was.
With a forecast for brisk winds from the NNW we opted to go for Airgoid Beinn first. Our route was mostly on tracks or paths (stalkers, deer and Munro baggers I guess) and took us around and into the corrie of the Allt Bealach an Fhiodha. Here we broke off due east and ascended (rather steeply) onto the sron of Airgoid Beinn (the Silver Hill). In Irish Airgoid means "money". Willie left us here as we pushed on up the slopes.
Setting out from Loch Moraig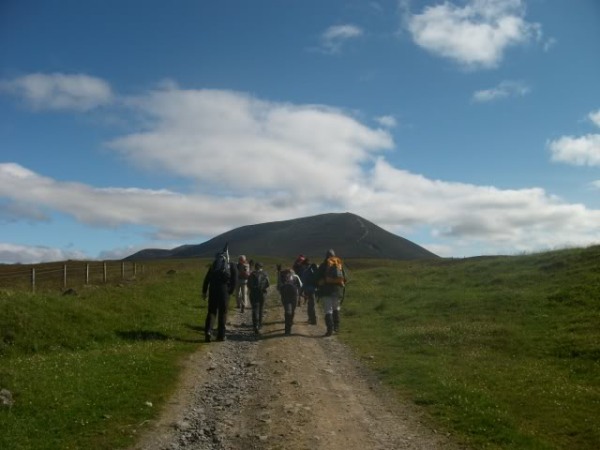 Carn Liath from the track to Loch Loch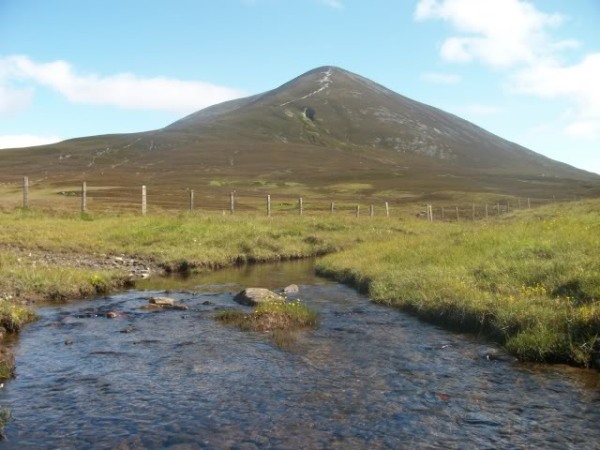 Beinn a Ghlo from the moor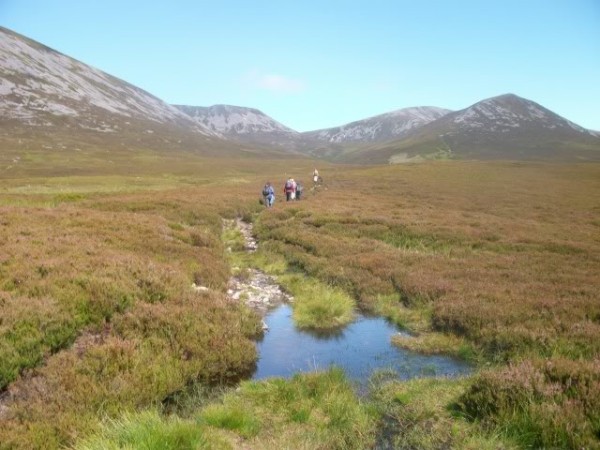 Airgiod Beinn (right) aka the hill of silver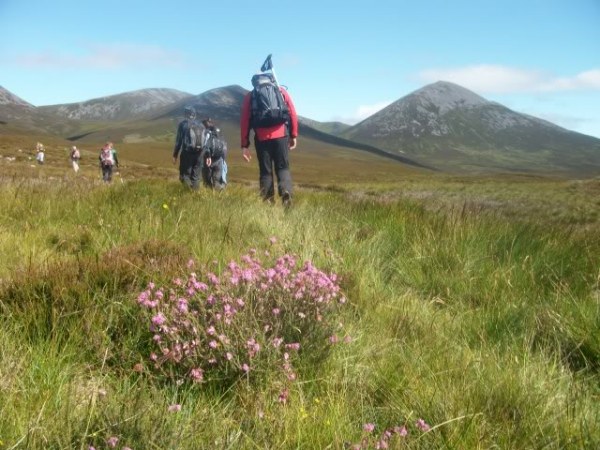 On the path for the high Bealach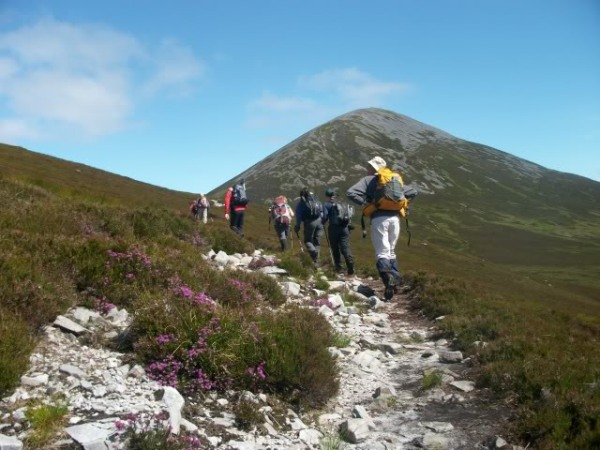 Looking to Braigh Coire Chruinn-bhalgain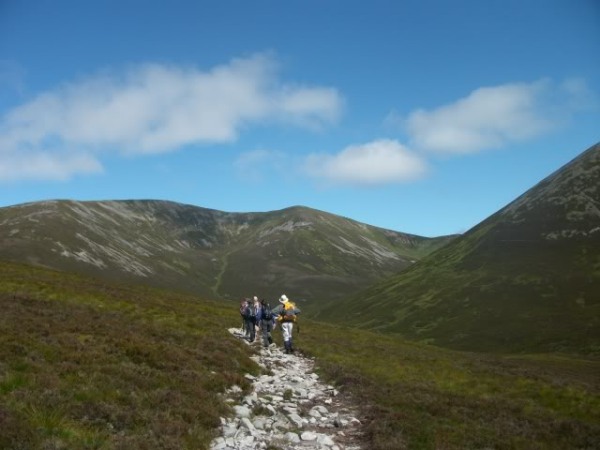 Ascending Airgiod Beinn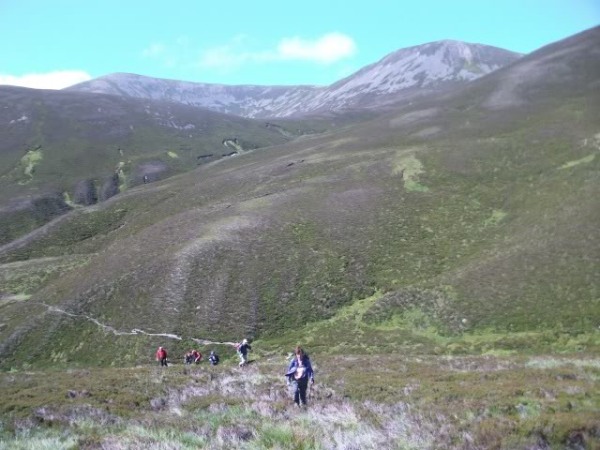 Looking back off Airigiod Beinn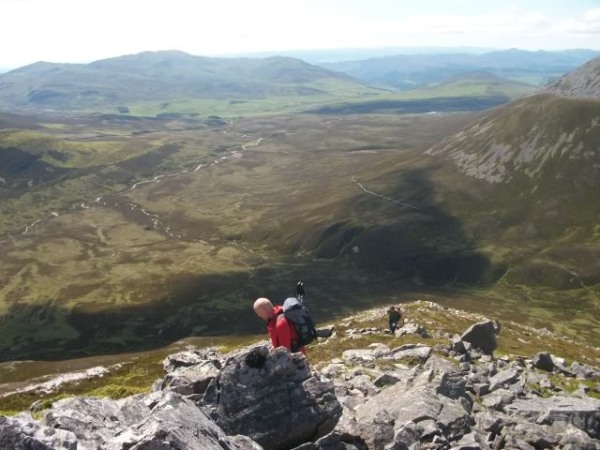 Sue in action (Carn Liath behind)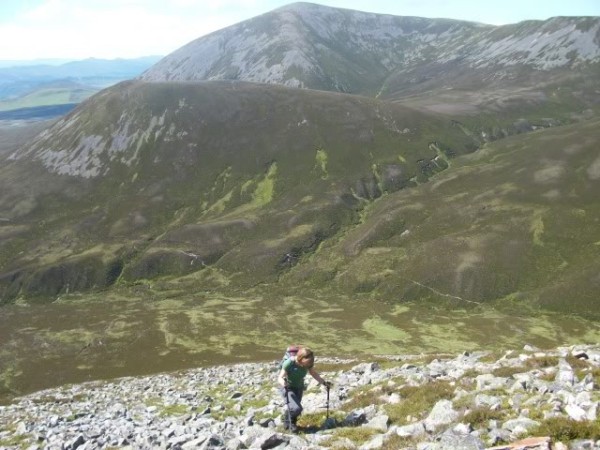 Carn nan Gabhar from Airigiod Beinn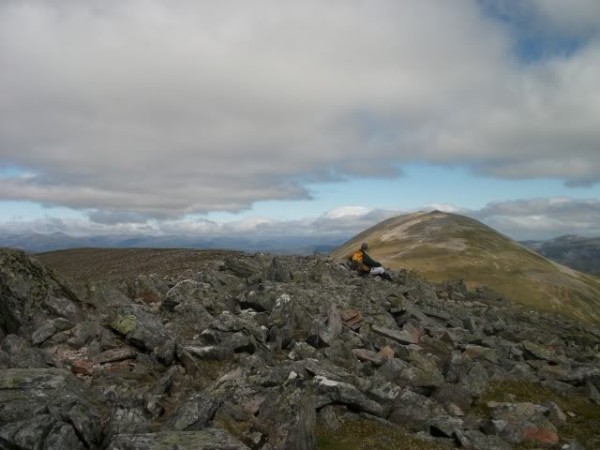 An Sgarsoch from Beinn a' Ghlo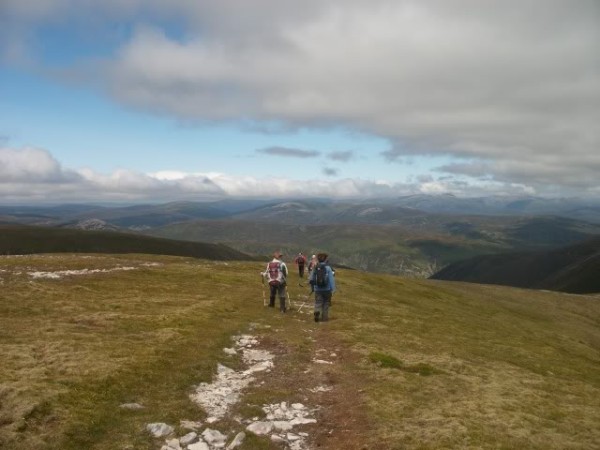 Carn nan Gabhar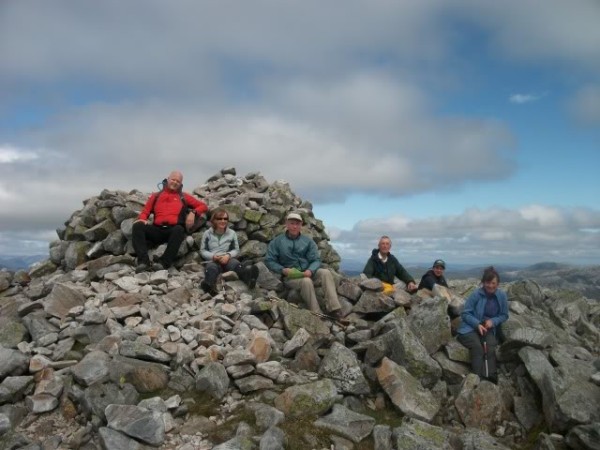 We pushed on up to the stony top before continuing northwards for Carn nan Gabhar, the highest top on Beinn a' Ghlo. Views were big and long, with the hills south and west clear, however Ben Macdui still held some cloud.

Beinn Iutharn Mhor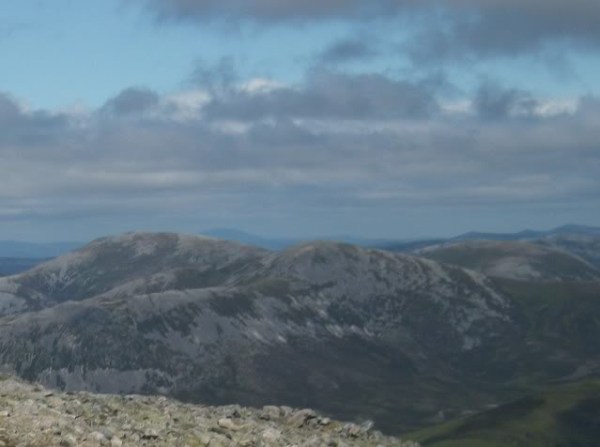 The High Cairngorms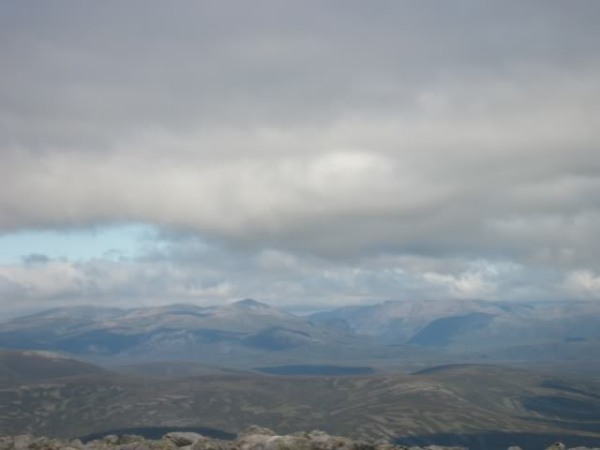 Looking down to the Tilt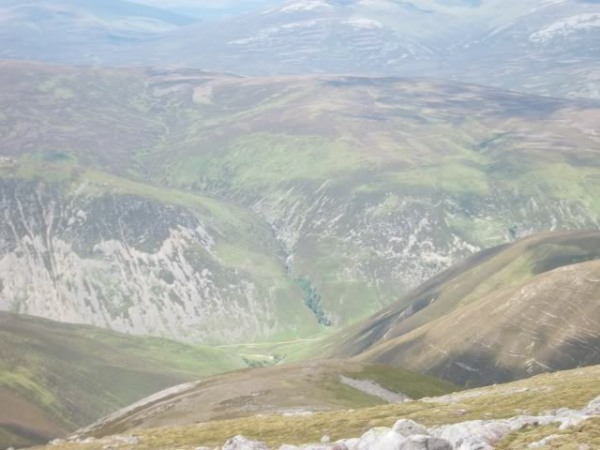 Carn nan Gabhar from the south west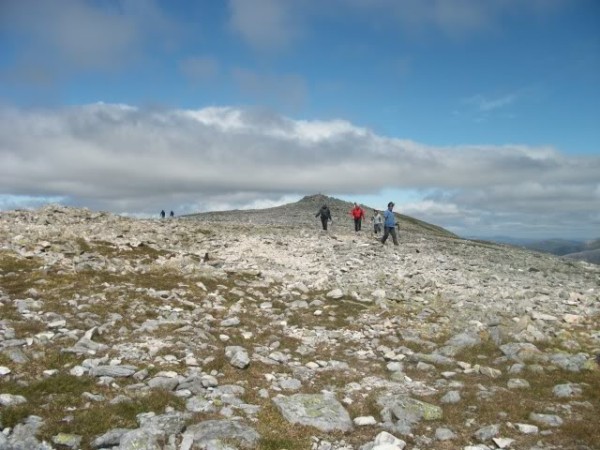 Looking down the Glas Leathad towards Glen Tilt and beyond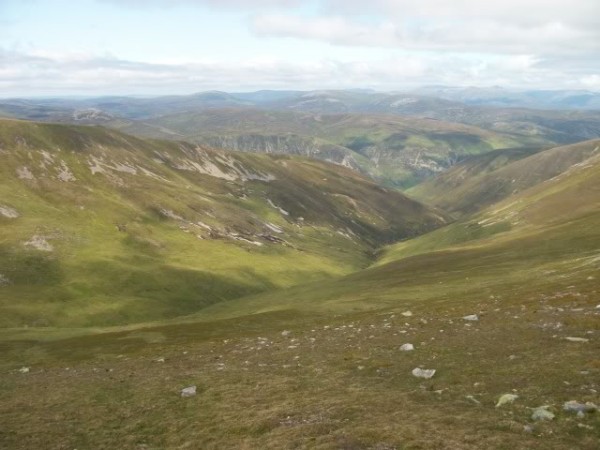 Looking to Braigh Coire Chruinn-bhalgain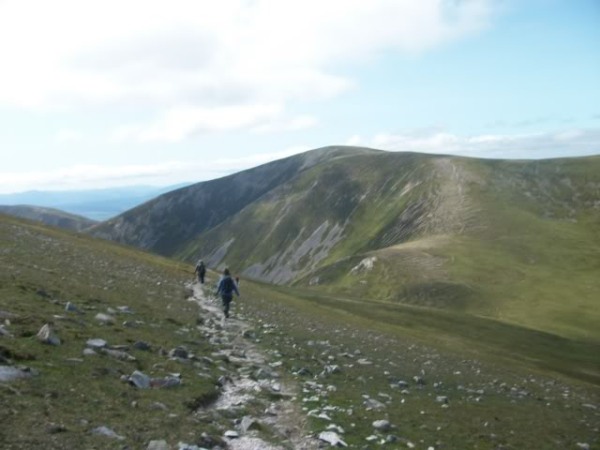 Looking back to Carn nan Gabhar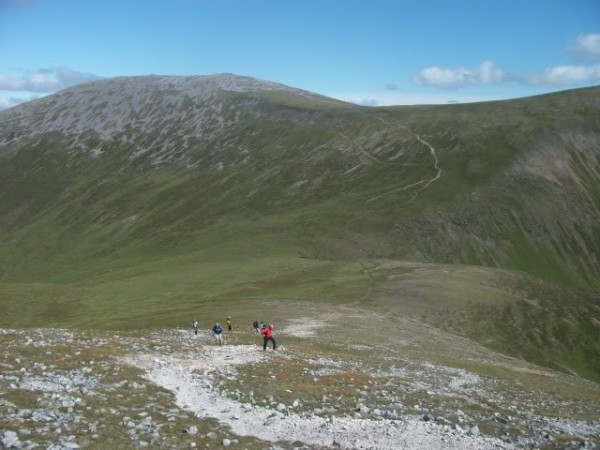 What can we see ? (on Braigh Coire Chruinn-bhalgain)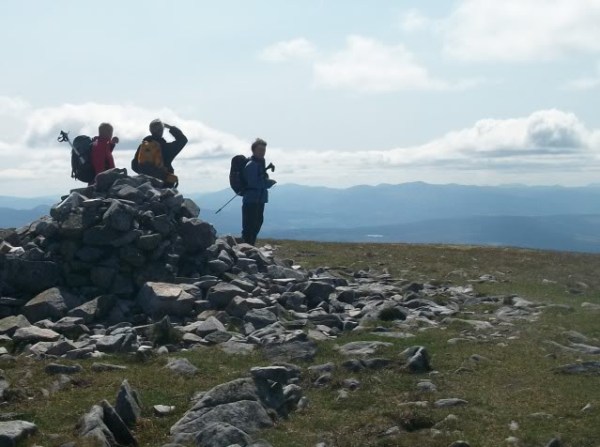 Our route around to Carn Liath (the White Hill) was on path and ridge over Braigh Coire Chruinn-bhalgain and with the wind now mostly at our backs (or on our right flank at times) it was a delight walking high. Ken did not join us on the ascent of Carn Liath but instead set off on some "mysterious business", a bothy once, he said, but now little more than a ruin.
On "the height of the corrie of the round blisters"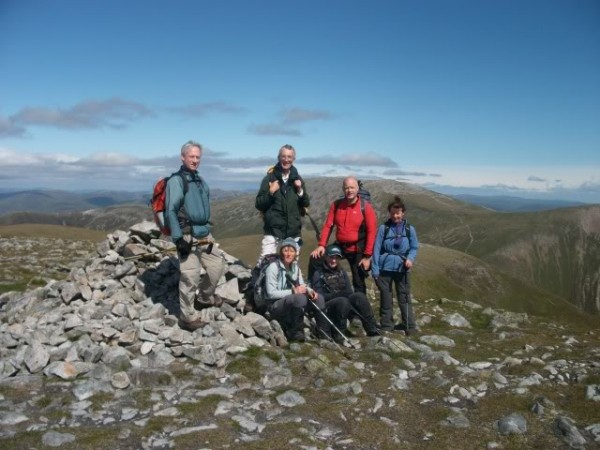 On Braigh Coire Chruinn-bhalgain heading to Carn Liath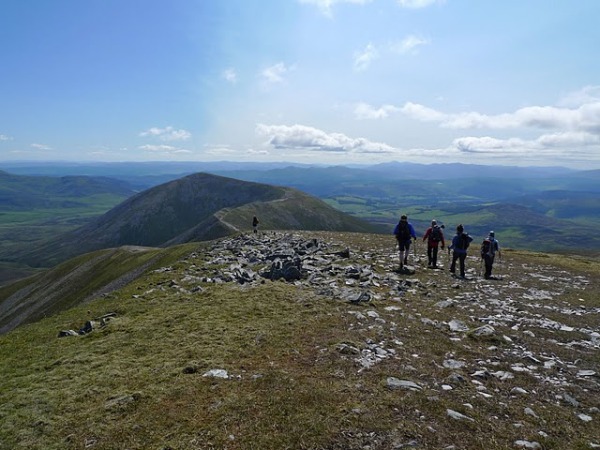 The ridge out to Carn Liath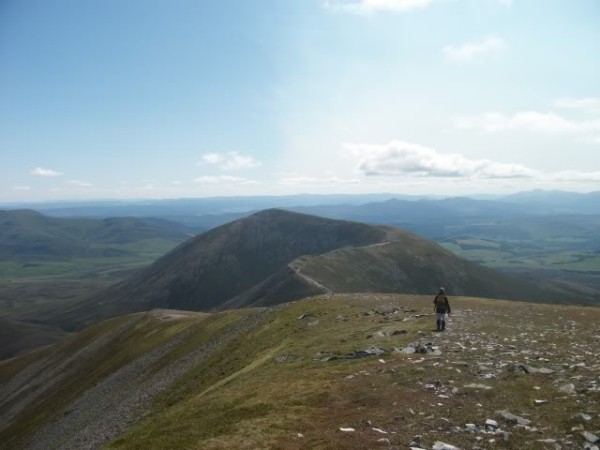 Beinn a' Ghlo (looking back from the climb to Carn Liath)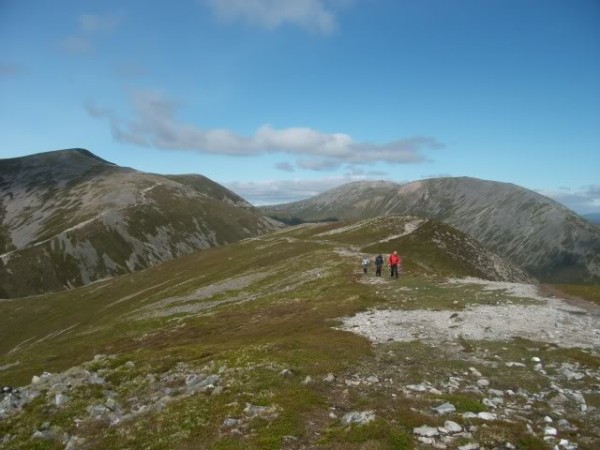 On the ridge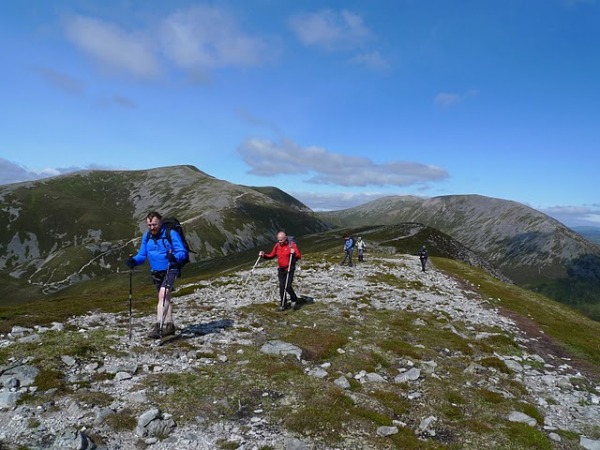 Another from on the ridge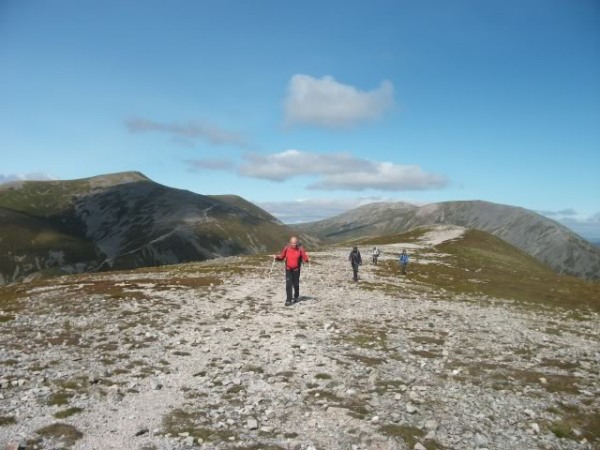 On Carn Liath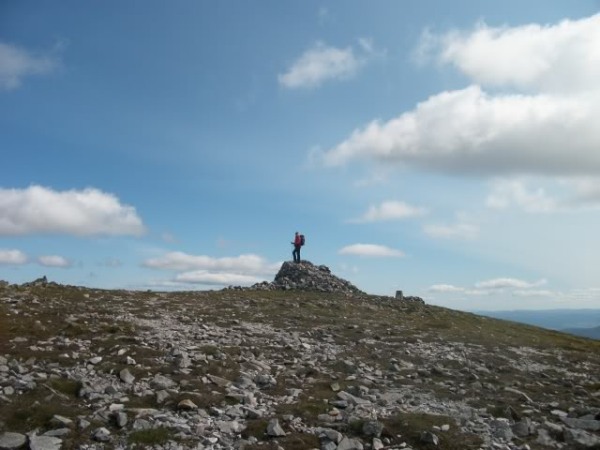 The path off of Carn Liath is white and loose. Composed of various sizes of quartzite blocks it acts at times like a downwards elevator and is not for the fainthearted. Trekking poles are a big aid on this type of descent.
Descending Carn Liath to Loch Moraig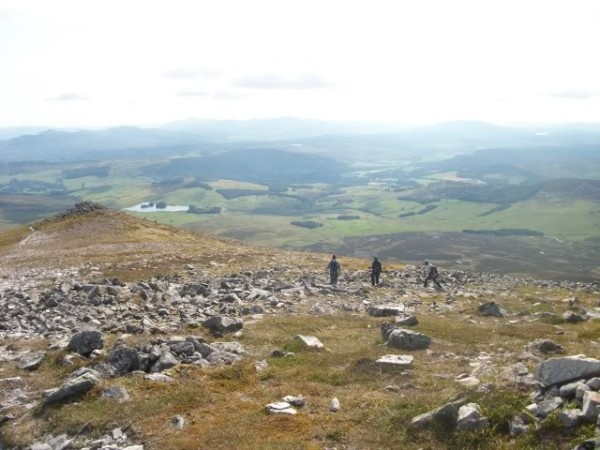 The girls descending the quartzite "path" off Carn Liath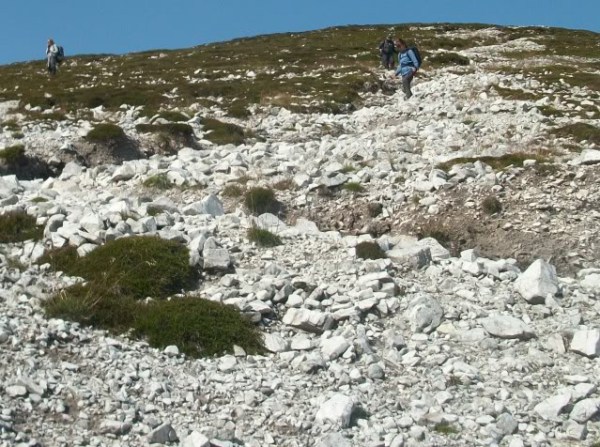 We reached the cars, where Ken was waiting, a little before 6.05pm so an 8hr 10min day. We'd not seen much in the way of wildlife on the hill but we did see a couple of Ptarmigan and chicks, some mountain hares and a number of frogs. Mountain Thyme, Bell and Ling Heather and Cross Leaved Heath all added splashes of colour to an overall very green and lush landscape today. Our drivers got us all home, after a quick drink in the Bridge of Tilt Hotel, by 9pm.