I was first to arrive at the (fairly new) bus station at Union Square Aberdeen early on the morning of Saturday 27th March 2010. Willie Robb appeared next followed shortly after by Gordon Stalker. It was a cracking morning and I think spirits were high as our bus (the 201 for Royal Deeside) slid quietly out into the sunlit streets of Aberdeen at 07.45 hrs.
By Aboyne (at a little after 9 am) our number had risen to eight. Two (Kees and Hazel) alighted at Crathie Kirk and followed a low-level route back to Ballater whilst the remainder carried on until just before the old Invercauld Bridge setting off on our adventure (from Keiloch Sawmill) at a little after 10am.
We set off on the old road to Alltdourie which until the sixties was still a public road! and after passing the small pond we cut off up onto the old Drove Road which heads over The Bealach Dearg to Tomintoul. It was a fine morning and very pleasant in the forest where we saw the odd red squirrel and one woodpecker.
On the old Drove Road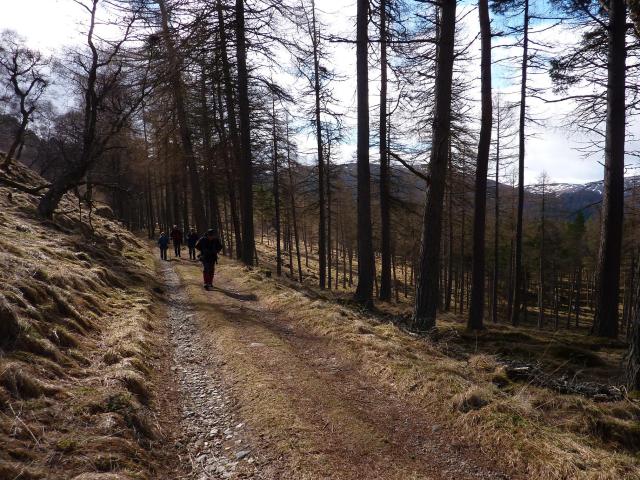 Soon we were clear of the forest and enjoying some cracking views of Lochnagar
Lochnagar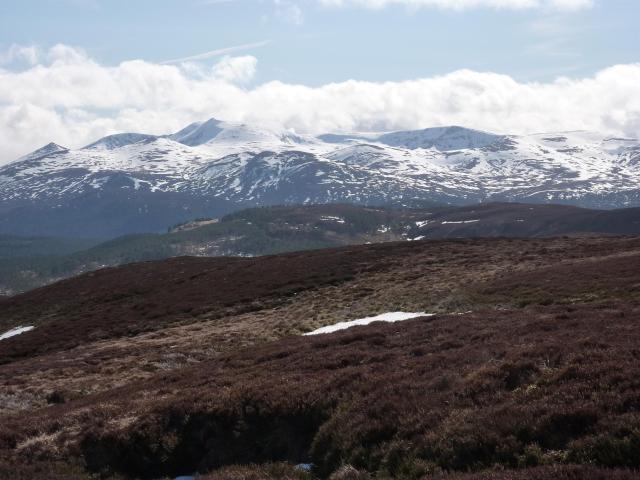 And at the bothy we stopped for a cuppa and could even sunbathe a while in the welcoming sun
Tea at The Bothy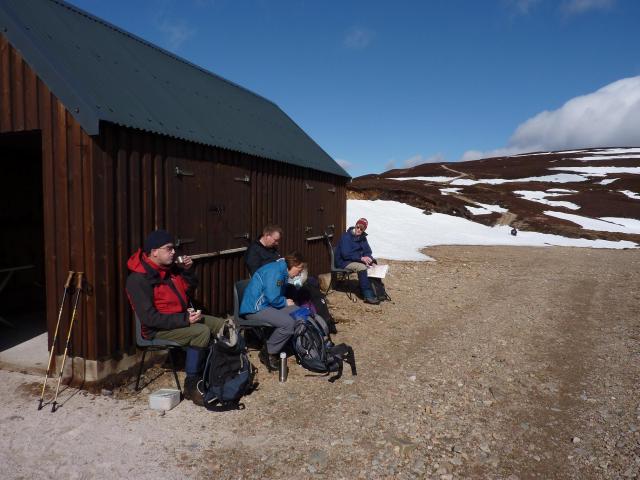 The track over The Bealach Dearg (Red Pass)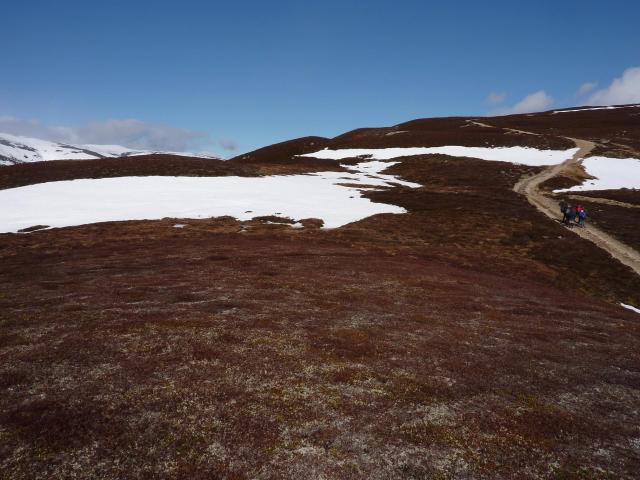 We elected to miss out the twin topped Carn Liath and instead made directly for Culardoch where we eventually met up with Jim Bryce who had been overnighting at Braemar Youth Hostel. Jim left us (after a while) for the Corbett behind the bothy and the remainder pushed on stopping briefly at a "closh??" experiment high up on the shoulder of Culardoch
Strange goings-on on Culardoch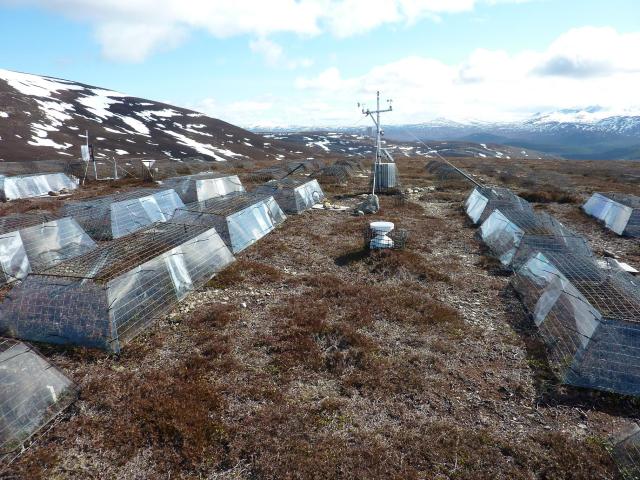 On The Red Pass (Ben Avon behind)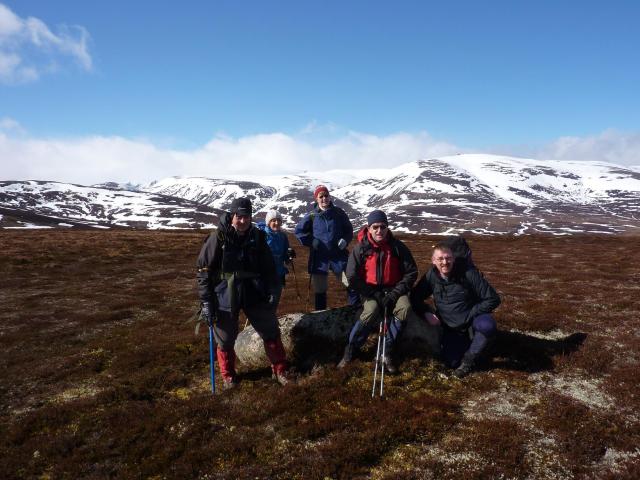 Ben Avon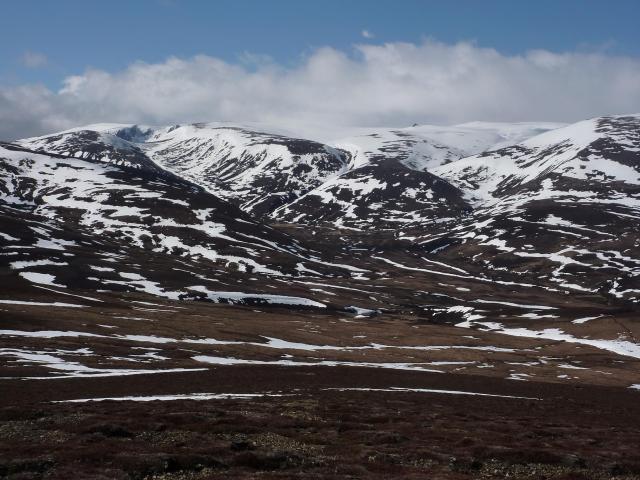 Loch Bulig from Culardoch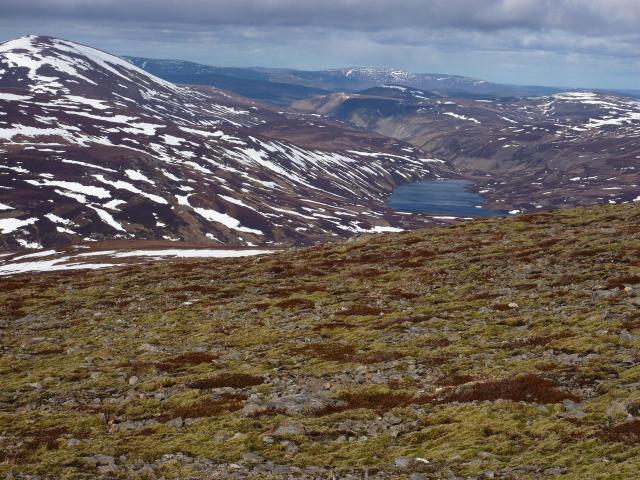 One could elect to ascend on snow or heather to the top of Culardoch (the big back high place) and in no time at all all six of us were standing on a rather blowy summit.
Culardoch summitt 27/03/10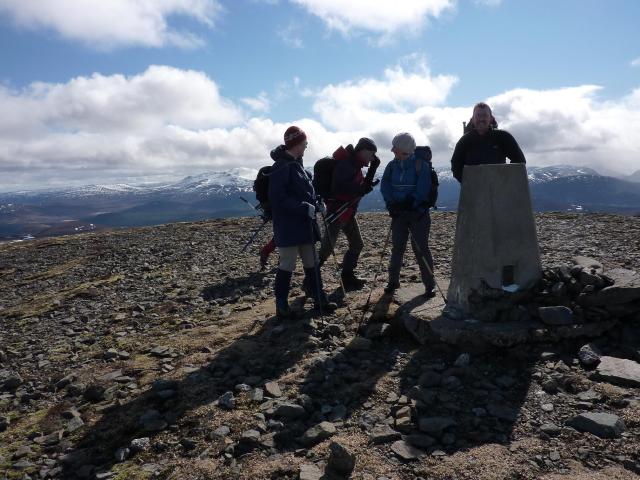 We descended a ways on its Northeast flank where we enjoyed another welcome break – trying to name check all of the hills we could see. We didn't do too bad.
Then it was onwards down the steep "itherside" of Culardoch where there were still one or two rather steep snowfields. We could see a lone walker high up on the moor making for Glen Gairn in the general direction of Corndavon Bothy and not too far off a man-made structure of stones which may have been a howff or a shelter. A brief snow shower caught us as we made our way into upper Glen Fearder.
Lochnagar from Culardoch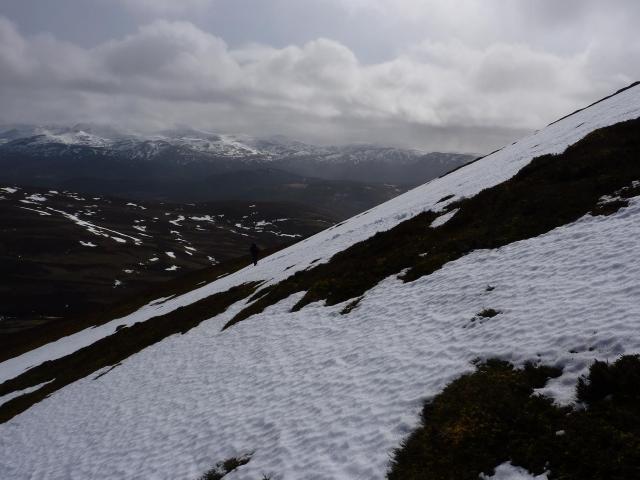 The President on descent on the "itherside" o' Culardoch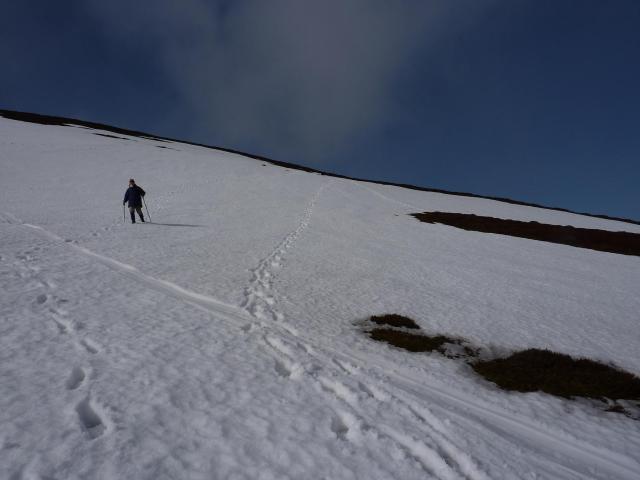 Culardoch from the East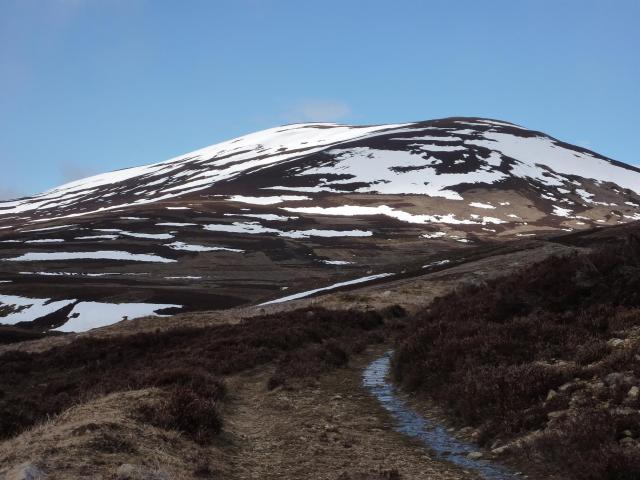 On the track for Auchtavan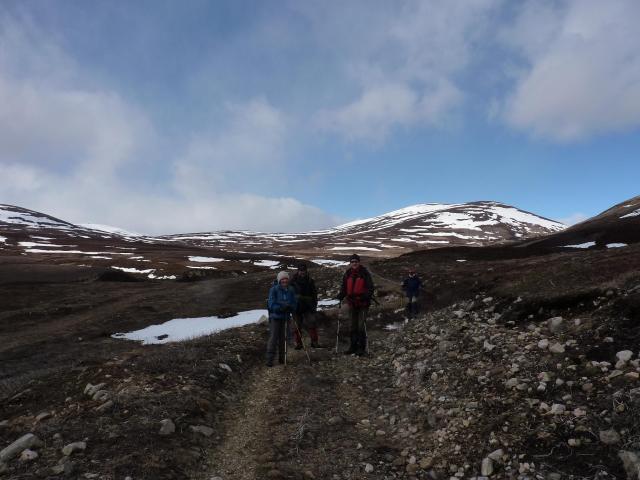 From here we picked up the single track footpath shown on the map and made for the old farm town of Auchtavan. Some 12 farms existed on this site at one time – each paying a land rent of 2 goats per year – Just what did the Laird do with all those Goats… perhaps he was fond of Kebabs.
There is also still an example of a rare "hanging lum" or "hinging lum" which I have seen on an earlier visit. So rare and precious is it now that the house is padlocked fast. Viewings are granted however one must approach the Braemar Community Council. The whole site has received Lottery Funding and there is a small Interpretive Centre with display.
Making good time we carried on stopping briefly by a wonderful seat with a view to Lochnagar (erected to commemorate the Millennium) and at around 16.10 we made the old white-washed Inn in at Inver.
At the Inver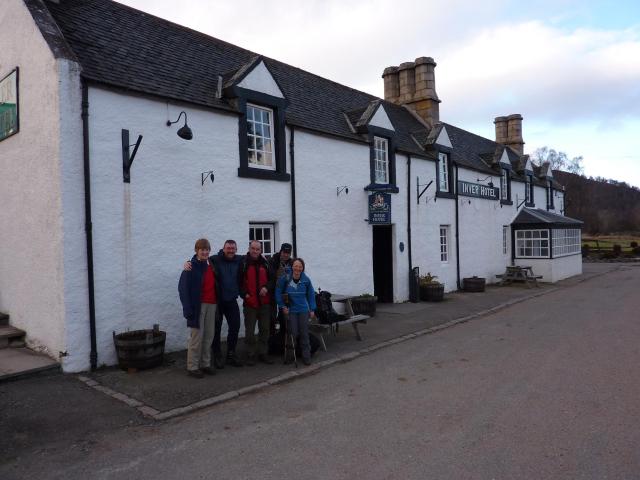 With the bus due in a little under an hour it was fine to have a seat and a cup of tea, or coffee, or a beer in pleasant surroundings. Future Day Meets were discussed and all agreed this "historic meet" had been something of a success. One guest made up our party and we all hope she will return.
And so it was that we left the pleasant surrounds of The Inver Hotel with its good fire and wood smoke for a rather comfy and painless ride back into Aberdeen.
On the bus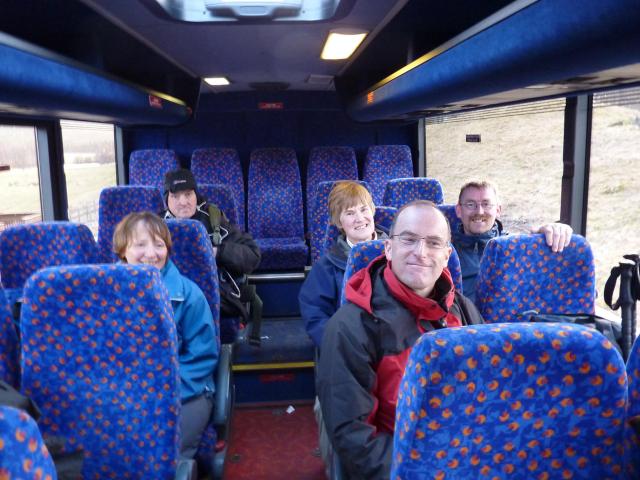 The next similar style meet (by Service Bus) takes place on Sunday 25th of July. Why not come along and give it a go?

All photos in this report are courtesy of Peter Aikman's camera as my camera failed to work.