On Sunday 17th March only six members made the 6.30am start to Comrie and Glen Lednock for an attempt on Ben Chonzie. Garry (aka Emerson Fittipaldi) was at the wheel of the minibus was parked up and the group on the hill by 9.30am, Sue organised the meet.
At Coishavachan they met the farmer and his dogs … "none managed the hill yesterday", he said… and today's forecast wasn't much better! Coishavachan is a sheep farm though they also have chickens and ducks.
The locals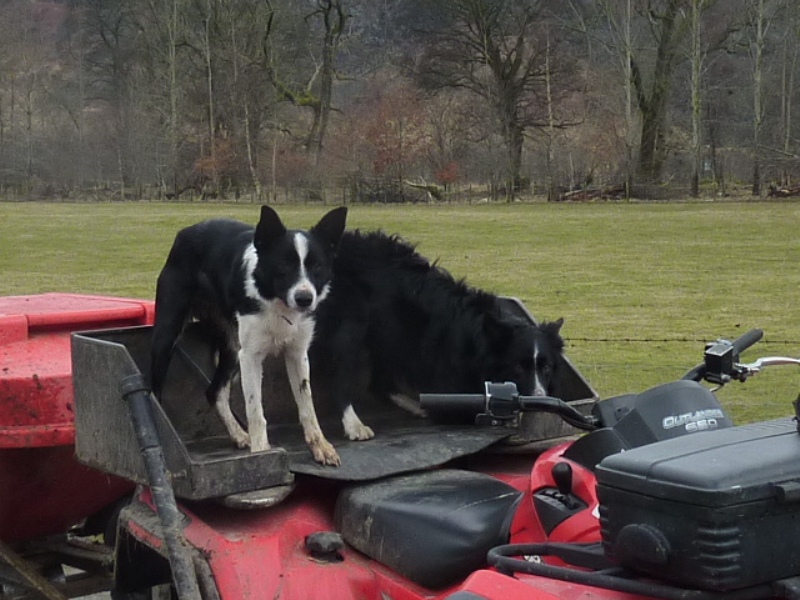 Heading for the hill beyond Coishavachan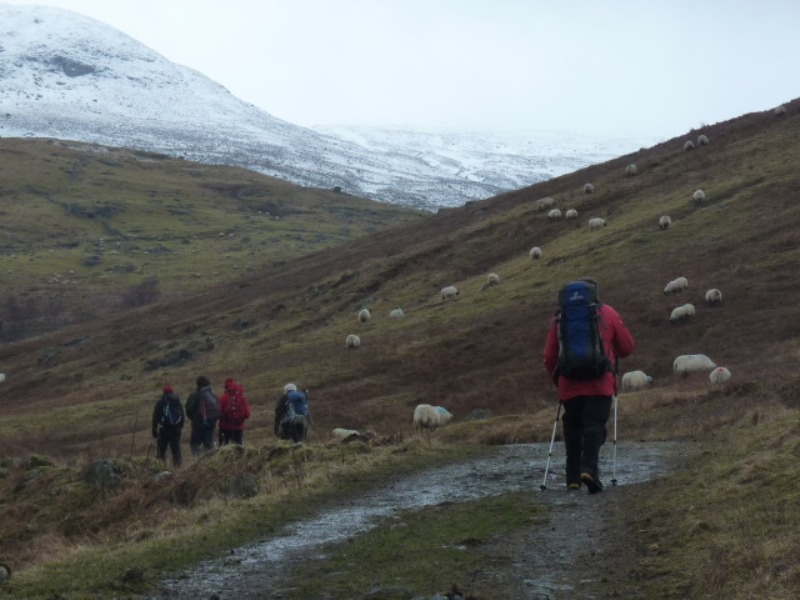 Alec and Garry with Glen Lednock beyond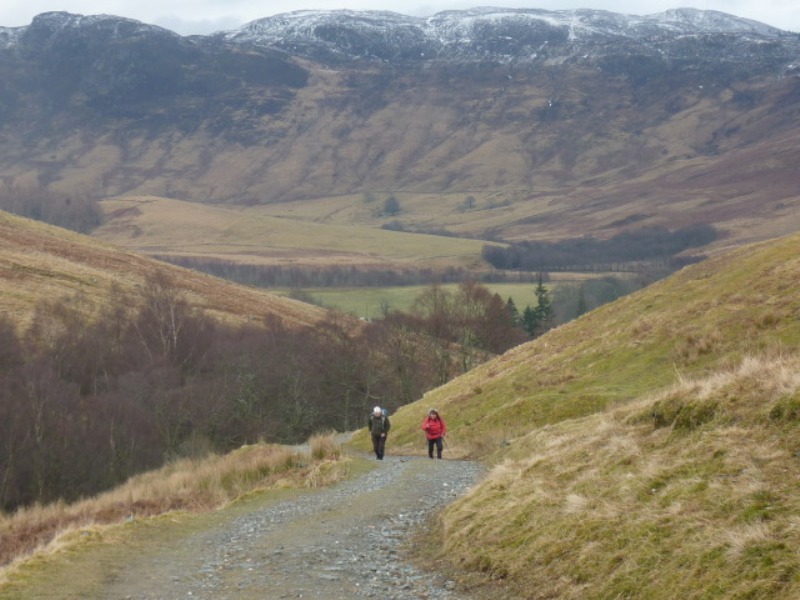 The weather closed in shortly after setting out (today's forecast suggested a less than 10% chance of cloud free Munros) and above 750mts they entered whiteout conditions. The wind on top was stronger than forecast and combined with frequent snow showers, and spindrift, it meant the hill was hard won by the four who used a line of fenceposts as a handrail to gain the summit.
On the hill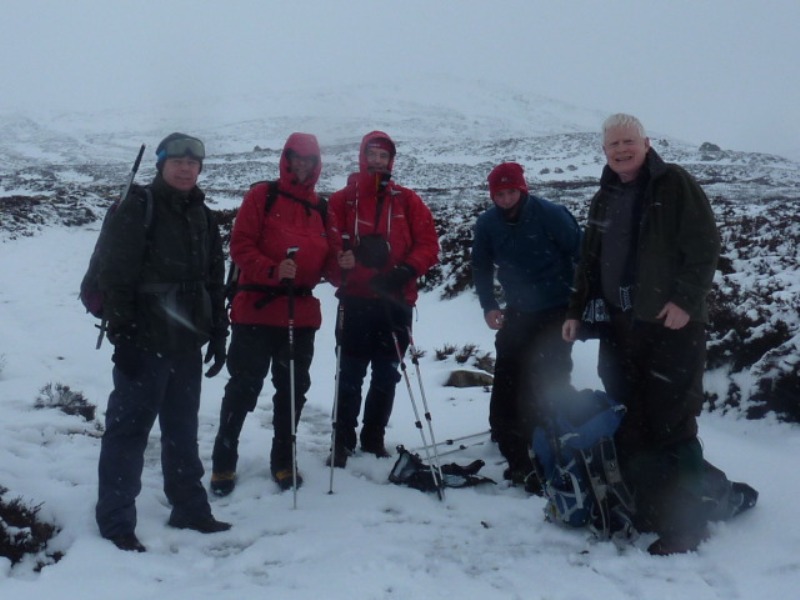 Winter is hanging on in here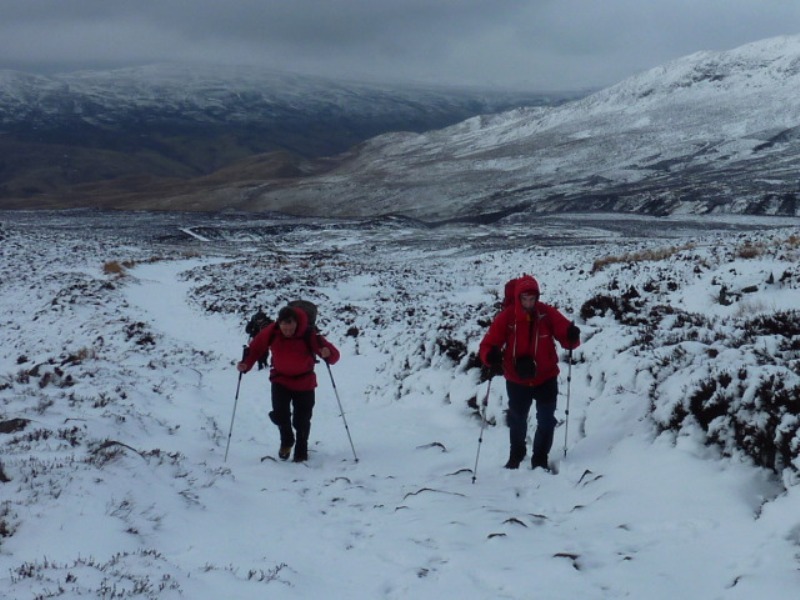 Always a Little Further ......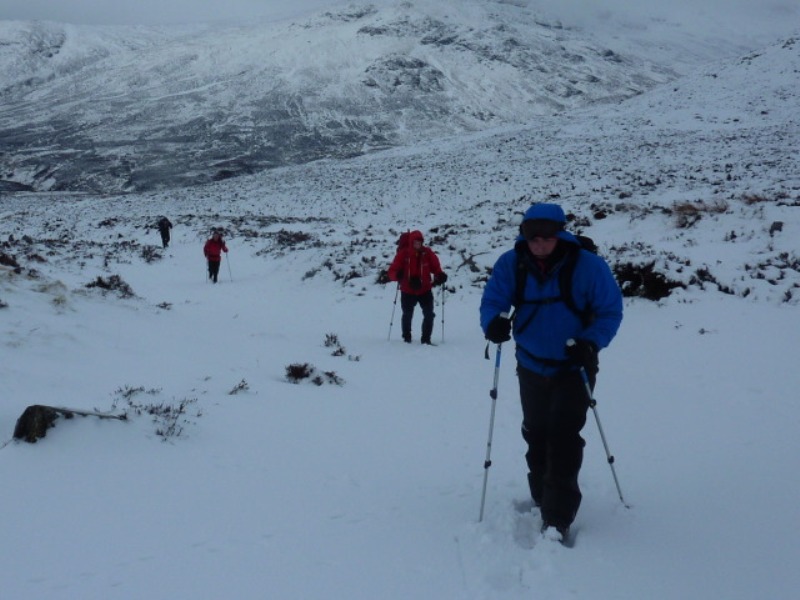 Whiteout conditions just shy of the ridge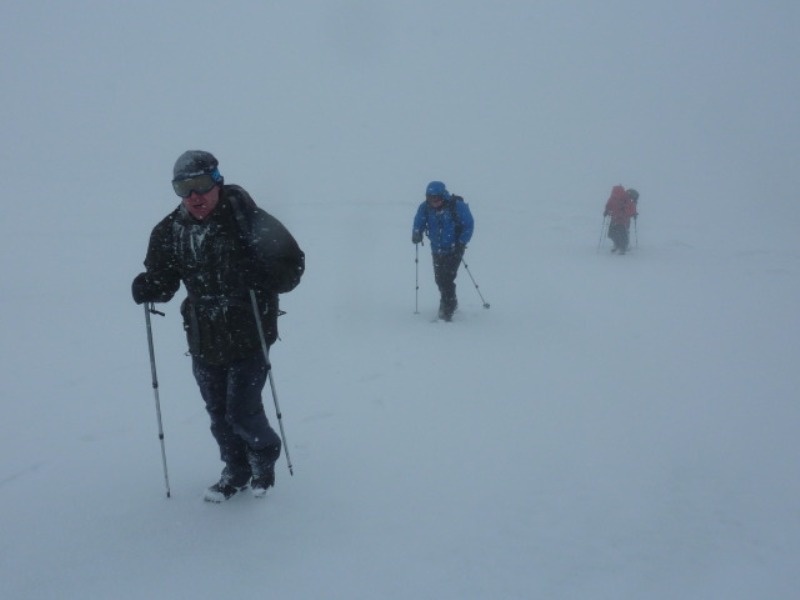 Gordon left the main group on the ridge and vanished into the "white-hell" for "Glen Turret". After a little casting around the remaining group found their handrail and followed the dog-leg of old iron fence posts to an ice battered summit. The rime ice build-up on the fence posts not hidden under the snow drifts was well worth seeing and when there were no posts the situation was completely disorientating for the point man navigating!
Rime Ice on fencepost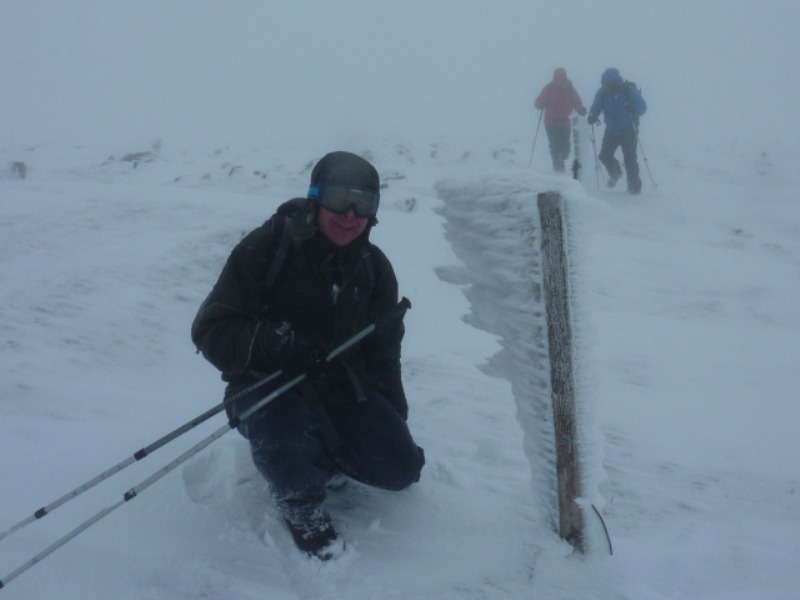 Looking back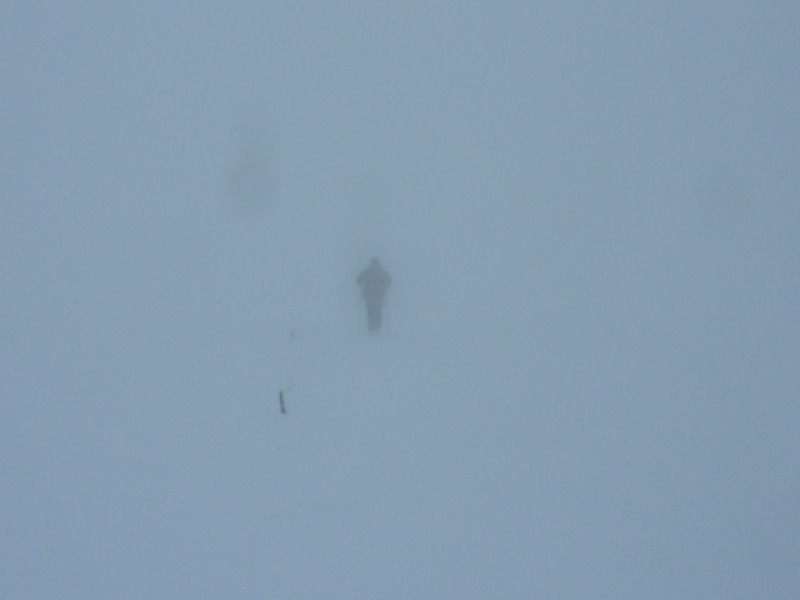 Ben Chonzie… at last (it was very, very, cold on top)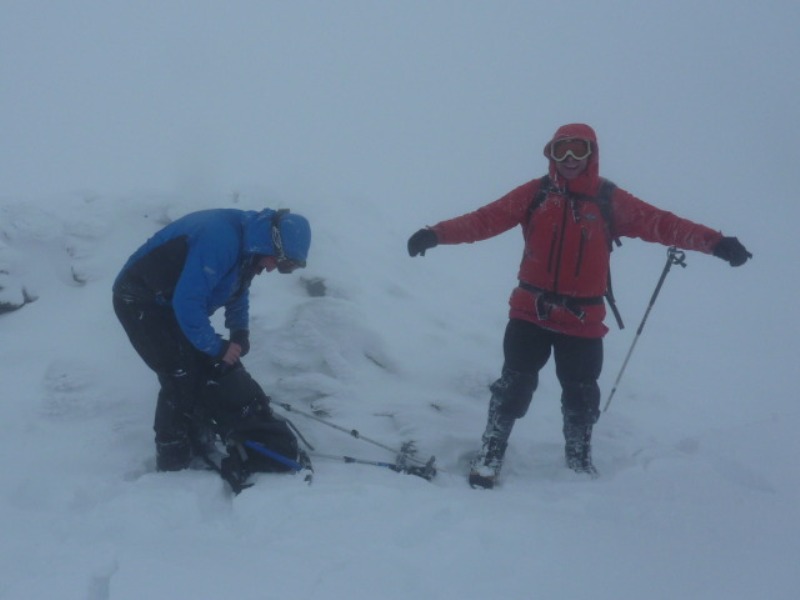 Garry and Alex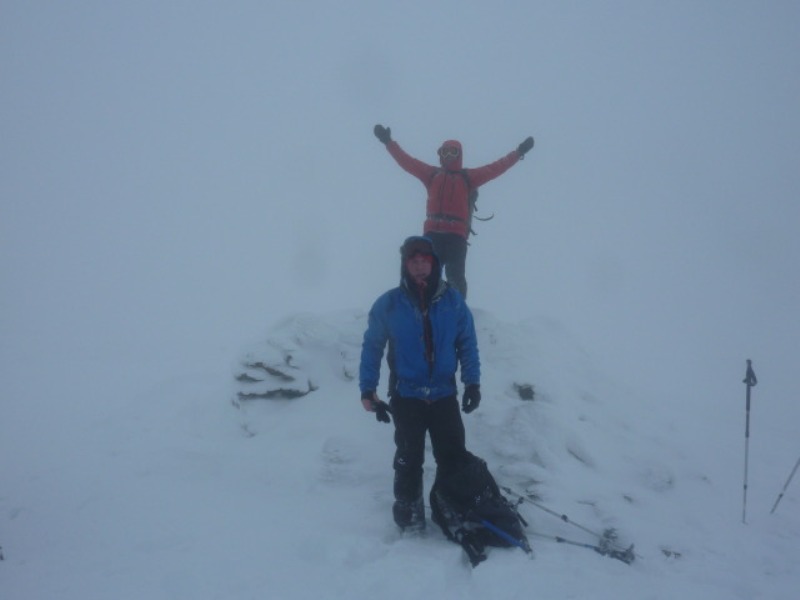 Viktor and Alex (temp around -12c)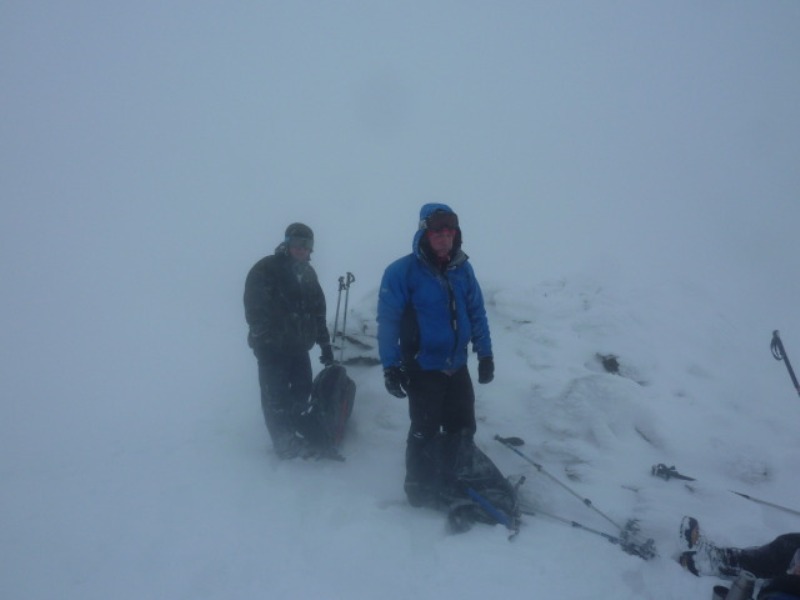 There's always time for a cuppa though …..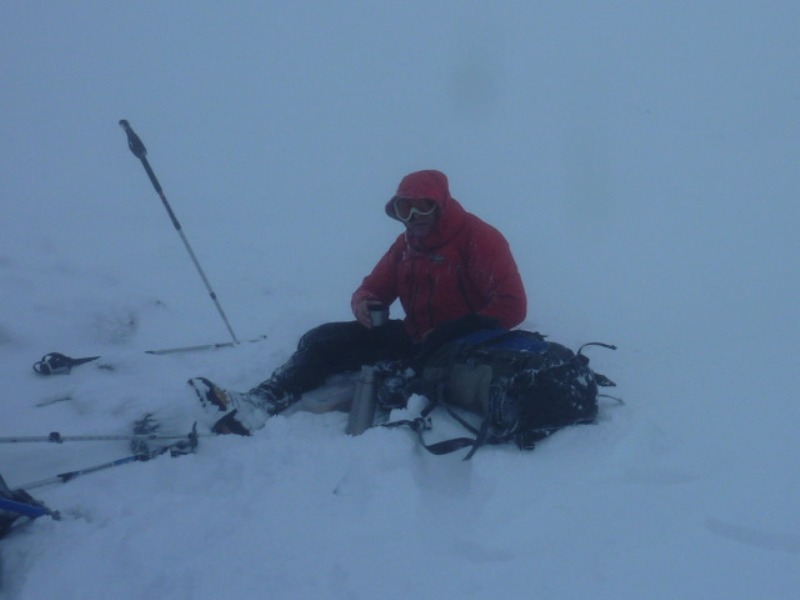 They reversed their outwards route on the return to Coishavachan where they found free range eggs on sale and met Alec at The Royal Hotel in Comrie where they had a drink and watched the League Cup Final on the telly before picking up Gordon on the road to Crieff. Another light ale and a white pudding supper in Crieff rounded off a very satisfactory day for those not tasked with driving. As there was plenty of room on the minibus it was an enjoyable trip back to Aberdeen.