It was a dank dark Sunday morning as the minibus hurtled round and out of Aberdeen catching the pickees-up at Bucksburn and Blackburn slightly on the hop but without delay.
Nevertheless, 15 souls (including those of 3 newcomers and that of Harvey the Dog, on his first trip) safely reached the car park east of Ben Rinnes, where a little snow lay on the ground as we started up the path.
Heavy cloud hung about, but there was a bit of a view for the first rise, one of many, viz. Round Hill, Roy's Hill, Black Banks, Scurran of Lochterlandloch, en route to the summit, and afterwards Scurran of Morinsh, Cairn Mulgainish, Hill of Knocknashalg, Cairnnacay, Hill of Deskie – Ben Rinnes certainly makes the most of its features! On the flat above Roy's Hill, we negotiated the first of several gates consisting of two bent metal posts connected to uprights by chains.

Gate closed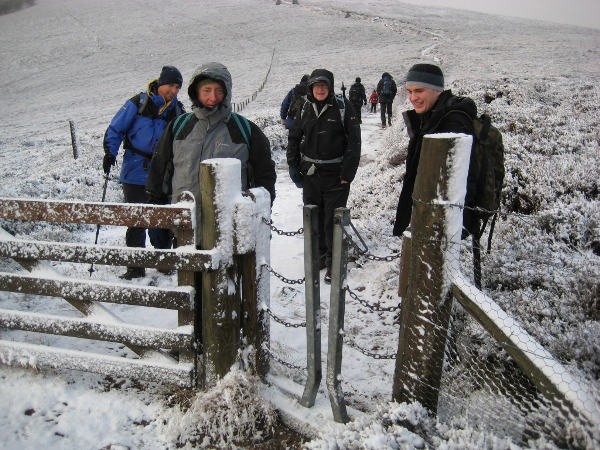 Gate open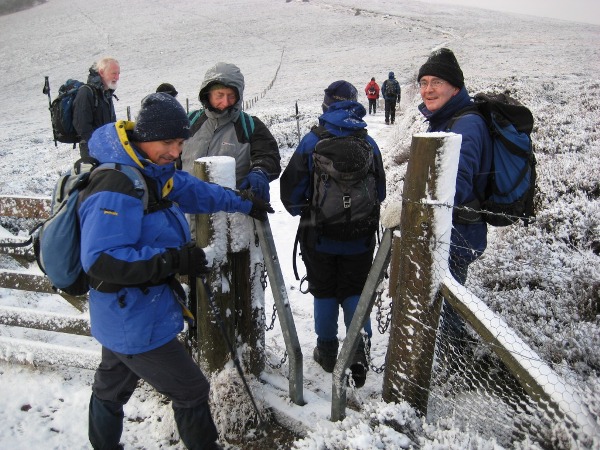 Then it was up into the mirk on a much-improved path, with increasing wind from the northeast and snow underfoot. Near the top, the owner of an earlier-parked landrover loomed up with dog, and warned us of severe conditions near the summit – 50 mph wind, visibility 5 meters, path lost under snow, etc. He was informed that we were the Cairngorm Club, and feared no such conditions.

Onwards and upwards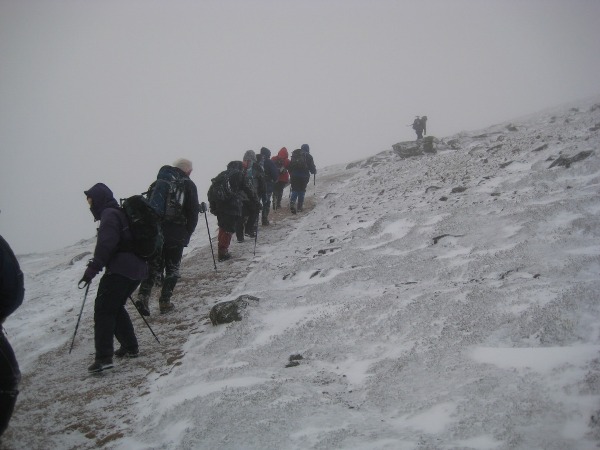 Eventually, the summit rocks loomed up, were quickly surmounted and as quickly abandoned in a search for a bit of shelter from the spindrift.

Summit trig point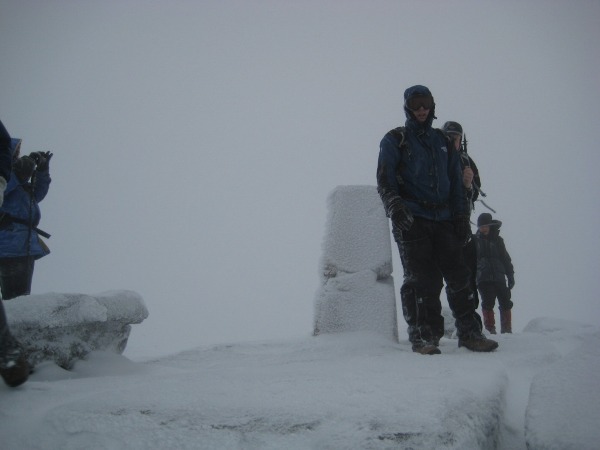 Just another Sunday afternoon !!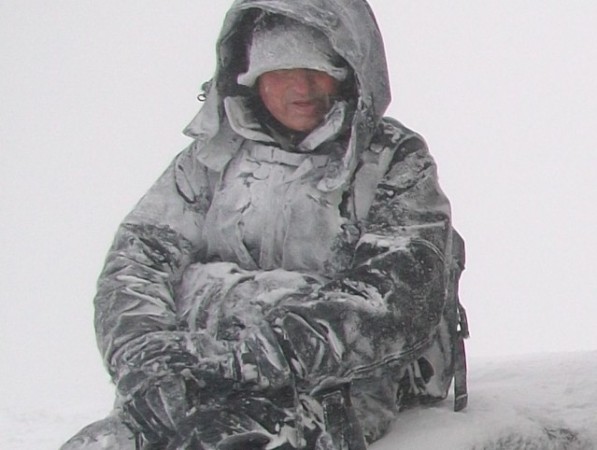 Nothing very satisfactory was discovered, even to leeward, but an eight-person shelter created a haven of (relative) peace and calm in which coffee etc. could be partaken. At this point, Colin and Fiona turned back for the (nasty) descent to the minibus, picking up Kris en route, while the rest of us proceeded in a north-westerly, then westerly, direction, guided by Judy's map and compass and Alex's super-GPS.

Leaving the summit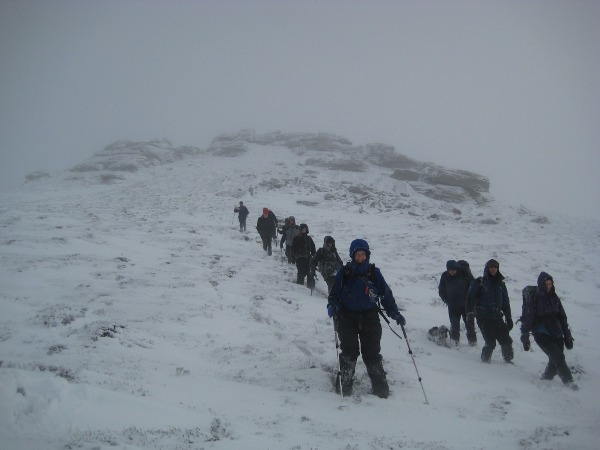 Sure enough, the Scurran of Morinsh appeared dead ahead, though again offering little shelter except for a young Scots pine cowering in a nook. So we headed south-westerly down the increasingly heathery ridge until something of a view over to the Cromdale hills (and windfarm) emerged on the Hill of Knocknashalg. So we stopped to have lunch (especially Harvey) in the doubtful shelter of a peat-hag but with the very welcome surprise of seasonal mince pies and something warming (in more senses than one) from Derek's huge rucsac.

Where are we?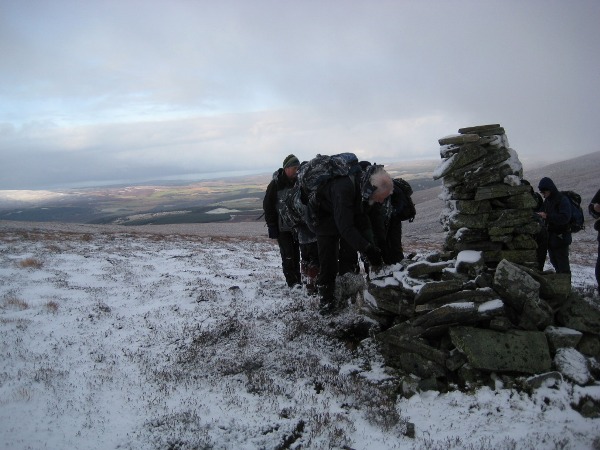 Then it was more poor ground on the descent to the landrover track near (the non-existent) Corrour, where we headed north-west until we doubled back on the Speyside Way at 207340.

The Speyside Way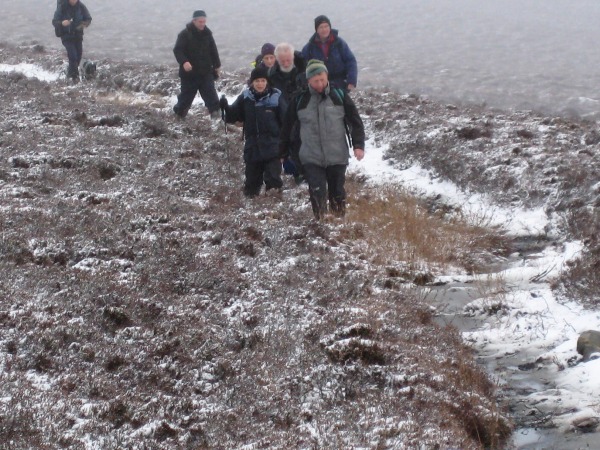 This turned out not to be a Council-paved thoroughfare but rather a couple of stone-and puddle runnels through rank heather, with the odd post here and there, but it did lead via a long uphill slog in no-vis conditions and then various twists and turns to overlook Glen Livet, with a fine sub-Turneresque sunset ahead of us up Strath Avon.

Strath Avon sunset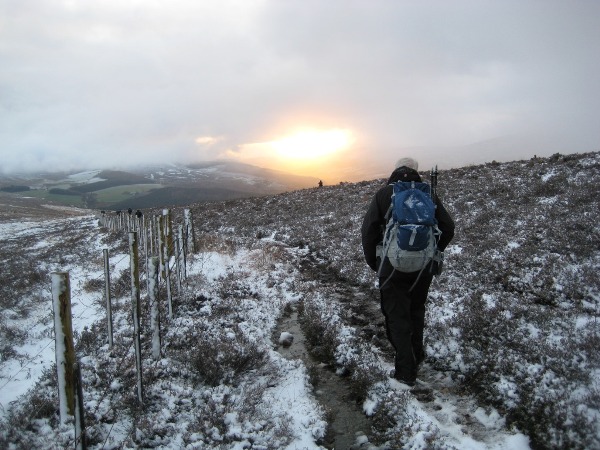 And so down fields via more of the strange gates (and slippery stiles), to meet the minibus around 4pm at the Glenlivet village hall, with its toilets.
The return home was broken with a stop at Keith, where the inviting tea shop was (naturally) closing and the two pubs offered a revealing insight into the social habits of rural Aberdeenshire on a bleak Sunday afternoon.
So to Aberdeen, after a longer-than-expected walk but a satisfying day. Many thanks to Colin for the driving, and to Judy for her guidance on the hill.