On Sunday 4th November 2012 eleven members attended this meet to Spittal of Glenshee organised by Garry. One member was a "no show" at St Margaret's at 7am and the rest set off in an old (and rather noisy) LDV minibus. The minibus was taken up to the Dalmunzie Hotel where it was parked for the day. Travelling time, with a stop in Braemar was 2hrs and 5mins.
Main party heading up Glen Taitneach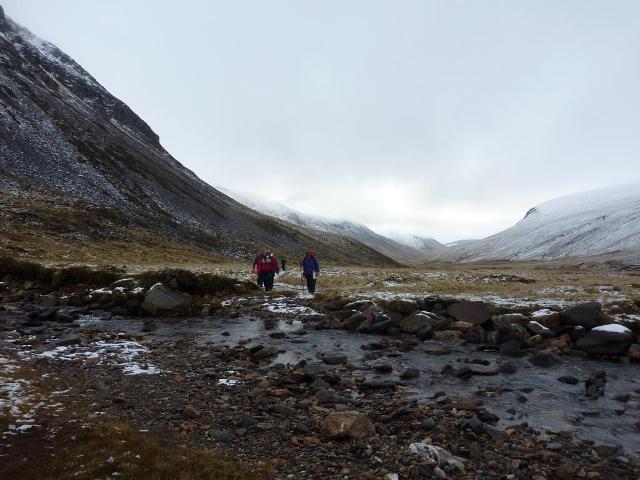 Above the snow line in Glen Taitneach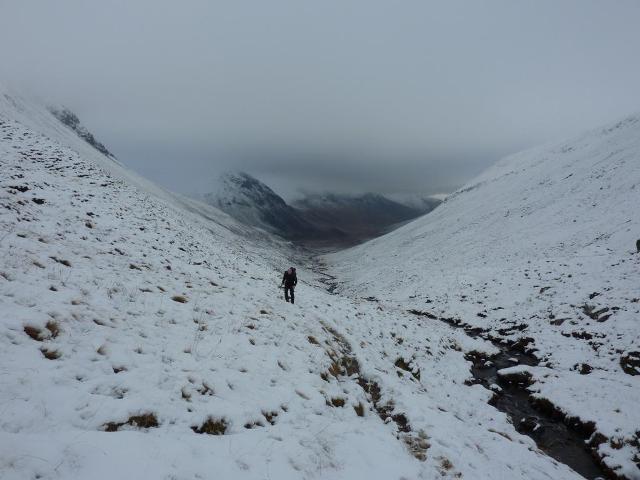 Alec and Anne ascended Glas Tulaichean by Glenlochsie Farm and Lodge and returned the same way. Donna was away first from the bus and also chose this route up Glas Tulaichean before ascending Carn an Righ. The President's Party of eight ascended to Loch nan Eun by way of Glen Taitneach where it was rather murky, misty and white on their arrival. After lunch Alex and Graeme ascended Glas Tulaichean and the remainder carried on to Carn an Righ. Ken, Derek, Christine, Malcolm, Carol and Garry ascended Carn an Righ (being caught by Donna part way up!). Trip time from the Dalmunzie Hotel to Carn an Righ (the Hill of the King) was 4hrs and 30mins. After a short break and a bite to eat (and a whisky toast to absent friends) it was time to descend back to the bus and Hotel where the others would be waiting.
By Loch nan Eun ( with Beinn Iutharn Bheag in sunshine above the cloud)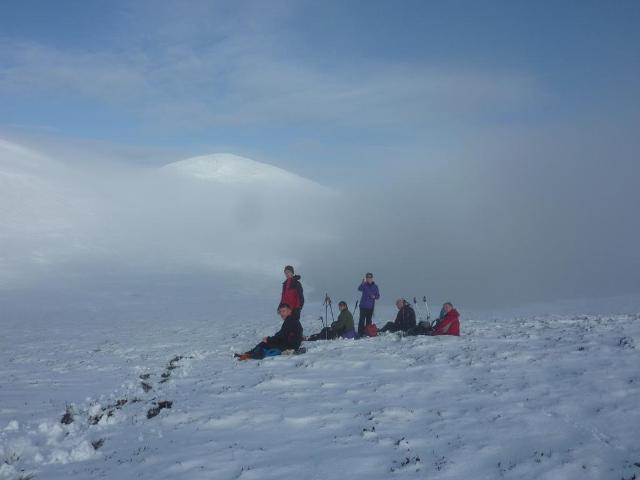 Leaving Loch nan Eun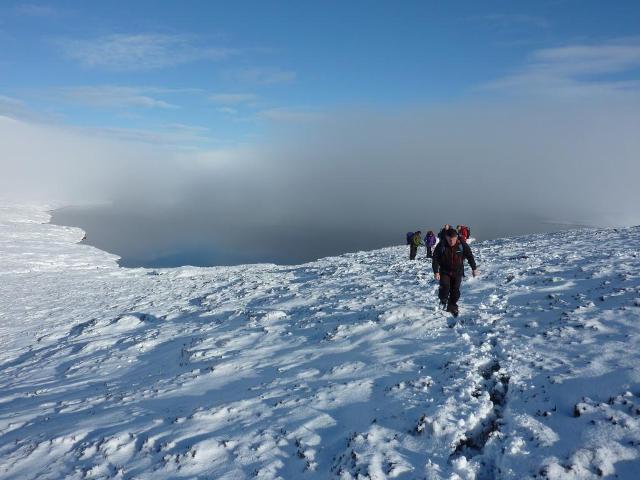 Heading for Carn an Righ (Glas Tulaichean behind)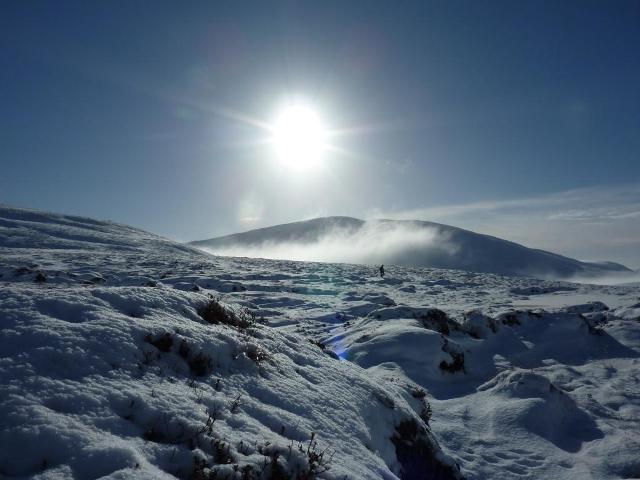 Garry leading the President's Party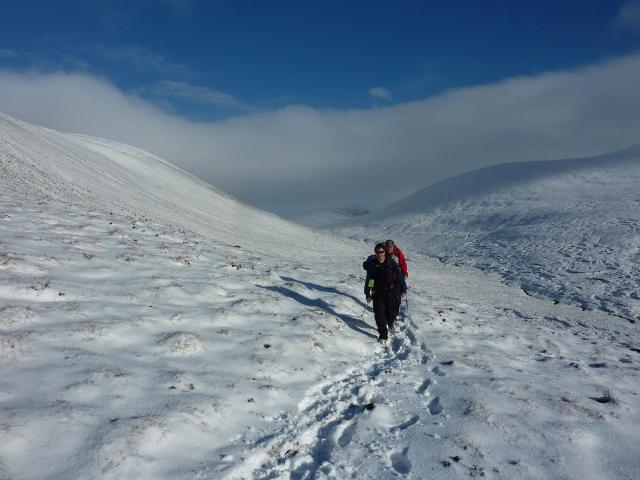 Carn an Righ from the shoulder of Mam nan Carn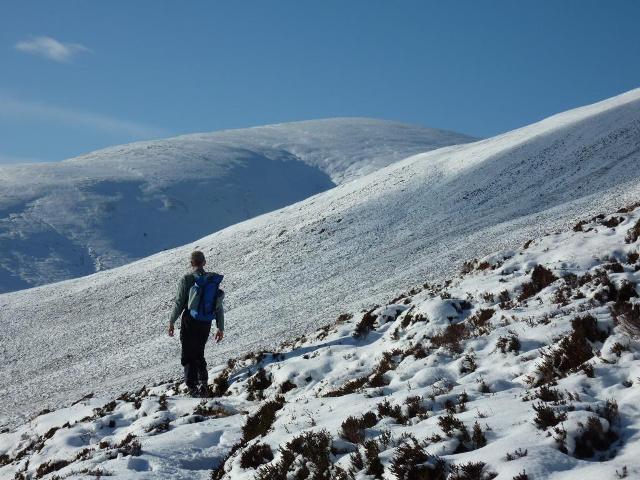 Carn an Righ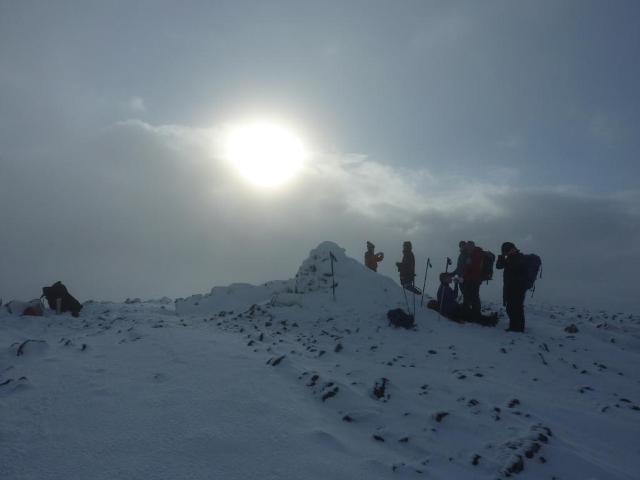 Donna, Garry, Malcolm and Derek headed back for Glen Taitneach but cut off the top corner by descending through and down Glas Choire Bheag. Ken, Christine and Carol went up and over Glas Tulaichean. It was pitch black (and millions of stars were out) when both parties eventually arrived back at the warm and rather comfortable Dalmunzie Lodge Hotel where Anne and the others were patiently waiting.
Heading for the Dalmunzie Lodge Hotel (shoulder of Glas Tulaichean left)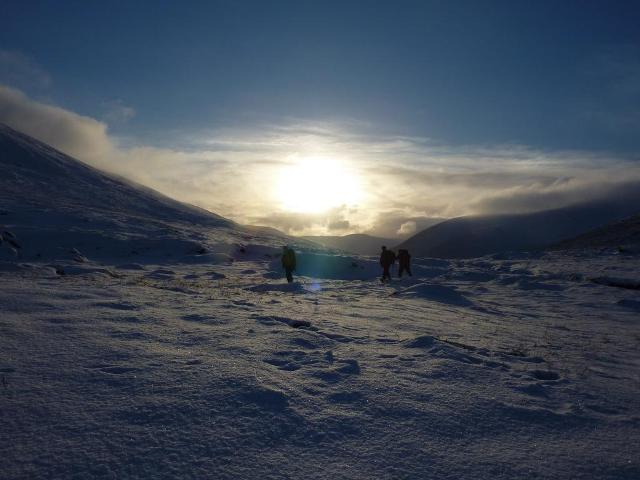 Carn Bhinnein (of Cairnwell) from above Glas Choire Bheag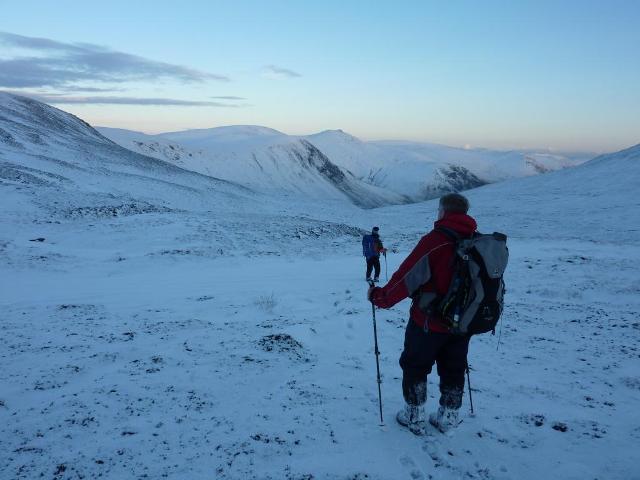 A fish and chips stop at the Ballater Chippie rounded off an excellent winter's day in the hills. Some of us are sure big Willie Robb had called in a few favours and provided for us the weather we'd all hoped for, thanks Willie.
Garry especially needs a mention as he organised the meet, drove the minibus and led the President's Party. This was a most enjoyable Day Meet.