The Club visited the Carlisle Mountaineering Club's hut in the quiet Newlands Valley in the Lake District for the September holiday weekend.
Here is Chris's report.
"Here is a quick tour of the climbing venues we visited over the weekend. It ended up being a bit of a tour of the NW with visits to the Lakeland crags as well as crags in Lancashire and Yorkshire. On Saturday, Marj, Vicky and myself visited Castle Rock, a fine exposed crag overlooking St john's Vale near Thirlmere. The routes are nice and long on good quality volcanic Rhyolite.
Vicky and Marj at the top of Castle Rock looking north up St john's Vale, a great place to belay and admire the views, which briefly cleared up late in the afternoon.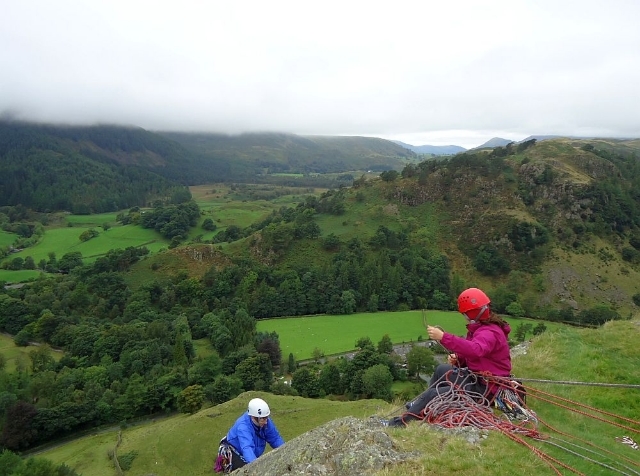 On Sunday there was low cloud so we headed south looking for dry rock and ended up at Trowbarrow, big open disued limestone quarry near Carnforth in Lancashire. We had the place to ourselves most of the day and the sun came out so we climbed until sunset and got back to the car just at it was getting dark. we were treated to a fine sunset looking out across Morecambe bay. Here is Vicky starting up Ant Ramp with the classic crack line of jean Jeanie on the wall behind.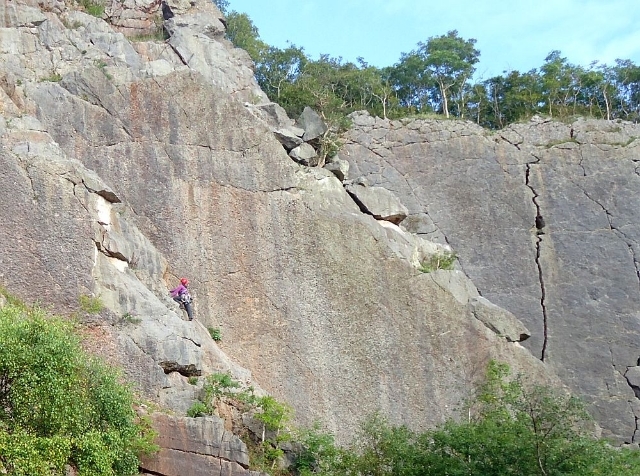 Marj leading Jonno and about to reach the big belay ledge. the route continues up a ramp to a small overhanging block. near the top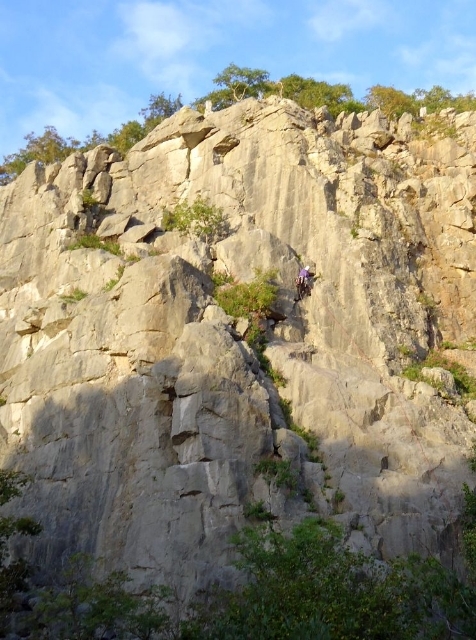 On Monday more low level cloud so we headed to Yorkshire to get on some Gritstone at Brimham Rocks. The weird shaped gritstone "boulders" have been a tourist attraction for as long time and the land is now owned by the NT, everyone enjoyed the location and climbing here which is very unusual with isolated "boulders" to be discovered through a maze of paths in the hilly wooded landscape. Here is Cedric leading the "classic route of the crag"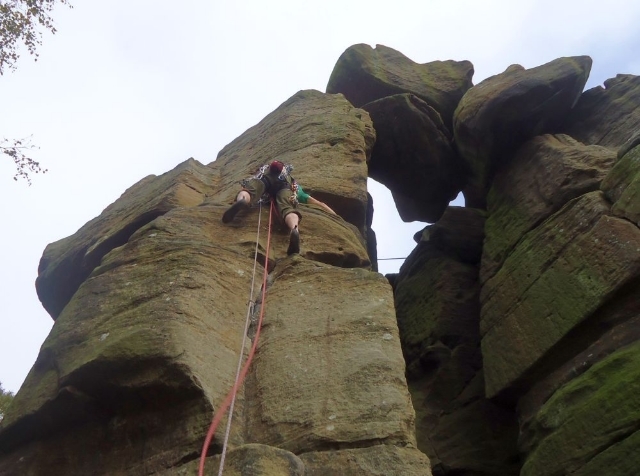 Here is Michael getting to grips with some typical sloping holds on gritstone.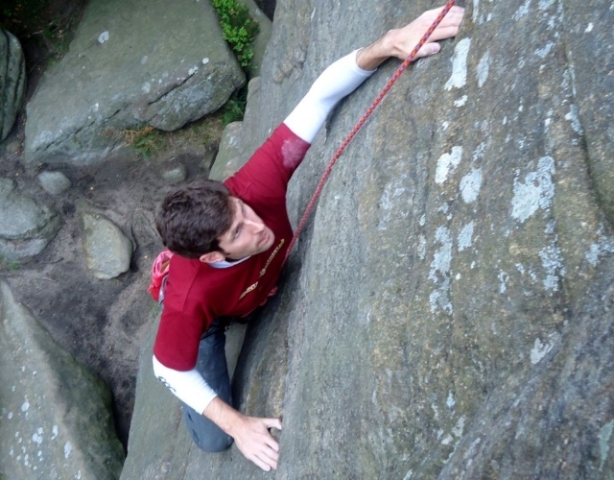 On Tuesday the weather looked better so we went to the most popular crag in the lake district, Shepherd's at Borrowdale. today it was virtually empty and I was able to enjoy the beautiful views across derwentwater without continuous noise from other people and the road.
Here I am leading the spectacular 2nd pitch of Fisher's Folly which takes an exposed traverse across the crag. The picture was taken by Michael Culley from the belay position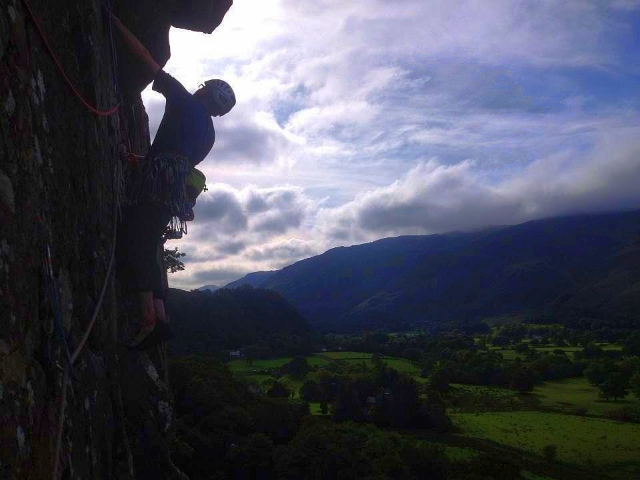 This is a proper climbers crag with an excellent café at the base of the crag in an old farm. There was just enough time to enjoy the sun with a slice of homemade fruit pie and ice cream washed down with a pot of tea before Marj and Vicky finished their climb and we had to head home."
Here also are Marj's photos of the weekend.
Vicky leading second pitch of first route at Castle Rock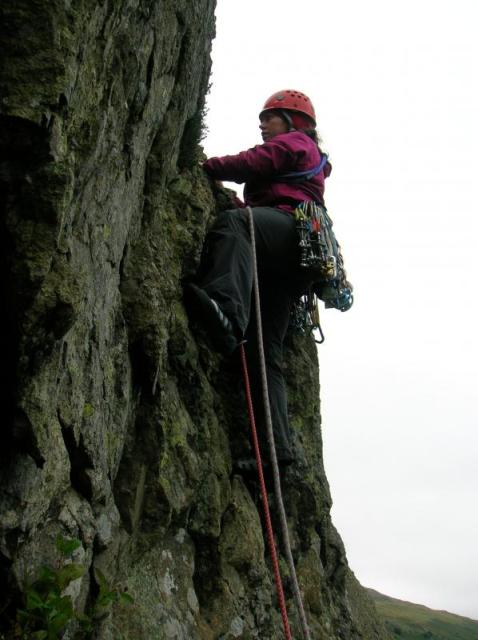 Vicky at top of first pitch, second route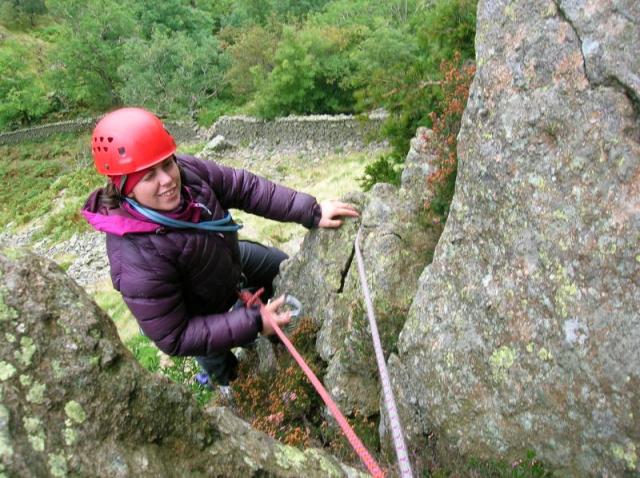 Getting ready after a lunch stop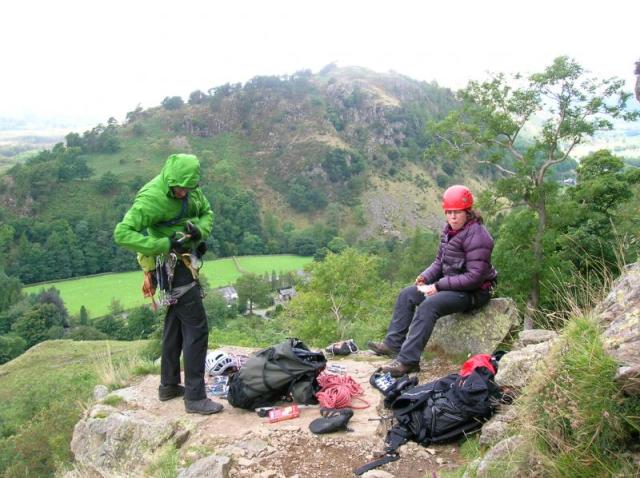 Chris leading third route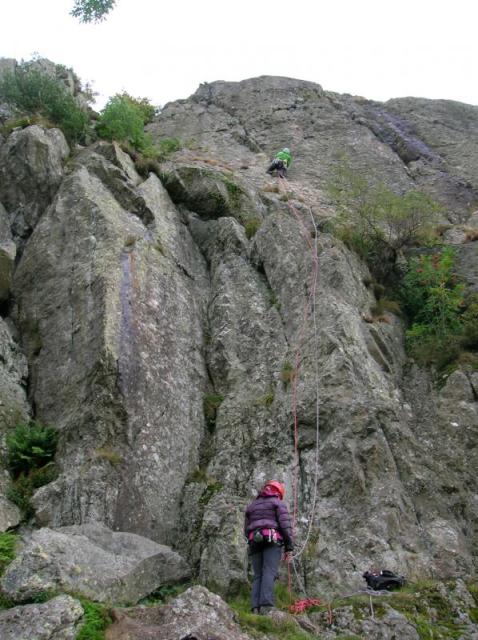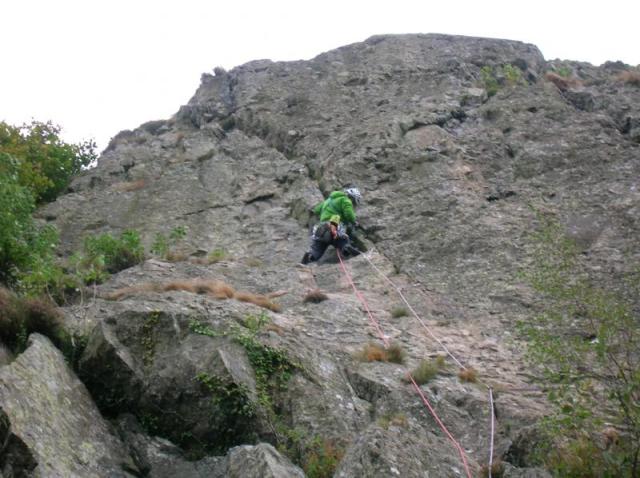 Trowbarrow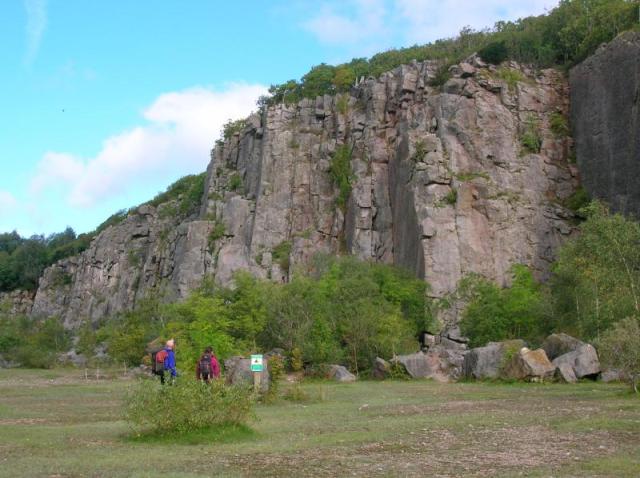 Chris leading a challenging VS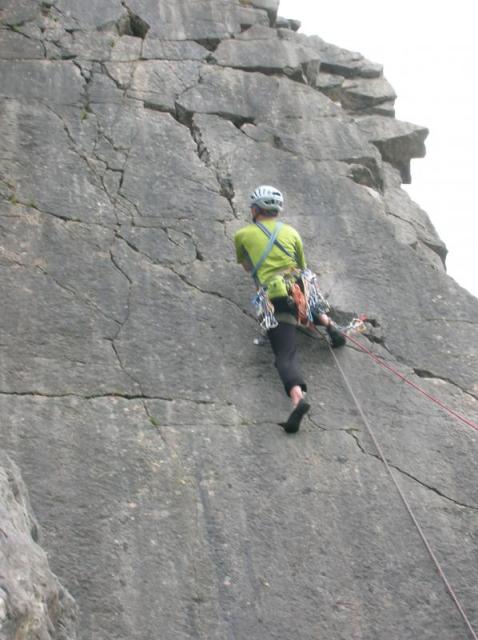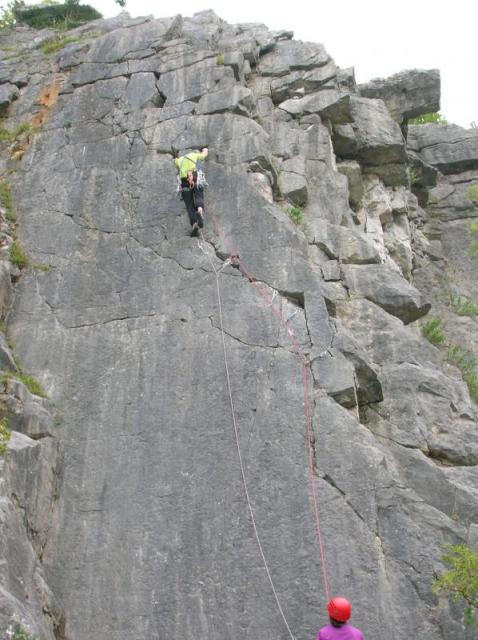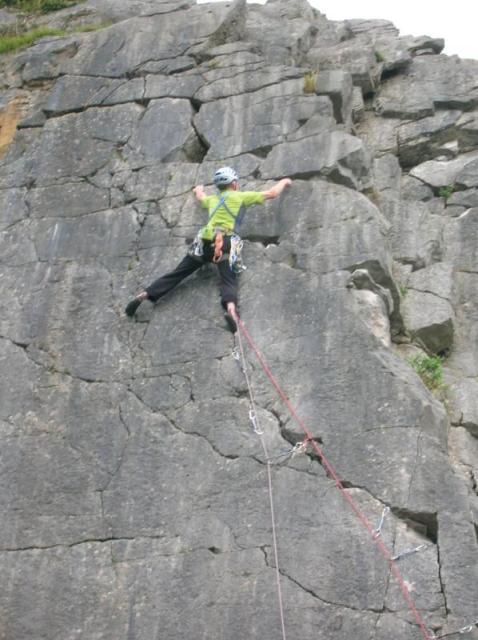 Brimham Rocks
Chris on first route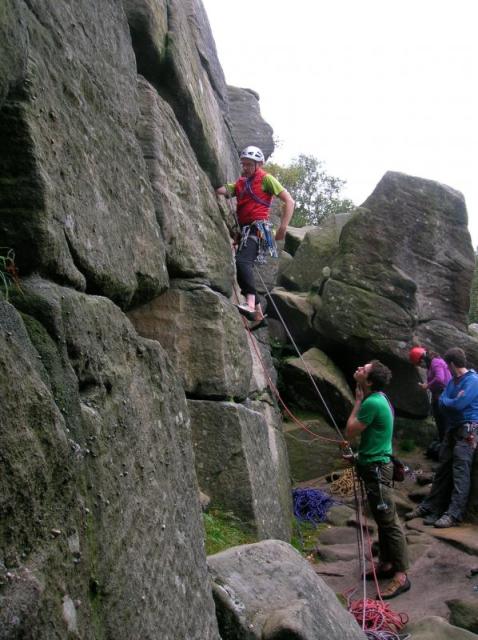 Getting too hot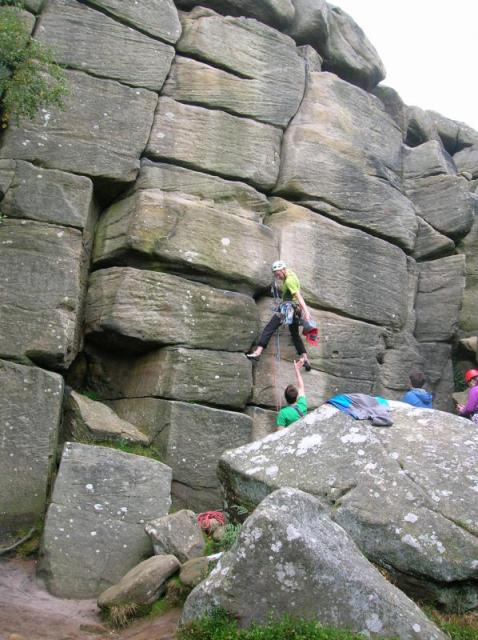 Vicky on lead as well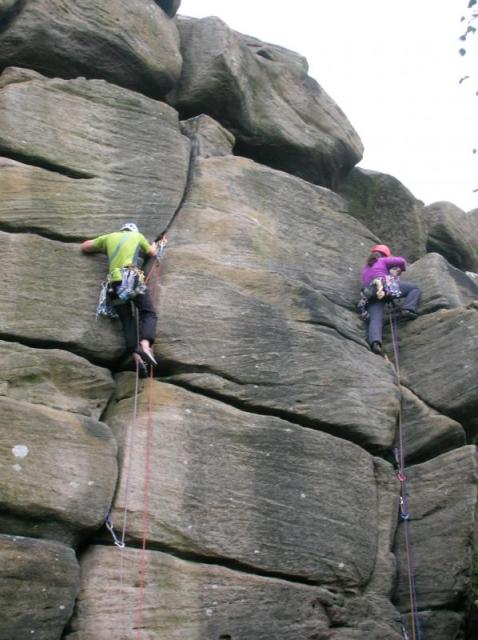 Sneaking up on Chris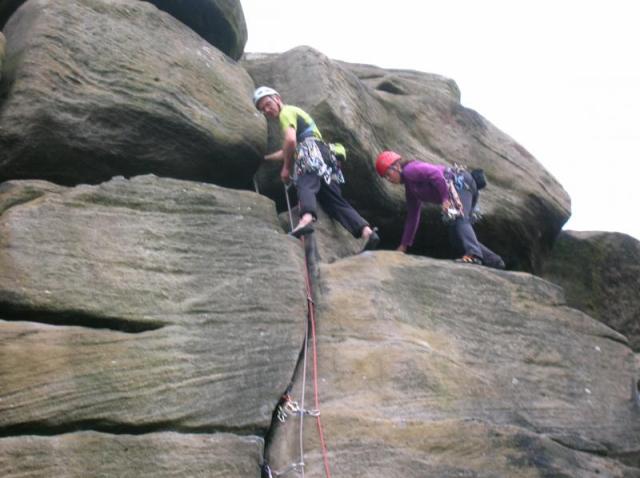 Cedric on second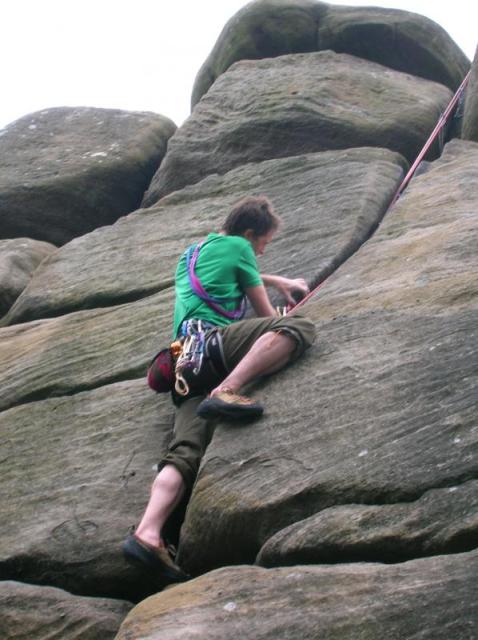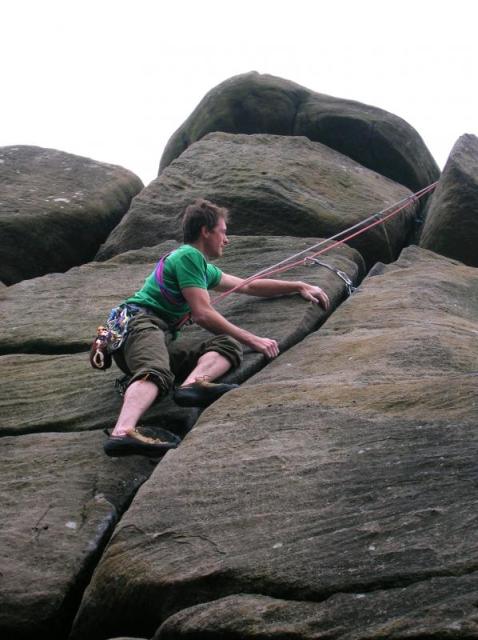 Michael on second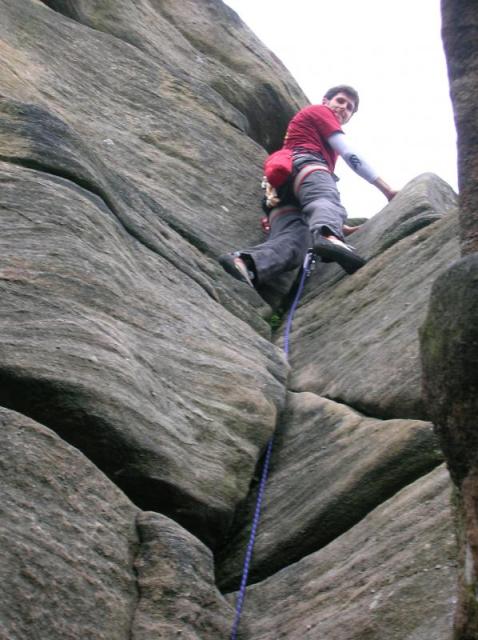 On Tuesday Vicky and myself did Little Chamonix at Shepherd's Crag. Sadly we didn't take a camera so missed out on what should have been nice pics. It was a very enjoyable climb.