Cairngorm Club Day Meet Sunday 5th September 2010
A Cairngorm Traverse (and Bus Share) with The Westhill Walkers
Ten Cairngorm Club members and five guests eventually made the shared bus which picked up first at Golden Square and just a little after 7am at Westhill Shopping Centre.
On reaching Coire Cas just before 10am we could see the wind on the hill and on leaving the bus the full blast of it became all too apparent. Would we make the Linn of Dee for the prescribed departure time of 18.00hrs? I had some reservations.
President's Party leaving Coire Cas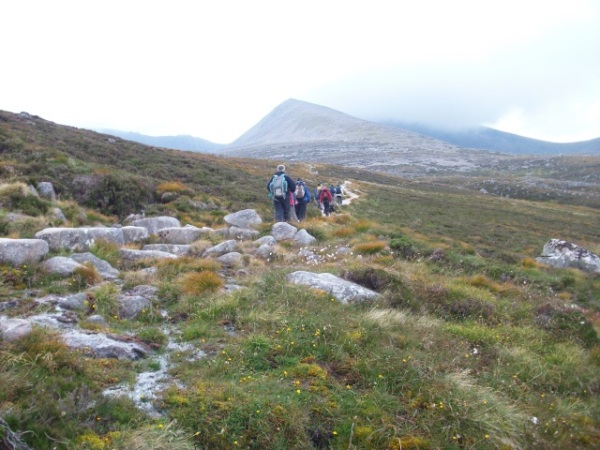 A little after 10am we set off on a good path for Coire an t-Snechda (the coire of the snows). It was a breezy walk in but before long all 13 in today's President's Party were stopped for a bite to eat at the MR Box beside the Lochain. One member told of the MR Box having to be "dug-out" this winter – so the coire is well named?
On the path for Coire an t-Snechda and The Goat Track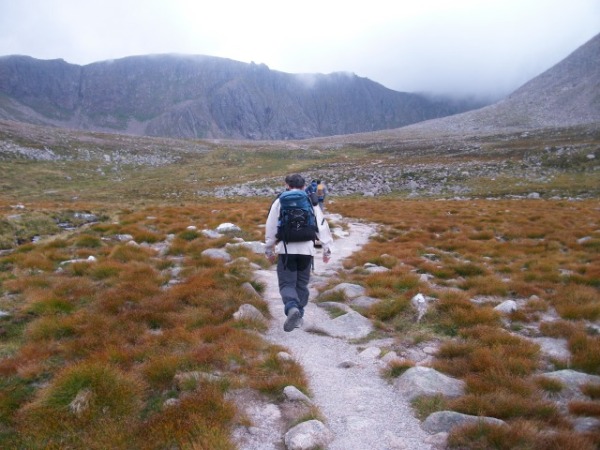 The Goat Track from the Lochain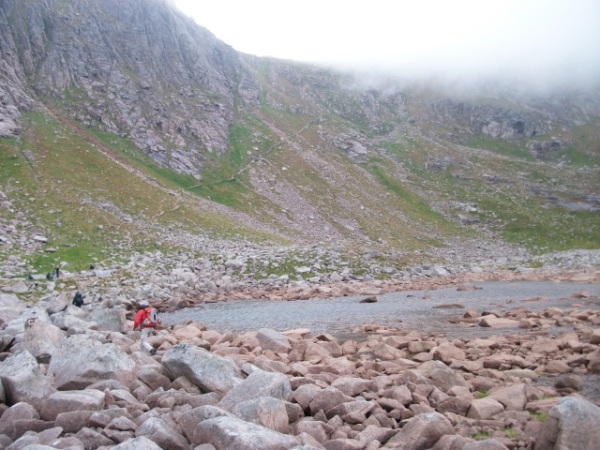 Whilst having tea we first heard and then observed two climbers high up on quite a challenging looking climb. In today's wind it must have been a real challenge.
The mist level was that of the top of The Goat Track (we made the ascent from coire floor to plateau in 20 mins). Incredibly the wind speed on the plateau was far less than we'd encountered walking in and despite the low cloud this did improve moral.
On the Goat Track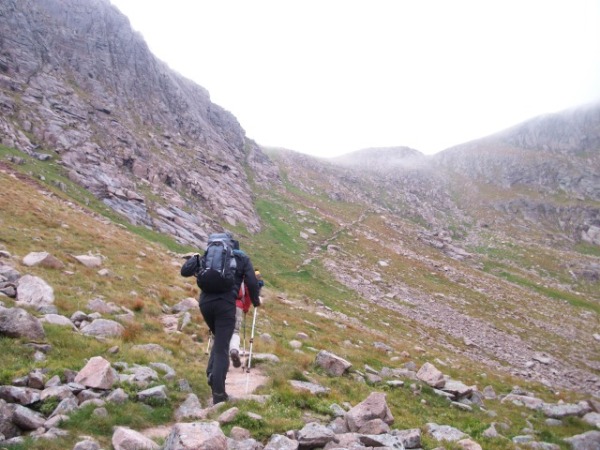 At the top of The Goat Track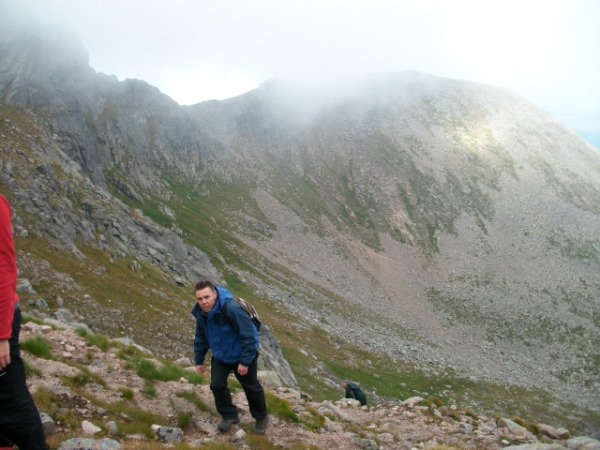 Not much to see on the Plateau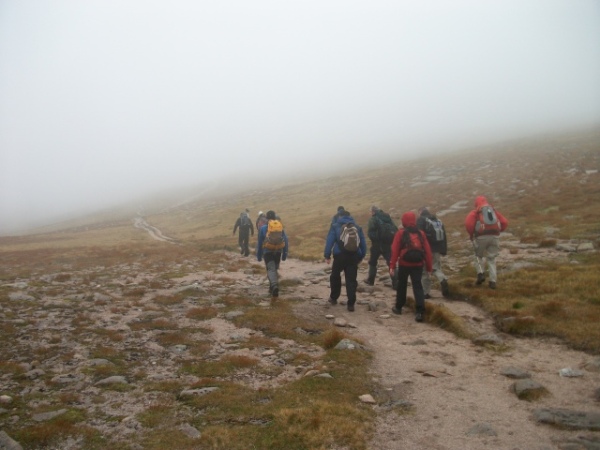 Near Lochan Buidhe we saw our first of two small herds of reindeer as the cloud quickly dissipated…and then returned. Lochan Buidhe was a rather sombre looking place today if truth be told. No views at all. Just mist…and lots of it.
Lochan Buidhe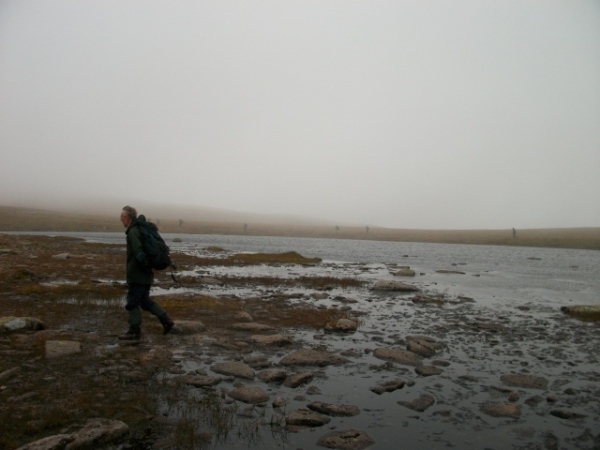 Looking back to Lochan Buidhe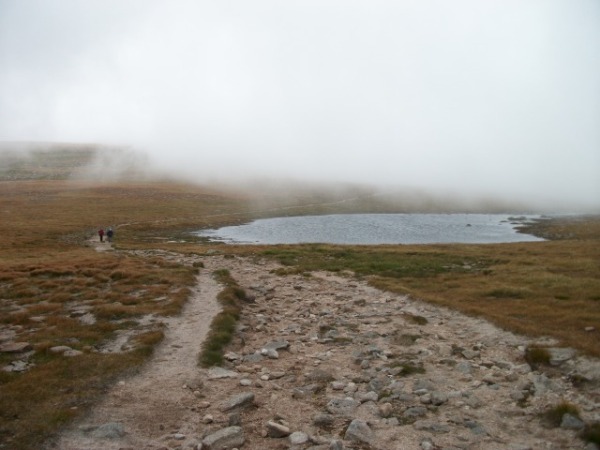 High up on Ben Macdui a breakaway party led by Alex Barbour went looking for and found a late lying snow patch.
Kevin on the snow…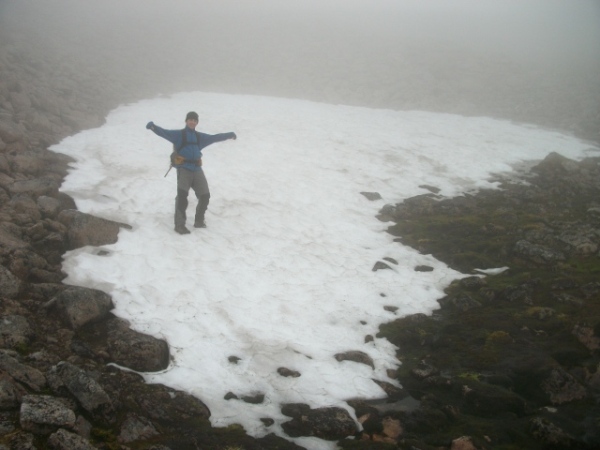 We regained the path and made the large Cairn and Trig Point of Ben Macdui a little after 1pm (or 3hrs from Coire Cas). We met former Club Member Bill Maxwell at the cairn. No views still but The Cairngorm Club Indicator is still there and in relatively good nick – though some of its edge has disappeared. How or Why?
Cairngorm Club Indicator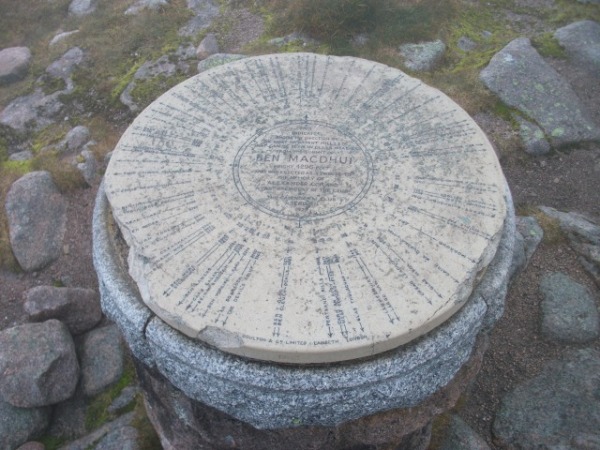 President's Party on Ben Macdui 05/09/10 (photo by B.Maxwell)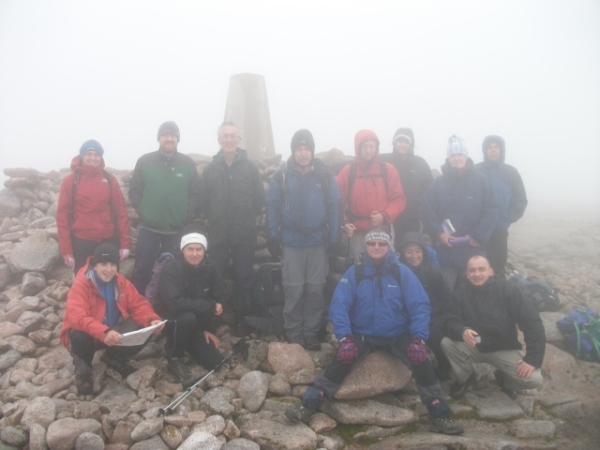 After lunch we made for Loch Etchachan and only 20 mines after leaving Macdui the mist began to clear. We took the rim of the corrie for the views. Bill pointed out "Broad Gully" to us…a fine looking Grade 1 gully. Ken T took a detour to check out a "caravan" we spotted high on the hill to the North of the Etchachan Path (west of Loch Etchachan).Turns out it was another MR Box and full of MR Kit.
First view of Loch Etchachan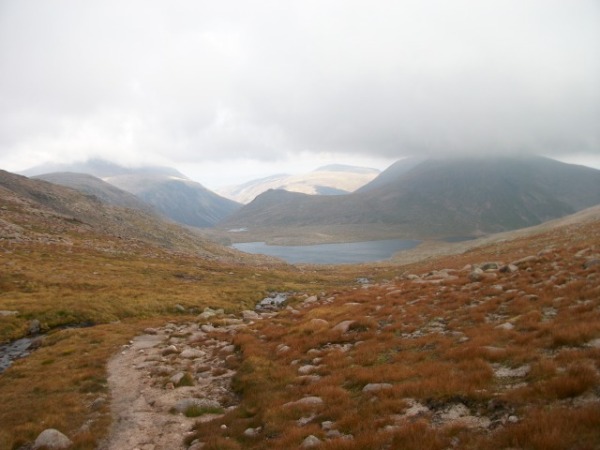 The Club above Loch Etchachan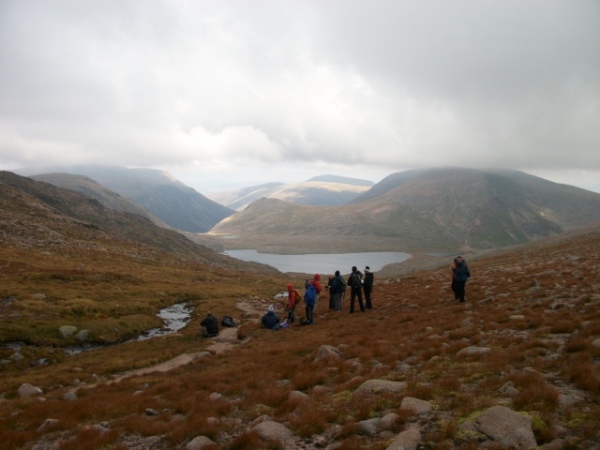 Above Loch Etchachan we split. Eleven went for Derry Cairngorm and our President and Secretary took the scenic route back down through Coire Etchachan.
Derry Cairngorm from the South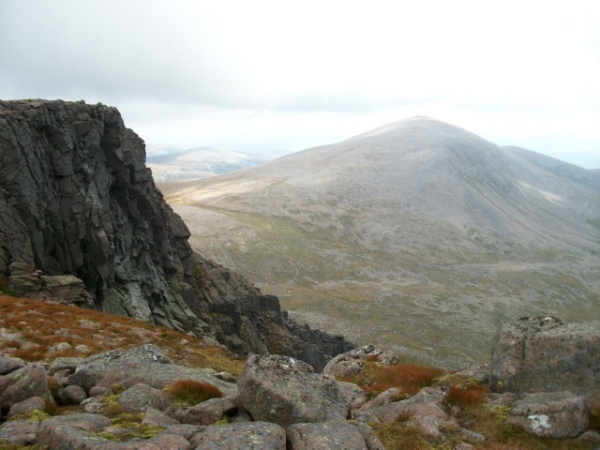 Loch Etchachan and Cairngorm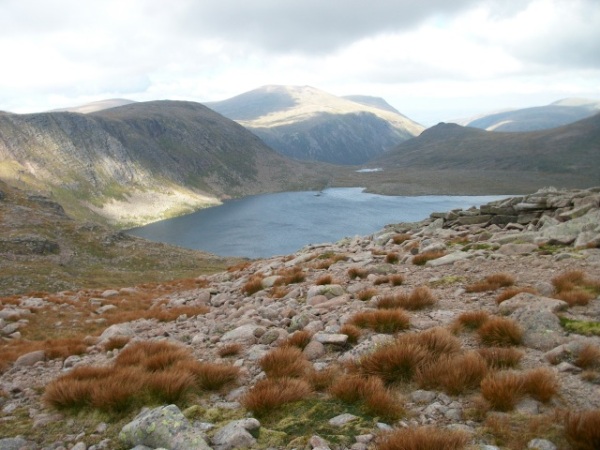 From here on in it was a cracking day…
Heading for Derry Cairngorm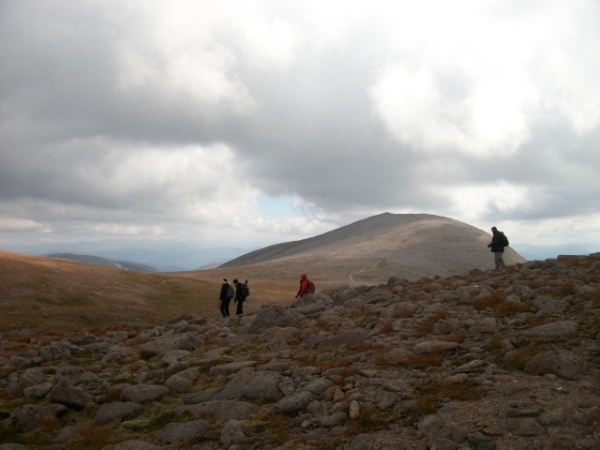 Beinn Mheadhoin from Derry Cairngorm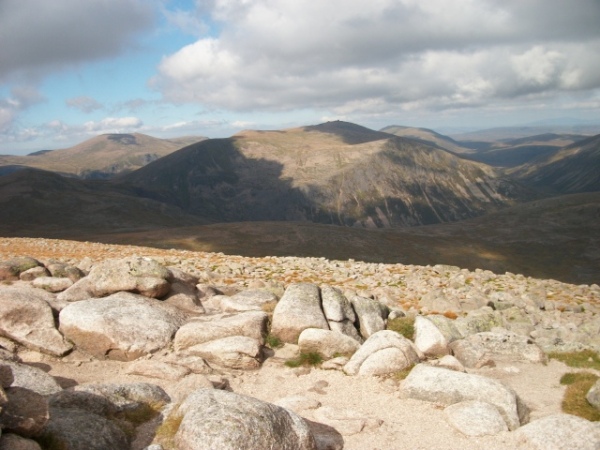 Sunbeams on Sron Riach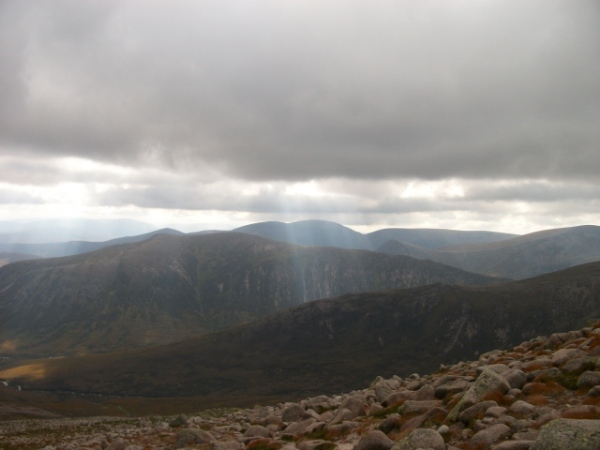 There were big smiles on Derry Cairngorm today and great views now especially down Glen Derry and along Glen Lui. We took a contour path back to Glen Derry and made the bus (after a lengthy break at Bob Scott's Bothy) at around 17.45
Descending Derry Cairngorm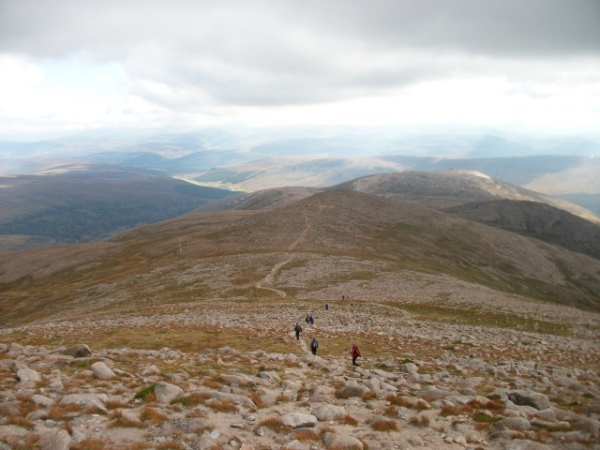 Glen Derry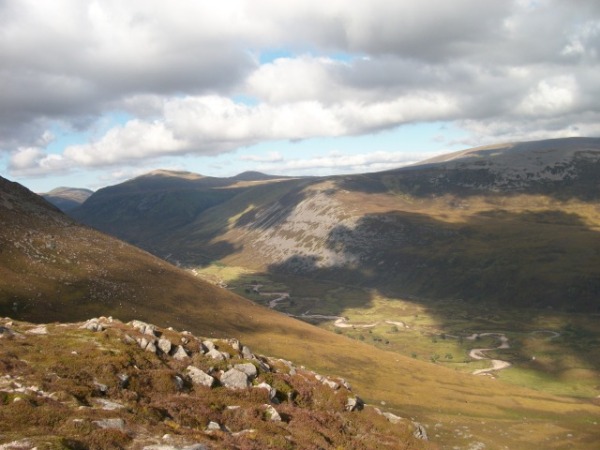 Heading for the bus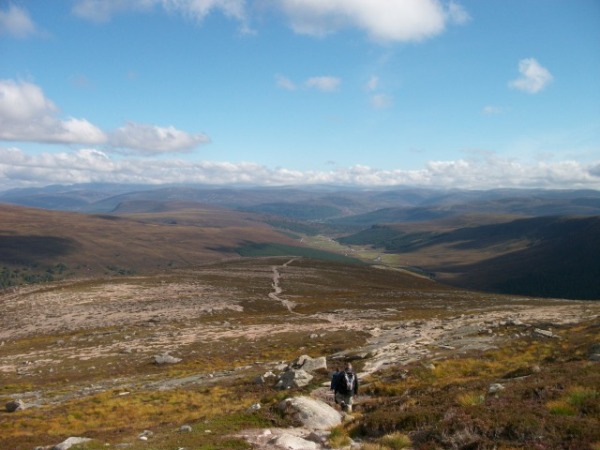 Above Glen Derry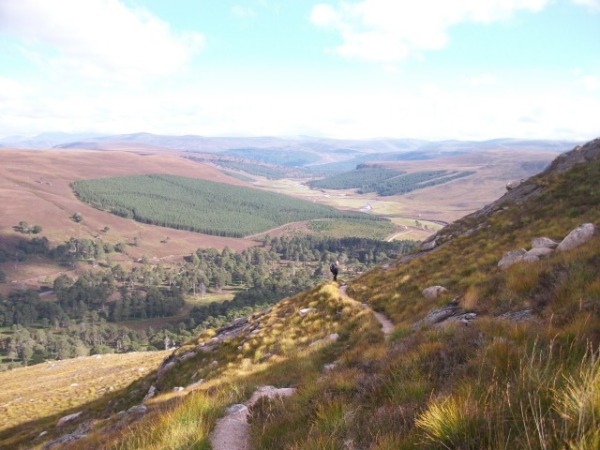 Glens Derry and Lui from The Hawk's Bluff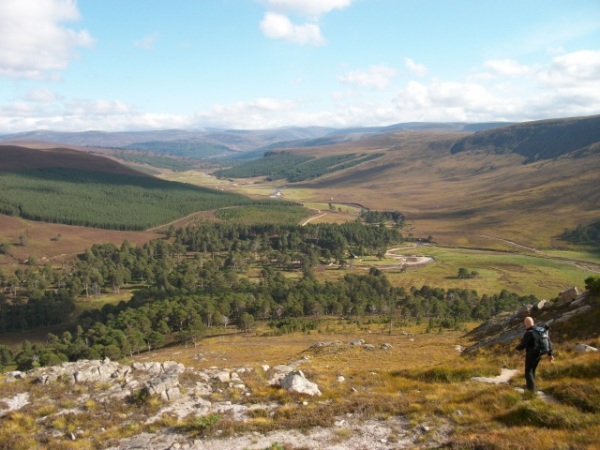 Our President and Secretary in Glen Lui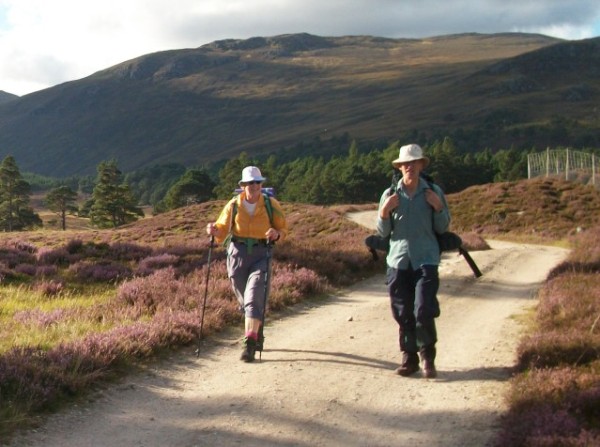 The Westhill Walkers (who numbered 20 today) and who'd been through the Lairig Ghru were a full 40 mins late having had a couple of "fallers". Thankfully however no-one was seriously injured.
Consensus was that this Shared Bus Meet had been something of a success. I hope so and hope the Westhill Walkers will enter into a similar arrangement in the future.
Thank you all for a great day out